By Eric Pankoke on Sun, 04/04/2010
I love match 3 games.  The problem is that so many developers start with the "tiles in a box" approach and try to figure out how they can improve on it.  These days, however, so many match 3 games exist that developers really need to start thinking outside of the box (didn't see that one coming, did you?)  Thankfully, that's exactly what Dan Russell-Pinson did when he designed Furballs (in space) for the iPhone.  The playing field is 360 degrees and constantly moving, and the path drawing technique adds a new perspective to the mechanics.  Oh, and did I mention there are things like comets and satellites to contend with?


Right off the bat you'll realize that this isn't your standard match 3 game when you see that each level starts with some configuration of objects in the center of the screen.  From that perspective it feels more like a snood clone than a Bejeweled style match 3 game.  However, unlike snood and its ilk, there is no device at the bottom of the screen to fire objects at the configuration in the center, and the configuration doesn't move down towards the bottom of the screen every so many seconds.  The configuration does move, however.  At first it might just spin around in a circle in the center of the screen, if there is any motion at all.  However, once the first external furball makes contact with the cluster, it will start bouncing around the screen until all the furballs are gone.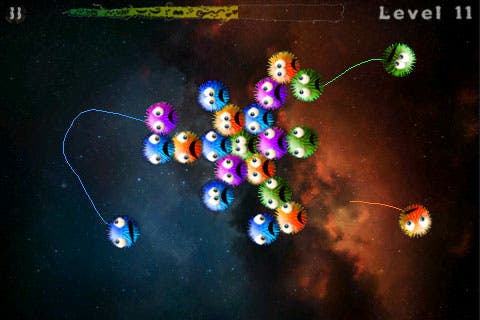 Master your iPhone in one minute a day:
Sign up to iPhone Life's Tip of the Day Newsletter and we'll send you a tip each day to save time and get the most out of your iPhone or iPad.
So how do you facilitate the cleansing of the furballs?  You guide them to the central cluster using the line drawing method made popular in games like Harbor Master.  You must maneuver the furballs such that they attach and form groups of three or more of the same color.  When that happens, the same-colored furballs will fall away, and the rest will continue floating along.  If the match occurred in the center of a cluster, the two halves of the cluster will split and go their own way (though they could easily collide and reattach).  Bear in mind that you can only move single furballs, not groups.  You also can't remove a single furball from a group.  More importantly, you have to remember that everything is always moving.  Just because you draw a path from a furball to a certain spot in a cluster, doesn't mean the cluster will be there when the furball gets there.  Worse yet, there could be a different color furball in that spot when the one you were guiding arrives.

To guide a furball you just tap on it and drag your finger to draw a line where you want the furball to go.  If I had to complain about anything (and if you know me, you know that I usually do), it's that sometimes it seems like when you tap on a furball it doesn't respond and no path gets drawn.  The movement along the path also seems a bit choppy, but you get used to it after a while.  There is a meter at the top of the screen that fills up as more furballs appear on the screen, and if that gets completely full the game is over.  In addition to the furballs themselves you have comets, meteors and satellites to contend with.  Comets freeze and meteors burn, but the net effect either way is that they will clear up some furballs for you, regardless of color.  What's nice is that they don't activate until you tap them.  You also have one opportunity to change their course by moving them like you'd move a furball, but keep in mind that changing their course also activates them, so they'll affect the first furballs they run into at that point.  Satellites can be guided just like furballs, and you need to guide them off-screen.  If they attach to any furballs, you can't get rid of them until all the attached furballs are gone.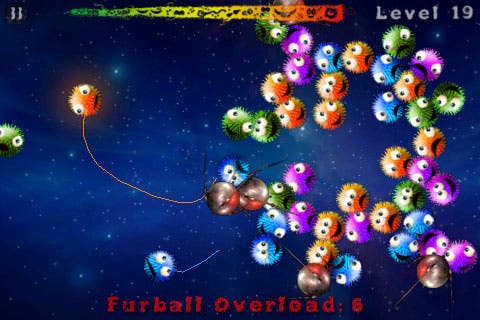 The visuals are very nice.  The furballs are cute, and I love the different expressions they make as they attach to the same or different colored furballs.  The comets and meteors look pretty cool as they're traveling along as well, and the effects when they are activated look sharp.   The sound effects are quite charming as well.  All of the externals (comets, meteors and satellites) sound like you'd expect, and the noises the furballs make compliment their expressions perfectly.  I especially like it when you make a match and one of the furballs says "sweet".  The music is okay, and at least it's something in the background.  If you sit and listen to it for too long without actually playing the game you'll probably get bored with it, though.

This is the perfect example of what developers need to do to start stepping up their game when it comes to styles of game that are oversaturated in the App Store.  This takes two popular genres – match 3 and line drawing – and combines them in a fun and almost flawless manner.  The atmosphere is cute, the mechanics are easy, and the game can get challenging at times.  With a promised 150 levels to play, you'll certainly be busy for quite some time.  I know the game has been out for a while, but if the developer ever decides to revisit it, some social network achievements would be nice.  Of course, he could always take the next step and give us an iPad version.

Overall Score: 9/10
App Store Link