By Eric Pankoke on Fri, 04/30/2010
There have been countless variations on the Tetris theme over the years, and quite a few have made their way to the App Store, but Block Knights is one of the most original. Unlike the original, it uses all four sides of the screen as the playing field, and does so in an effective manner. (I don't have to twirl my device around and get all caught up in the headphone cords.)




Block Knights is similar to Tetris in that you must line up different pieces to form complete rows, which then disappear. However, in Block Knights the pieces are blocks of different colors as well as shapes. In addition, these pieces "fall" outward from the center of the screen and you guide them in any direction you'd like. This is done by tilting the iPhone or touching the screen. I find that the tilt control works better. You can move the blocks around as they fall, but eventually they come to rest against a wall or against another piece. You have to form rows of like-colored blocks vertically (along one of the sides) or horizontally (along the top or bottom). Once you do this, the row disappears and you score points. The game is over when the buildup of blocks from all four sides reaches the center and you can no longer move the piece falling from the center. The game has one power up, a bomb that falls from the center and blows up several squares surrounding it when it comes to rest.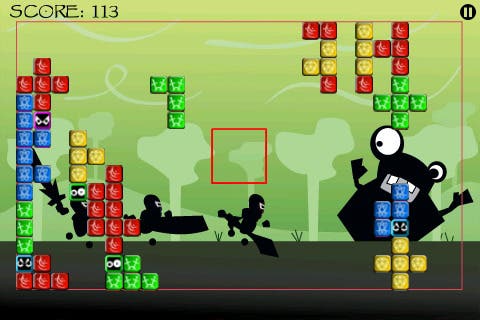 Block Knights has four game modes. Infinitas is the easiest mode; the only stipulation is that you don't get a piece stuck in the center. In Guillotine mode you work against a fast-moving clock. You have a very limited time to place each piece, and if you run out of time the game ends. Fortunately, the timer gets reset every time you place a piece. Arcadia mode is also against the clock; you have more time than with Guillotine, and the clock resets only when you complete an entire row. The final mode, Quest, does not use a timer. Instead, single blocks with little faces ("Mobs") appear randomly and you must clear them from the screen by completing a line of blocks through them. The challenge in this mode is that all Mobs must be cleared before you can advance to the next level. I wish they would have integrated the Mob concept into other game modes—it's the essence of the game.



The visuals aren't really bad, but we've seen the Tetris look for 20+ years now, and it's not that exciting any more. I do like the backgrounds, and I'd personally love to see a platform game focused on the knights pictured in the background. The sound effects are nothing special, although I do like the sound the pieces make when they collide; they sound like bricks hitting each other. The background music, however, is incredibly well done. The theme for Quest mode sounds like a combination of action and horror movie scores. The two timed modes share a common theme song, which sounds somewhat like the background music to a long march scene in a war movie. The best, however, is the theme music to the Infinitas mode. Violins and other string instruments create the perfect "sit back and relax" symphony.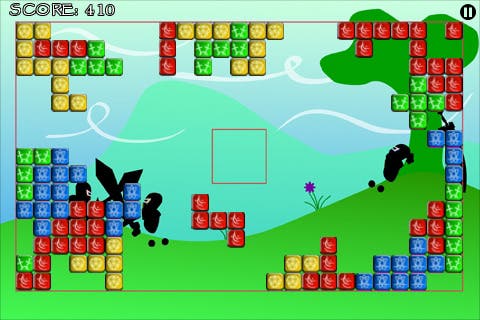 If you're a fan of Tetris-style games, Block Knights will make you look at the genre in a whole new way. If you've never experienced the genre before, Block Knights will make it hard for you to go back to the standard "falling from the sky" mode of most block dropping games. Either way, Block Knights is a great game to add to your collection.



Grade: A-

App Store Link
Previous Entries:

Part 1 - Skysmash 1918