By Eric Pankoke on Thu, 12/29/2011
So do you like physics puzzle games where you roll an object around a level trying to gather items and ultimately make it to a particular spot like a hole or something of that nature?  I do too.  As such, I had really high hopes for Egg Punch.  At first the game didn't disappoint, either.  Sadly, it didn't take too long before the levels became overly difficult for how little I had progressed in the game.  Add to that a lack of explanation for how the scoring actually works and a claim that the game can be completed without in-app purchases that I'm beginning to question, and Egg Punch has lost any spark that it started out with.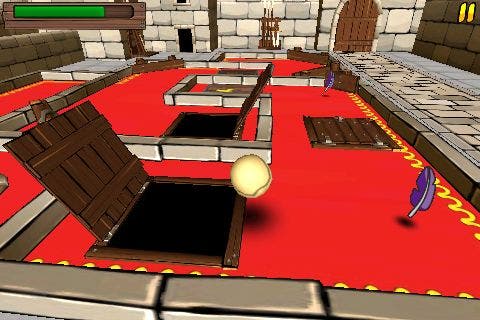 The whole concept is kind of cute.  You play a chick who takes its feathers off in order to bathe only to have some unscrupulous rabbits steal said feathers.  Being a respectable chick you do the only thing you can do, which is to jump in your shell and chase after them.  To recover your precious dressing you'll need to follow the mischievous rabbits down one hole after the next until you catch up with them.  Each level has several feathers for you to collect, while there are plenty of obstacles like gates that have to be activated by switches and spinning towers that can knock your egg off course to contend with.  You'll also find useful items like pipes that help accelerate your passage through the level, though you need to be careful that a shortcut doesn't cause you to miss feathers.

In addition to collecting feathers you earn coins as you complete each level.  You'll also get some bonus coins for every so many feathers you collect.  These coins can be used to buy designer shells and three different power ups: Shot Boost, Hole Seeker and Feather Magnet.  I'm pretty sure the different shells are just for show, but the power ups should help swing the game in your favor.  Unfortunately, I haven't really seen them make much difference so far.  The other thing to consider is that you need both coins and feathers to unlock new worlds, so if you spend all your money in the shop you'll be out of luck.
Master your iPhone in one minute a day:
Sign up to iPhone Life's Tip of the Day Newsletter and we'll send you a tip each day to save time and get the most out of your iPhone or iPad.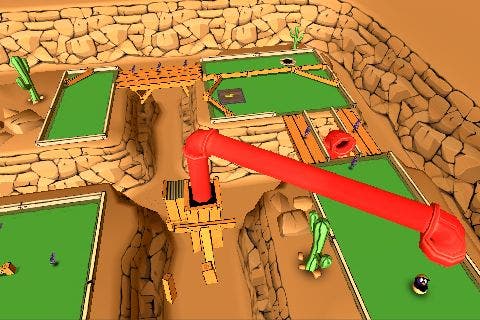 Once you've completed a level it's hard to earn more money on that level unless you do significantly better, which I believe means moving up from a lower to higher medal ranking (you can earn a bronze, silver or gold medal for each level).  This is where my comment about IAP in the first paragraph comes in.  I suppose technically with a lot of perseverance you could finish the game without spending any real money.  However, to do really well in the game I'm guessing you need high level power ups, and of course there's the entrance fee to each world.  Conveniently you can buy packs of coins, and since power ups and world fees get more expensive with each iteration it might become necessary to dump out some cash after a while.  Even if that ends up truly not being the case, I'm getting tired of messages about the store popping up every few rounds that I play.  I'd rather just give them a small fee to make it all go away.

As one might expect given the plot behind the game, the visuals are cute.  The 3D landscape is filled with simple textures and somewhat blocky characters, but it all manages to look charming in the end.  There are a few nice touches like the ghostly feathers that indicate a plume which has already been retrieved on a previous run.  The sound effects serve the game well, but beyond noises directly tied to actions there really aren't any ambient sounds to make the world feel alive.  Worse yet, there isn't any music playing during the game itself.  This game just screams for an audio track that sounds like it came from a Saturday morning cartoon.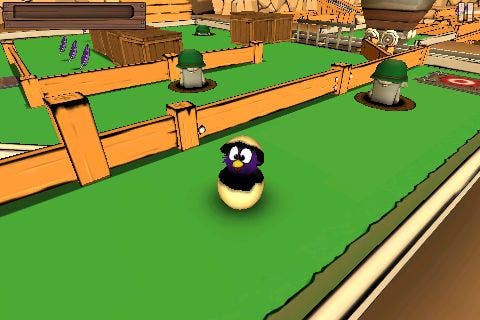 I think the developers missed a great opportunity with this game.  Given the cute atmosphere and funny story, it would have made a great introduction to this style of game play for kids.  And given the simple controls, both kids and adults could easily pick up and start playing it, which could have made it a nice experience for them to share.  Instead, I think the steep level of difficulty early on dampens that possibility.  The lack of a good explanation of how to achieve 3 stars will turn off those who are strictly in it "for the glory".  Plus, from what I've seen so far it doesn't really add anything new to the genre.  Since it's free I would still suggest giving it a try if you like this type of game, but there are much more entertaining prospects out there in my opinion.

Overall Score: 6/10
App Store Link