By Eric Pankoke on Sat, 04/30/2011
I had never even heard of Pachinko until Peggle arrived on the iPhone, and now it seems like there are several different variants of the game on the App Store, most of them trying to disguise the fact that they are actually a Pachinko variant.  One of the latest such variants is Dog Pile, an interesting combination of Pachinko and Match 3, of all things.  Interestingly enough, it is probably one of my favorite versions so far.  Of course it doesn't hurt that I'm a huge fan of match 3 games, and it's also a bonus that the dogs are so cute!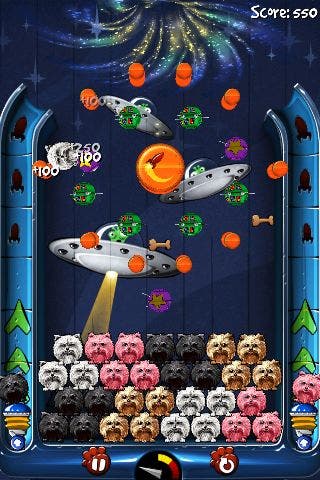 Hopefully the majority of you know what match 3 games are like.  As a real quick recap, the idea is that you want to get 3 or more of the same object together – or in this case 2 will work – so that they disappear.  Pachinko, on the other hand, is an interesting game in and of itself.  You have a board filled with pegs, and you launch an object into this peg field, trying to get it to a particular location.  Or at least that's how I gather it works from the different variants I have played.  In Dog Pile, that "location" is a pile of dogs, hence the name.  If the dog lands next to another dog of its type, they will disappear.  The ultimate goal of a level is to clear the pile.

One thing that sets Dog Pile apart from most games of this style is how much control you have over the objects you launch.  You initially influence the trajectory of the dog by dragging your finger in a particular direction, and then once the dog is in motion you can tilt your device to affect its path.  Of course you won't be the only force in play here.  There are the aforementioned "pegs", which in this case can be a number of things, including objects that move when struck.  There are other objects that might come on the screen that you can hit for additional points, and then there are things like the black hole in some of the space levels that will suck your dog in and not give it back.  Most things just cause you to bounce around a bit, but since the level is timed this can still be a detriment.  Just make sure you're keeping an eye on the time meter at the bottom of the screen.
Master your iPhone in one minute a day:
Sign up to iPhone Life's Tip of the Day Newsletter and we'll send you a tip each day to save time and get the most out of your iPhone or iPad.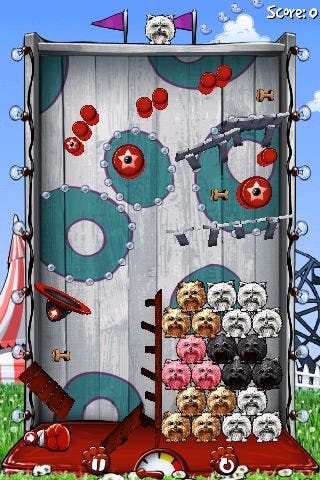 There are also 3 bones that you can collect on each level.  These bones translate to points that you can use in the store to buy such things as head gear, cool glasses and extra dog packs.  If you don't want to take the time to collect enough bones on your own you can buy extra bones from the store as well, but don't forget that costs extra money.  I like the idea of rewarding the player with these superfluous purchases, but I do wish that every dog in the level would wear the accoutrements that you buy, and not just the ones that you're controlling.  On the plus side, the game does preview the new gear with the current dog pack you have selected, so you can decide if it's a good fashion fit or not.

Besides the matching element, what really makes this game work is the level design.  It's not quite as evident in the Carnival levels, though those are still quite fun, but the creativity in level design really shines in the Space levels.  Between the different moving objects and things like the introduction of the black hole, every level in the Space set feels like a different experience.  I just hope that their next level set is even more outrageous than the Space design.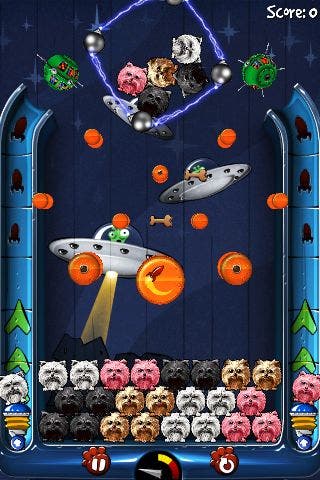 As one might expect of such a game, the graphics are colorful and cute.  The backgrounds are actually pretty cool, with the carnival one sporting a spinning Ferris wheel and birds that occasionally fly by, and the space backdrop containing, well, space things.  The dogs are cute, though sometimes the terrier pack reminds me of really fuzzy human heads.  I guess I watch too many horror films.  There's even an Easter pack that has bunnies, chicks and eggs instead of dogs, though I actually don't think it's as cute as any of the dog packs.

Overall the sound effects are decent.  I love the cheers and jeers of the animals, and I think it's funny that there's applause from some unseen crowd every time you make a match.  The music is likewise entertaining, especially when it comes to the "Dog Pile" theme song.  I do find it a bit odd that the carnival song is a Christmas tune, but I like Christmas music, so I guess that's okay.  It wouldn't be so bad if they changed that in an update to make it a more fair-like song, however.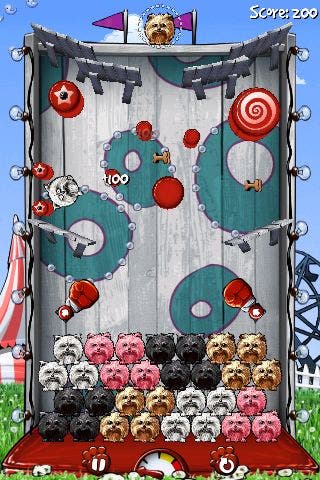 If I had to complain about anything it's the length of the game.  There are currently 18 levels, but those levels didn't take long to get through, even getting all the bones on each level.  What it boils down to, then, is how interested you are in getting enough bones to buy things from the store, or how important it is for you to beat your high scores.  I know there are more levels coming, but hopefully future updates will include some sort of achievements as well.  In the mean time, I'm still enjoying playing the base 18 levels multiple times, so I guess there's something to be said for that.  Whether you're a fan of match 3 games, Pachinko style games or both, Dog Pile is a nice mash-up that will certainly keep you entertained long enough to make it worth the price of admission.  I just hope the future brings many more updates.

Overall Score: 8/10
App Store Link