By Eric Pankoke on Thu, 11/03/2011
If you've been an iPhone gamer for any decent length of time and managed to go without playing a game from Chillingo (or Clickgamer), I'm both impressed and a bit scared.  For the rest of us, we know by now that they have a pretty good knack for choosing fun, light hearted puzzle / platform / physics / whatever style games, and Blobster is no exception.  I'm not sure that there's anything here that's really new, but it's all put together in a way that is both entertaining and fresh.  As long as Chillingo keeps publishing games like this, you can expect me to be along for the ride.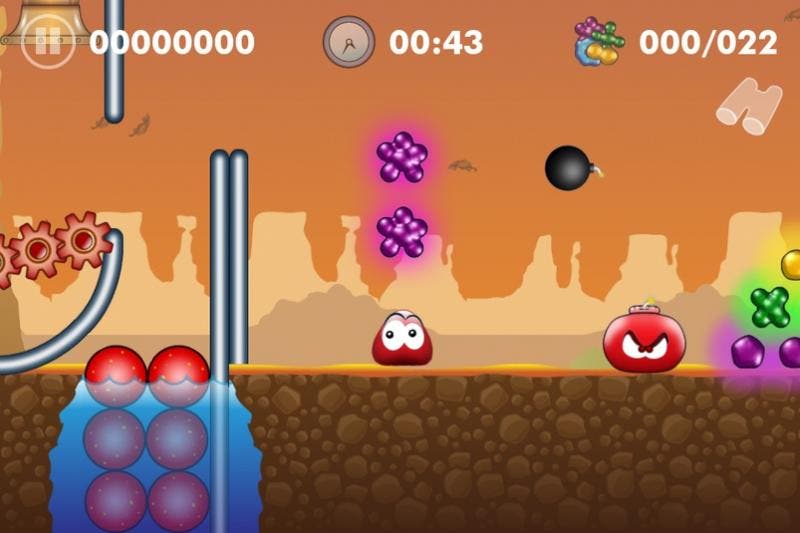 Your job is to protect the denizens of Blobtopia from the nasty Big and Powerful Corporation, and to do so you'll have to conquer many challenging levels and ultimately confront the vile Blobzilla.  Along the way you must gather blobules, the energy on which blobs thrive.  Each level has a certain number of blobules to collect, and while you don't need all of them to pass a level, I'm sure it will be worth your while collecting them if you can.  I do believe there is a certain percentage required to unlock the pipe at the end of the level, but I'm not sure what that percentage would be.  One thing that's not done very well in Blobster is documenting all the important rules.

Some of the blobules are radioactive, and while these don't count towards your total, they do give you cool powers.  You might become temporarily invulnerable, or get the ability to jump higher, or simply get bigger or smaller.  These powers will help you both solve puzzles and defeat bad guys, both of which are useful in finishing levels.  The bad guys are blobule collectors sent from the BPC to keep you from doing your job, and most can't be deleted unless you're under the influence of a super power.  When you do kill collectors they may in turn leave radioactive blobules, so get rid of them when you can.
Master your iPhone in one minute a day:
Sign up to iPhone Life's Tip of the Day Newsletter and we'll send you a tip each day to save time and get the most out of your iPhone or iPad.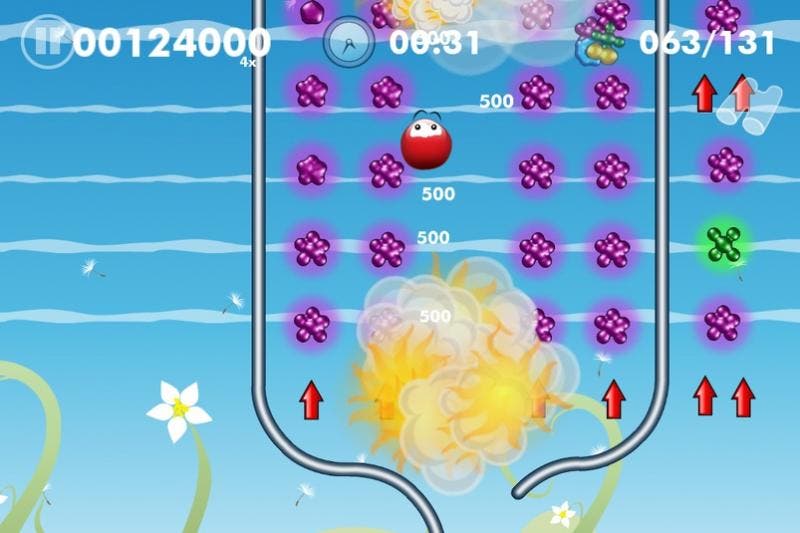 There is a lot going on in the various levels of Blobster.  In addition to your standard static platforms you might have moving platforms or ones that are swinging by ropes.  Pipes will suck you from one part of a level to another, while gears will literally grind you across parts of levels.  There are even catapults that hurtle you from point A to point B.  What's real interesting is physics type elements like having to knocking boards over to get past certain areas (hint: bigger is better here) or maneuvering falling balls to fill up gaps for you to cross.  This part of the level design starts out slowly, but as you progress to new worlds it becomes more prevalent to game play.

To move Blobster you can either tilt the screen left and right or touch the left and right sides of the screen.  I find both methods work fairly well.  Tapping seems to give you a bit more control, but there are times where it felt less responsive.  To get Blobster to jump you simply drag to stretch in the opposite direction you want him to travel and then let go.  This work decent as well, though sometimes it's hard to get a good stretch if he's on a platform or something with little room underneath him.  Overall the controls in Blobster are pretty spot on.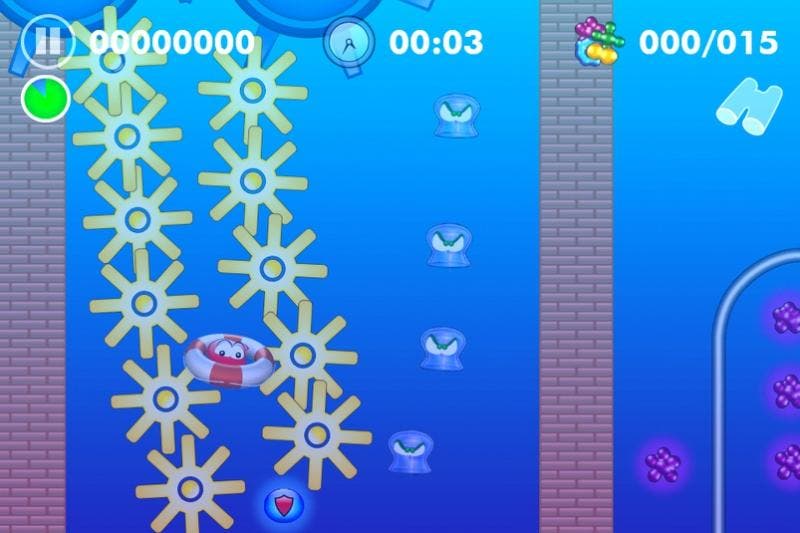 Visually, the land of Blobtopia is great.  The foreground is full of bright and colorful elements, and the background has neat pastel tones like a watercolor painting.  The highlight, of course, is Blobster himself.  The way his eyes react to things is quite comical and really gives him character.  It's also fun to watch him squish, slide and scrunch his way through things or don little costumes when he gets a power up.  The sound effects are pretty decent as well, and once again shine when it comes to Blobster.  He even makes what sounds like being in pain chuckle-worthy.  The music is pretty good, and while it is rather repetitive if you really focus on it, when it get caught up in the game it provides some really nice ambiance.

Once again Chillingo has made a wise decision adding Blobster into their ever growing collection of published games.  The atmosphere is light and friendly, the graphics are very well done, and the audio actually serves the game well.  The levels are challenging without being bothersome, and there is plenty to do to keep you busy, whether it's initially trying to beat the game or going back to collect 100% of the fruit on levels you didn't complete perfectly the first time around.  Isn't it time you got your blob on?

Overall Score: 8/10
App Store Link