By Eric Pankoke on Tue, 01/04/2011
Most games these days that toss things in the air at you expect you to slice and dice them. The Balls takes a different approach to the subject, and as a result stands out nicely from the crowd. It's kind of like Hacky Sack on steroids, and it's definitely the sort of balancing act most of us would only attempt electronically. Thankfully, though, the end result is a fun game that doesn't involve ninjas or samurais, fruit or vegetables, yet provides a similar sort of satisfaction.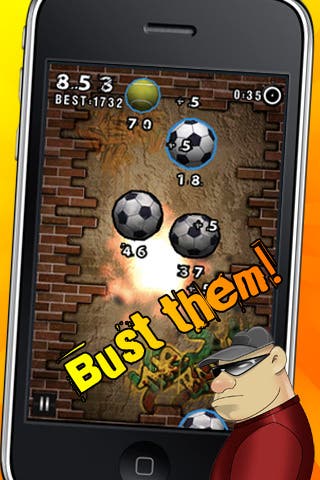 Your task in The Balls is pretty simple. You have to keep a steady stream of balls up and going for as long as you can. If a ball drops off the screen you lose a life. It's one, two, three and you're out at this old ball game. Worse yet, don't even think about accidentally tapping a grenade, or the only foul you'll get are the words coming from the angry coach. Luckily, after your third interaction with a given ball it will burst and get out of your hair. The only question is – how long do you think you can keep this up?



So how exactly do you keep the balls in the air in the first place? Talented folks can bounce them off of grenades, but for the rest of us (or when you don't have spare armaments floating around) you can either tap on a ball or flick it. Tapping is easier, but flicking gets you more air time and can help raise your score more quickly. Just remember that a ball is not a ball – or at least not a playable one – until it's surrounded by a soft blue glow. Also, the balls do a pretty good job of simulating the physics of real balls hitting each other, so use that to your advantage.



As you start getting more balls on screen at once you'll notice things getting appropriately chaotic. It's at that point that tapping becomes more of a friend than swiping. How you ultimately control things is obviously up to your own comfort level and mastery of the game, however. And for those of you that want to practice there's a girly "Balls Mode" that has no grenades and no lives, but only gives you 90 seconds. I'd cover my mouth and yawn but then I might drop my device.



The game supports OpenFeint for achievements and leaderboards. It also supports something called PlayHaven, which I'm starting to see more often in games, but I still don't know what it actually is other than another social type outlet. I think The Balls even supports Game Center, but the reality is I don't even have enough friends to cover one social network let alone three. My brain hurts just thinking about it.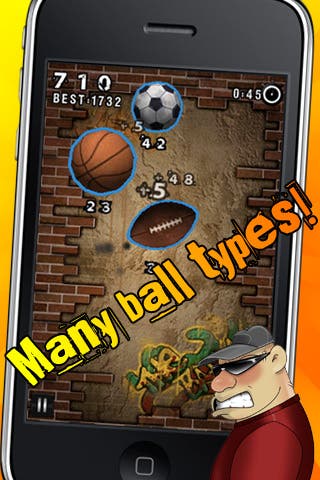 The graphics are nice and simple, emphasis actually on the nice in this case. You play against a backdrop of a brick wall, which has for the most part been spared from the poorly misspelled graffiti of troubled youth. The balls all look like what they should, which despite your ponderings I assure you that it IS possible to make a basketball not really look like a basketball. There are even a few nifty effects for things like when you pop a ball or simply tap it. A few different backgrounds to look at would be a nice bonus, but obviously it doesn't impact game play any.



The sound effects really augment the game play. When you tap on a ball it actually sounds like the type of ball you're tapping on. Of course they all sound the same when they explode, but what can you do? There is also some decent street chatter in the background, almost making you feel like you're standing outside playing even when you're not… almost… There's even a nice little coach that comes out and grumbles if you get a bad score. What a thoughtful bloke. The only thing missing is some music to jam to, but I pretty much don't mind since the background noise is so cool.



So what does this all mean? It means that The Balls is a cool casual game that can provide you, the player, with hours of senseless fun. Unless, of course, you can make some sense out of juggling balls in the air while dodging grenades. If you can, please share your wisdom with me. Otherwise, just go give this game a try. I think you'll find it worth your while.



Overall Score: 8/10

App Store Link