By Eric Pankoke on Wed, 03/30/2011
One thing I really like about the mobile scene is that it has helped me to appreciate genres that I never really got into on the PC.  For instance, I'm pretty sure I've played as many FPS games on my PocketPC and iPhone as I have for as long as I've owned a PC (unless you count the myriad of mods I played when I was into Half-Life).  Another genre that didn't really catch my attention until the small screen was the Arkanoid style game.  I'm not suggesting that I jump up and down with joy now every time a new one of these games is released, but I do find that when certain variations like Atomic Ball come along, they actually manage to hold my attention for a while.  Of course it doesn't hurt that aesthetically this is one of the coolest looking Arkanoid clones on the market either.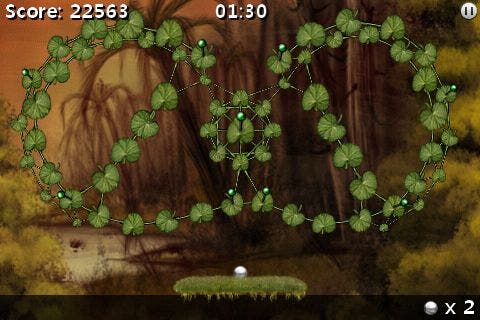 The first thing you'll notice about the game is the distinct lack of bricks.  Yes, this brick breaker clone actually has you demolishing atoms instead.  Personally, though, it reminds me more of those physics games where you have to build a tower or bridge like structure.  In this case, however, the object is already built and you get to demolish it.  Who doesn't like to demolish things?  Despite what you consider the objects, they provide a refreshing look that doesn't adhere to the stale brick layout that plagues most of these games.

What's even better, however, is that the whole atom thing doesn't just affect the look of the playing field.  Initially the objects are pretty tightly knit, and while they'll bounce a bit when you bump them they more or less stay where they are (except for the ones you hit, which disappear).  As you start breaking the structures apart, however, chunks will start moving around the screen, and as they continue to get bumped the pieces that remain will accelerate.  They'll even bounce of your paddle if they get that close, and when groups of atoms collide they'll attach to each other.  This is an incredible element that I've not seen in this style of game before, and it adds a welcome level of diversity to the game.
Master your iPhone in one minute a day:
Sign up to iPhone Life's Tip of the Day Newsletter and we'll send you a tip each day to save time and get the most out of your iPhone or iPad.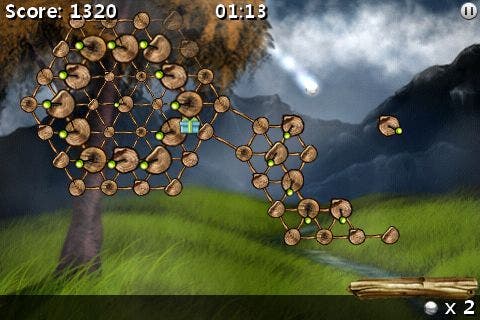 To start the ball rolling you press on the paddle, move it to where you want to launch the ball, and let go.  After that controlling the game is a simple matter of sliding the paddle back and forth with your finger.  Power ups are used as soon as they touch your paddle.  For those who are worried that they might have skimped on the power-ups, don't.  There are 32 different power ups altogether, though this does include "bad" ones like shrinking the paddle.  What's nice is that score multipliers are inversely proportionate to the currently active power ups, so if you have several bad power ups working on you, you'll actually score more points.  Other power ups include voodoo ball, which eliminates a random atom along with the one it hits, rail ball, which cuts through any atom in its path but keeps it's direction, and death, which prevents the ball from bouncing off the paddle for 3 seconds.  You'll have to discover the rest on your own.

As I mentioned before, the concept of atoms gives the visuals a unique look amongst this genre.  I also like the fact that the look of the atoms changes based on the theme of the levels.  In the forest levels the atoms look like parts of a bridge, while in the ocean levels they look like mines.  The backgrounds are well rendered.  Having a couple of different options per theme would be nice, but there are enough different themes that in the end it doesn't matter too much.  Like the atoms, the paddle has a different look with each theme, so it's basically a total visual change every few levels.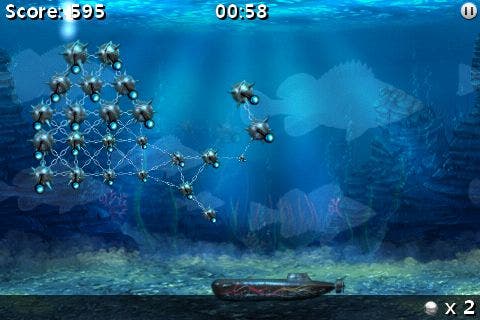 The sound effects are the least exciting part of the aesthetics.  Imagine any Arkanoid clone with decent sound effects, and you know what Atomic Ball sounds like.  The one thing that does stick out is the voice.  It reminds me of those programs that existed back in the days of computers like the Commodore 64 where they'd take typed in text and try to speak it.  The voice is kind of cheesy, but at the same time sounds really awesome, especially when hit with slow-mo via the time warp power up.  The music is very nice.  I'm not sure if each theme has its own track or not, but I've enjoyed every tune I've listened to so far.

It's been a while since I've played an Arkanoid clone on my iPod Touch, but from what I can remember of all the ones I've played to date, Atomic Ball is probably the best.  Between the constantly evolving level design, the sheer number of power ups, and the multiple themes, Atomic Ball definitely stands out from the pack.  It's even conceivable that Atomic Ball would be the game to make me admit that I don't dislike the brick breaking genre of electronic games.  Guess I'll have to keep playing to find out…

Overall Score: 9/10
App Store Link

By the way, as of the posting of this review the game is free on the App Store, so go grab yourself a copy before the price goes back up…