By Eric Pankoke updated on 08/04/2011
Welcome to the preview corner.  This week's specials are a jumping game and the tale of creatures called eeps.  Both are coming soon, and both provide game play a little bit different than what you generally see on the App Store.  I would say they are both worth keeping your eye on, even if you don't run out and buy them the moment they are released.  First up…
Idyllic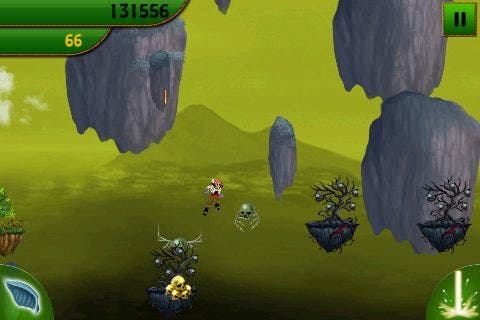 Master your iPhone in one minute a day:
Sign up to iPhone Life's Tip of the Day Newsletter and we'll send you a tip each day to save time and get the most out of your iPhone or iPad.

Idyllic is a horizontal jumping game.  Yep, instead of going up like a normal jumping game, you go right like if you were playing an infinite running game.  You'll find no running here, however.  What you will find instead is an interesting premise that has you landing on small floating platforms to heal them from the evil that as devastated them.  Along the way you collect gold to buy and upgrade power ups that include things like the ability to fly for short bursts, stomp on enemies, and recharge your power ups by healing islands.  It's certainly a unique spin on a genre, though which genre it really belongs to is a matter of personal taste.  The visuals are a bit on the tiny side, but they look good and are very nicely detailed.  Overall I think this will make a nice addition to the iPhone game collection of both infinite runner and "jump as high as you can" fans.  I would expect this one some time in August.

Next up…

Goop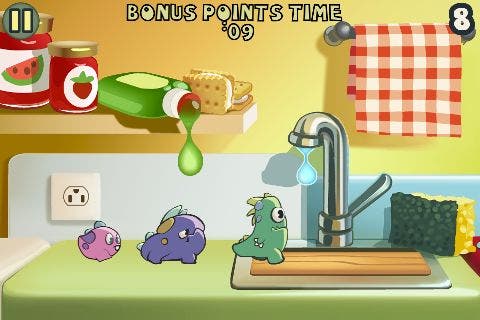 Goop is a completely different sort of game.  You control some critters called Eeeps that simply want to get from point A to point B.  Unfortunately there are several spots along each path that are dripping stuff, and should one of the eeeps get hit by a drop it's all over.  You control the eeeps by tapping on them to get them to roll or jump forward, or dragging them to move them back out of harm's way.  Each eeep has a different speed and a slightly different method for moving forward.  The levels start out at a nice pace, but eventually it starts to get hectic and timing becomes essential.  It may look like a kid's game, but there is certainly a lot of challenge once things speed up and get crowded.  Speaking of looks, the visuals are fantastic.  The different eeeps have personality and are well animated, and the backdrops look like cells from a cartoon.  A little more animation in the background might be nice, but the actual design is top notch.  The music has a light hearted feel and basically cements the cuteness of the game.  Not only is it a fun casual experience, but I could easily see the eeeps as stars in a series of short films before a full length animated feature.  I believe this one is due in the first week of August, so that's right around the bend.
---

That's it for this edition of Preview Corner.  Of course, this might be the only edition, as I'm much more inclined to simply review a game than write a preview for it.  We'll see how things go.  Until next time…