By Eric Pankoke on Thu, 12/31/2009
I'll admit this is a bit of self-promotion, and it isn't completely iDevice related, but the post will be short and it's New Year's Eve, so I figured "why not?" At the beginning of 2009 I started writing short reviews of iPhone games that I dubbed "Quick Looks". The intent was to simply write a couple of paragraphs providing a basic overview of the game and the give it a simple verdict: Recommend, On The Fence or Not Recommended. On The Fence usually meant I liked the game, but I wasn't really sure if it would have mass appeal or not.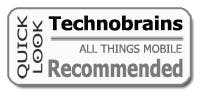 Anyway, the concept has gained a lot of momentum over the year, but the Quick Look posts were starting to get buried under all the news and other reviews that were streaming through the front page of Technobrains, so the webmaster of the site decided to give Quick Looks their own subdomain. For a nicely laid out look at just the Quick Look posts of TechoBrains.com, please check out http://quicklook.technobrains.com/.  And don't be afraid to view it on your iPhone's Safari browser. It looks pretty snazzy there as well.