By Abbey Dufoe on Thu, 02/19/2015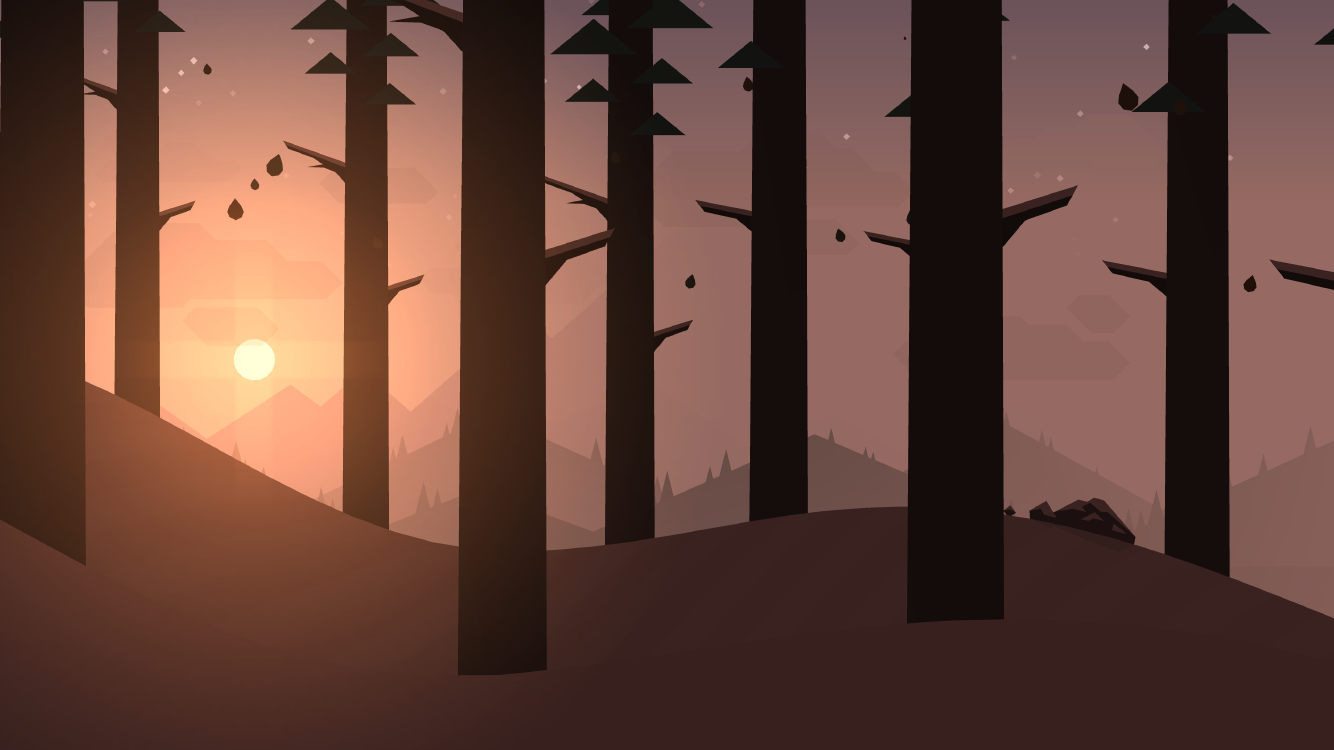 Alto's Adventure ($1.99), an endless running (snowboarding) game, hits the app charts today. I have been testing the game for weeks, and am thrilled it's finally available to the public! 
Master your iPhone in one minute a day:
Sign up to iPhone Life's Tip of the Day Newsletter and we'll send you a tip each day to save time and get the most out of your iPhone or iPad.
The background art is gorgeous as you ride your snowboard through an ever-changing alpine landscape: first snow and sunny skies, then rain and thunderbolts, with everything in between. The scenes change seamlessly. First, you're shredding pow during the day, then you're flipping over some chasms by moonlight.
Check out a sunset scene to the left. The scenery, minimalist yet dynamic, reminds me of Monument Valley.
The gameplay has been compared to Tiny Wings, but the mechanism to jump is much more simple—just use your finger to control Alto the snowboarder. Time your press just right and you'll fly off a mountain, landing your trick combination and racking up points. Time it wrong, and you'll crash and burn! Don't ever worry about getting bored, because the background music combined with ever-changing surroundings will keep you occupied.
You can collect coins and llamas to get points, which you can spend in Alto's workshop. Use coins to buy power-ups or the Wingsuit. Work through goals to make the gameplay even more fun, or just downhill snowboard until the llamas come home, if you're into that kind of thing. If you do choose the goal route, you can unlock Alto's friends (my favorite is Izel.) Each character, a total of six, have different attributes, like being able to flip better or double-jump.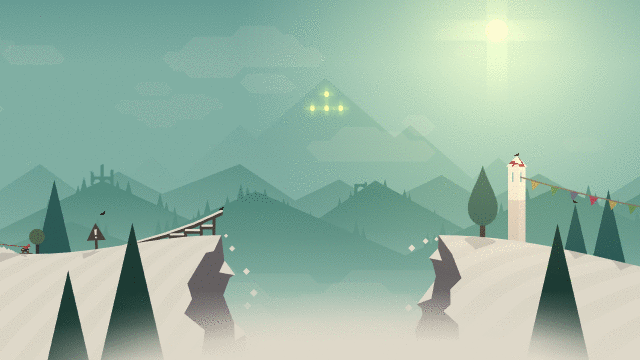 Snowman took the plunge and offered the app as premium right off the bat with no ads and no in-app purchases. It's worth it. For $1.99, you can play on your iPhone, iPad, and iPod. With iCloud support, you'll never lose your place because your goals will be synced across all devices. Alto's Adventure also offers Game Center perks so you can try to save more llamas than your friends.
As awesome as this game is, I'd like more clarification on how to use the Wingsuit upgrade, which Snowman said they will provide in the Thursday app release.
You can spend that $1.99 knowing Snowman made Alto's Adventure with us, the snowboarders and avid game players, in mind. Developer Ryan Cash said in his blog that the team, snowboarders themselves, "weren't satisfied with any of the snowboarding games in the App Store. Most of them are cartoony, have bad controls, or are trying too much to be like console games." 
Cash said "We wanted to capture the essence of snowboarding. That feeling of a great flow. Something fluid, fun, and natural feeling. That feeling you get when it's just you against the mountain, alone in nature." I'd have to agree, and Alto's is the whole package.
The game is full of seemingly endless quirks. Outrun the elders, grind along a villager's roof, and do some back flips off of mountains. But look out for that rock!