By Rheanne Taylor on Mon, 06/02/2014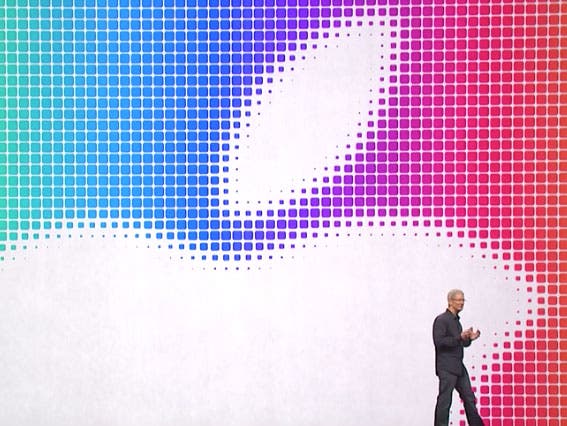 Today during the keynote at the annual Worldwide Developers Conference at the Moscone Center in San Francisco, Apple announced some exciting new products and upgrades. Much of what we predicted was right on, while a few things barely got a mention or were left out altogether. Here's a rundown of the announcements that got us the most excited.
Master your iPhone in one minute a day:
Sign up to iPhone Life's Tip of the Day Newsletter and we'll send you a tip each day to save time and get the most out of your iPhone or iPad.
Apps
Finding cool new apps on the App Store just got so much easier. Now with the Editor's Choice logo placed on certain apps, as well as the improved app reviews, it's easy for users to download the best apps out there. Apple has also announced some exciting news apps for developers, including TestFlight, which developers can use to invite users to test their apps for free!
New SDK
Apple heavily emphasized its brand new developer's kit during today's announcement, which CEO Tim Cook called "the biggest release since the launch of the App Store." It includes more than 4,000 new APIs. One example is Extensibility, which lets apps share services with other apps.
Swift: Swift is a new programming language developed by Apple which is supposed be a big improvement from the previous Objective-C. Swift is supposed to be faster, easier to understand, and much more effective, allowing developers to view a preview of their program as they're working on it. As Craig Federighi puts it, "It totally rules."
HomeKit
Apple made its foray into home automation official today by announcing HomeKit, which will let you control smart gadgets from stereos to security systems to lights with your iOS device. The platform will standardize these accessories so they connect easily and securely to iOS devices. While it's a bit foggy as to how Apple plans to rollout this new program, it listed several participating companies, including Haier, Honeywell, and Texas Instruments. HomeKit will feature full Siri integration and the ability to group devices into scenes, so you can tell Siri it's bedtime, and it will hit the lights and lock the door, automatically.
OS X Yosemite
This announcement hardly came as a surprise to us. We predicted that Apple would create greater connectivity between the desktop and the mobile operating systems, and we weren't disappointed!
The iOS 8 and OS X included many of the same features, which isn't surprising as Apple cross-device connectivity allowing users to work between their iPhones, iPads, laptops, and desktop computers seamlessly.  
iOS 8
As expected, the company introduced us to all of iOS 8's new and improved developer and user features. Here are just a few of the features we can look forward to seeing in the fall:
Interactive Notifications: Users will have the ability to pull down and respond to texts while surfing the web, or even respond from the lock screen.
Safari: Users will be able to flag, delete, or highlight emails in Safari with a swipe of their finger.
Spotlight Search: Apple has built new search technology into Spotlight Search, with enhancements allowing users to search for apps, songs, and articles that aren't stored on their devices.
QuickType: QuickType is an especially exciting new feature of iOS 8. With QuickType, not only will it predict your typing based on context, but the smart learning engine allows for personalization based on who you're speaking to.
Improved Continuity Features: Now your iDevices will be more integrated than ever, allowing users to pick up on their iPhones where they left off on their Macs.
Improved Messaging: Now not only can users name their threads, tap to talk, and share their location via message, but users can send audio messages and reply to a message by simply raising the phone to their ear. Pretty cool! The most exciting feature of all, however, is the new ability to leave group threads at any time. This was definitely a long-awaited improvement, as the incessant group notifications were frustrating for many users.
Apple added the ability quickly access Favorites in your contacts by double tapping the Home button. Apple has also included the ability to text from the notification pane, a feature that we predicted in our magazine.
HealthKit
HealthKit is a new platform, which works together with the Health app to enable users to monitor their health and create one profile that integrates all other fitness apps. We learned that Apple is teaming up with both Nike and Mayo Clinic in order to be at the forefront of health technology. This is a promising idea that is bound to see a lot of growth in the near future.
Family Sharing
With Family Sharing, users can set up a profile to fit up to six individuals using one credit card. This is likely meant to cater to families who would all be sharing a single account. When a child buys a new app, everyone is notified, and a request of approval is sent to the adult in charge of the account. Family sharing also lets you sync movies and media across iOS devices.
New Camera Features
Now you can search photos based on album location, as well as when and where the photo was taken. Most exciting of all is the incorporation of the new built-in editing controls. With these tools, users have the ability to automatically straighten and crop their photos, as well favorite images and adjust light level and color.
Siri
Siri will now include Shazam song recognition, and users can now purchase music on iTunes directly from Siri.
Touch ID
One of the most highly requested features of the iPhone was the ability to use Touch ID on third-party apps. Rather than the feature being used strictly for opening your phone, now Touch ID can be used to open other apps as a means of logging in.