By Jamie Lee on Sat, 03/08/2014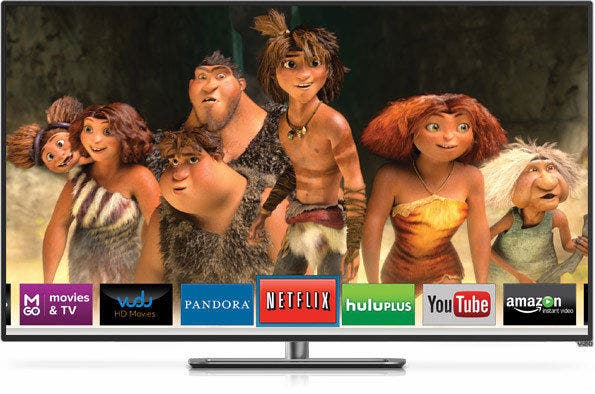 Once upon a time, people owned cell phones, televisions, and cars. It was just that simple. But advancements in technology are changing all of that, and these days, "smart" is the buzzword. There are smartphones, smart TVs, and even smart cars. In most cases, the often overused adjective is synonymous with high tech, particularly when it comes to electronic devices; but what this entails varies depending on what you are talking about.
Master your iPhone in one minute a day:
Sign up to iPhone Life's Tip of the Day Newsletter and we'll send you a tip each day to save time and get the most out of your iPhone or iPad.
What really makes a television smart?
The vision for these types of TVs took root with a 1994 patent for an "intelligent" television system. Since then, the concept has developed in the marketplace into models with expansive apps and extensive content access, thanks to Internet integration. You can surf the web, watch YouTube videos, record and stream television content, and more. But all smart TVs aren't created equal, and the functionality, and costs, can vary wildly.
Here are some guidelines to select the perfect one for you.
Web Access: It goes without saying that your smart TV will have Internet access. This is essentially what makes them "smart." But it is important to consider whether or not the TV has a connection built in (so you don't have to use an adapter), and if it has a wireless connection, rather than one that uses a bulky cable cord. A full browser isn't always included with these types of televisions, and if you purchase one that doesn't come with this functionality, like the Vizio M421VT, your browsing will be limited to pre-installed applications.
Apps: Applications are a common theme on today's wireless phones and smart TVs, and the uses are similar from one to the other. Like with phones, televisions come with pre-installed apps, but this can be a limiting factor if the manufacturer doesn't provide an app store where you can purchase and install additional selections. Popular apps like Netflix, Twitter, Facebook, and YouTube are frequently delivered through smart televisions, but you should consider the apps that you prefer and factor in whether or not they are available prior to making a purchase. Finally, keep in mind the number of pre-installed apps. Some come with a few, like the Philips 40PFL4707 (which comes with three and doesn't have an app store). Others come with an extensive selection, like the Vizio M421VT (which comes with 79 and has an app store, too). Make sure that regardless of the number of apps that the system has, it meets your wants and needs.
Specs: Just like with any television, you should make sure that your smart TV is viewer friendly. LED screens are popular and will serve the purpose of most who are in the market for a television, but don't rule out a plasma screen if you will be viewing it from a distance. You will want a resolution of 1920x1080p and an aspect ratio of 16:9. The dynamic contrast ratio makes for brighter whites and darker blacks, and these can go as high as 5,000,000:1. It is worth paying a little extra for a higher ratio.

It is also important to purchase one with enough HDMI inputs and USB ports to ensure that you can hook up your additional devices, like a Blu-Ray player and a gaming console. Consider how much storage space your TV has, since this will impact the number of apps that you can download. If you plan to watch lots of movies on your set or play video games, consider going with full HD rather than HD-ready. New technology is now allowing for 3D and ultra HD, but given that these technologies are just coming out, the programming that really puts this viewing experience to work is limited.

Cost: Purchasing a smart TV doesn't have to break the bank, but as you would expect, it really depends on the size and functionality. The top rated LG 42LS5700 has a 42-inch screen and can be purchased for around $950, which is similar to others in this class. In contrast, the Samsung UN65F7100 65-inch television sells for around $2,300. It is bigger, sleeker, and comes with extras like a smart touch remote control. You can find great deals depending on when you buy, too. Deep discounts on smart televisions are available on Black Friday (if you are quick to the draw), but January, September, and October are also good times to shop. As time goes on, the price of technology like this goes down, so it may be the case that waiting a few months can pay off, especially if you are OK with your current television but anticipating an upgrade.
It is possible to get a feature-rich smart television at a reasonable cost, but it is important that you do your research and select carefully, based on your pre-established viewing preferences. Keep in mind that it is an investment, so make sure your purchase meets your needs before committing.