By Socrates Siskos updated on 09/11/2013
Whether you're an Apple fanatic or someone who simply likes fantastic technology, you'll probably agree that the iPhone is the cream of the smartphone crop. Aside from the lightning fast operating system and superb camera, it's pretty much a given that Apple products have the best apps. Whether you're into photography or gardening, crafts or self-defense, there's an app you can download to make your life a bit easier, and certainly more fun. That said, you're also going to stumble across certain apps that are a little less useful, and to be honest, completely mind-boggling. We have no idea why these apps exist, but they do—here's our top five pointless (but entertaining) apps for your iPhone.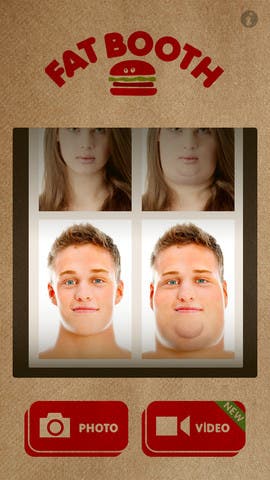 The award for "Entirely Pointless But Massively Entertaining" goes to the "Booth" series. Upload pictures of yourself, your friends, or your family, and waste hours of your life making them look fatter, hairier, or balder. We found it worked particularly well on cats, dogs, and other household pets.
Master your iPhone in one minute a day:
Sign up to iPhone Life's Tip of the Day Newsletter and we'll send you a tip each day to save time and get the most out of your iPhone or iPad.
Ladies and Gentlemen, flex your fingers. In at number one, miles ahead of the competition, is the app that does what it says on the tin: literally hold on. Have you ever fancied testing the strength of your fingers or felt the urge to push yourself to the physical and mental extreme? Then this is the app for you. Using a high-tech timer that measures your progress to the millisecond and stores your high score, you can even challenge friends and family to a "finger-off" via Bluetooth. And you get to pay $0.99 for the privilege. Bargain.

 
If you're a smoker, leaving the house without a lighter can be as irritating as forgetting to put your trousers on. But, if you're an iPhone user, technological advances have made it possible to guarantee you'll never again leave your Zippo at home while you head out for the evening. Featuring a variety of lighter images and customization options, the windproof flame will sway when you move your iPhone, and will even react when you try to blow it out. This incredible technologically advanced app does everything a real Zippo can do—except light your cigarette.
Have you ever had one of those, "You're so ugly, farmers use your picture as a scarecrow," contests with your friends? Well now you can add a little accuracy to your game with the Ugly Meter. Simply upload a photograph, and the app will tell you with an incredible degree of accuracy where the subject lies on the "ugly scale" with ratings from 1 (least ugly) to 10 (truly hideous). Now we'll see who the real winner is....

 
Star Wars fans will be screaming indignantly at the appearance of this app on our list. And to be fair, it does have a certain amount of (short-lived) appeal. Featuring an array of different colors, sounds and saber hilt designs, you'll be jedi-ing your way to work before you know it.