By Jamie Rhoades on Tue, 08/13/2013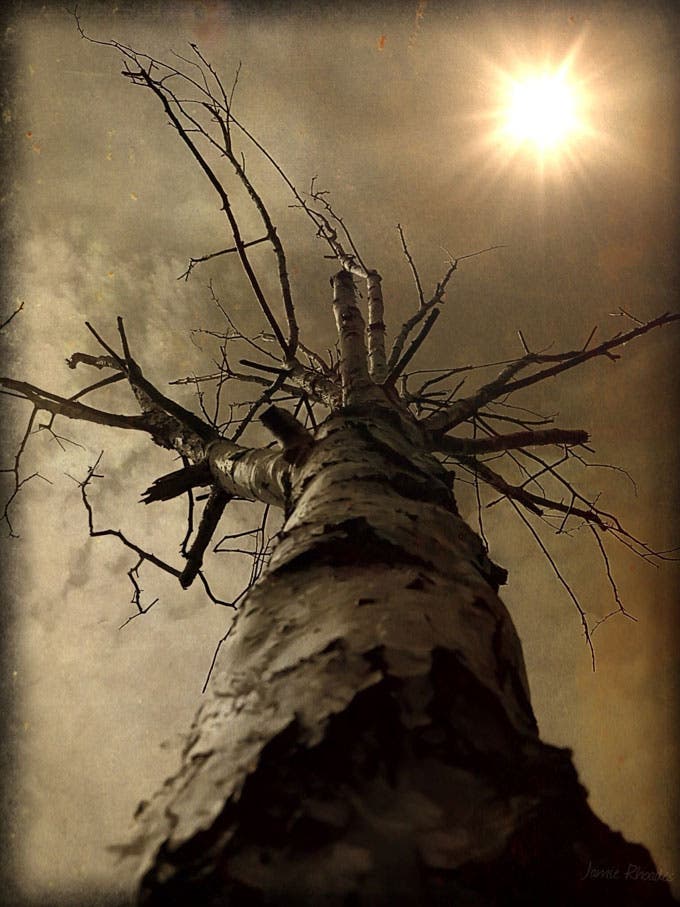 This week, I wanted to introduce an app I've been using for quite some time, and that I used to create this image titled, "Tree of Grunge." Every once in a while, you come across a photo you have taken that just seems impossible to edit. Maybe, there are flaws in your photo, but you still want to turn it into something special. That's where Modern Grunge ($0.99) comes into play. This exciting app lets you turn your photos into a work of art with one touch.
I was at my dad's place for a picnic when I spotted this peculiar-looking tree. I could've taken this photo standing up, or from any angle, and it still would've looked great. But I believe it's always good to think outside the box in photography. That's why I chose this angle. Plus, I wanted to capture the clouds covering the sky, which had an eerie feeling of their own.
Master your iPhone in one minute a day:
Sign up to iPhone Life's Tip of the Day Newsletter and we'll send you a tip each day to save time and get the most out of your iPhone or iPad.
I started in Camera+ ($1.99). From this angle, you can't look through the lens. This is more of an aim and shoot type of photo. You need to make sure you take multiple shots to ensure you get a couple good shots. After shooting this tree, I also edited it in the same app. I used the Clarity filter, followed by going to the FX option and choosing Vibrant. Remember to always adjust your filters to your liking, as to not over or under process. I adjusted the vibrancy to about 25 percent and saved to Camera Roll.
Next, I brought the photo into Adobe Photoshop Express (free), which as I always say, is a must-have app for serious iPhoneographers. I used the De-noise option, and adjusted it to around 50 percent. Next in this app, I used the Sharpen option and adjusted to 20 percent. Doing this to all your photos will make them look just like you shot them with a $1,000 camera, I promise. 
Now here's where the magic happened. I brought the photo into Modern Grunge ($0.99). There are manual settings you can work with in this app, but the presets are perfect IMO. This is very simple and user friendly. All I did here was tap the presets until it really caught my eye and saved to Camera Roll. There are always quite a few that catch my eye, so I end up saving a couple different edits. Then, I choose my favorite from Camera Roll. You will be thoroughly impressed with this easy-to-use app. It will also let you add scratches to your photos, which sometimes looks great in grunge-type photos.
Next, I take the image into one of my favorites, LensFlare ($1.99). As you may have read in my previous workflows, this app is a miracle worker as well. I used the Desert Sun option here. I placed the sun where I liked and adjusted the color.
Last off, I took it into iWatermark ($1.99). This is where I take all of my photos to put my watermark on them. This is a very simple app that will help you show ownership. That's it! After you complete these steps, save to Camera Roll, and you're done.
I have been an iphoneographer for quite a while now, and I am still amazed at the quality of photos I can create with my iPhone. Using these workflows, you can create images of your own that look like they came from a professional photographer using a professional camera. I hope you can go out and try some of these tips for your iPhoneography. Until next time.