By Jamie Rhoades on Mon, 02/17/2014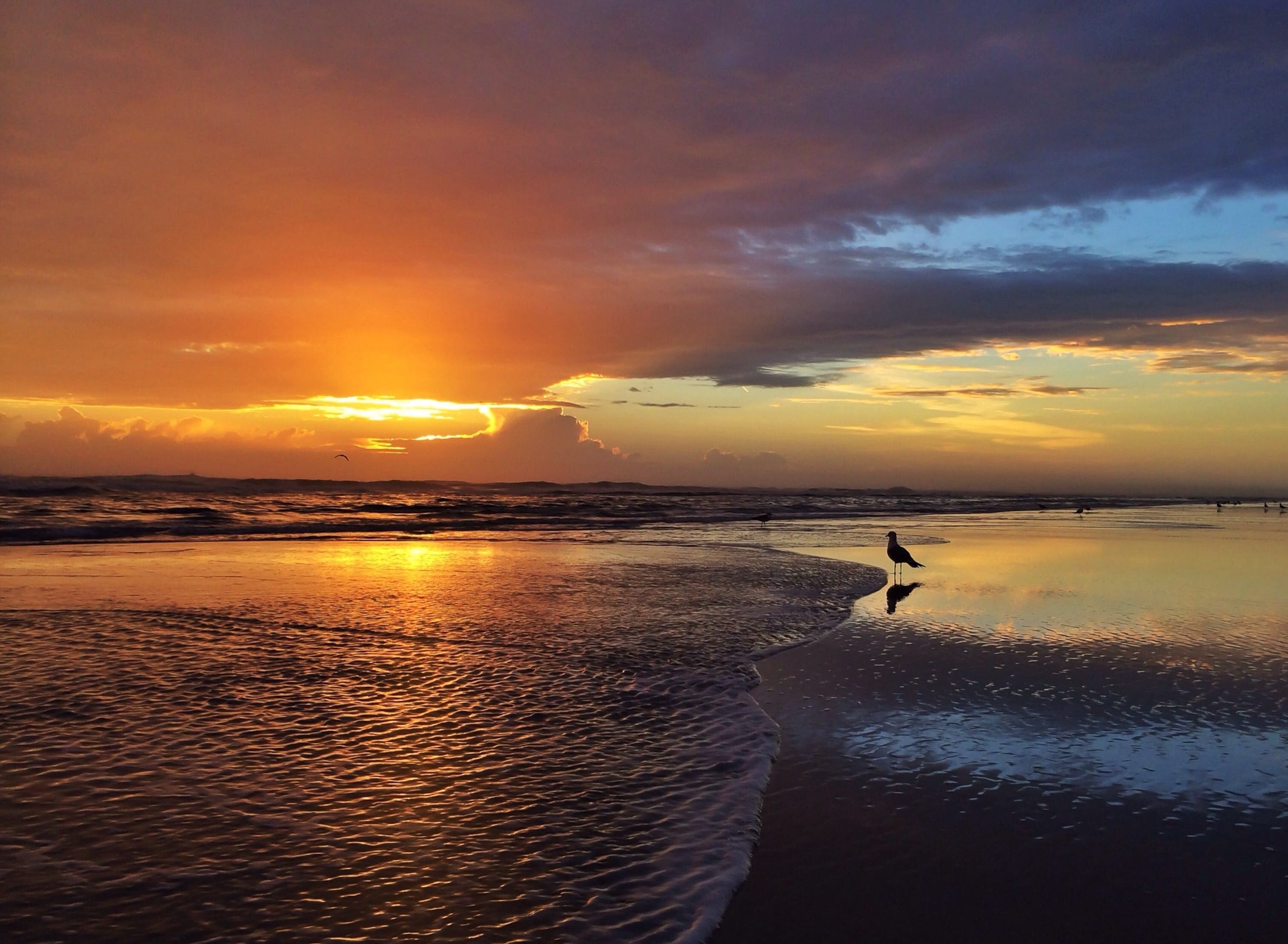 This is my workflow for the photo titled "Dawn On Sunday." My family and I recently went on vacation to New Smyrna Beach, FL. It had been cloudy and rainy the entire week. I read the weather and saw that I might have a chance to catch a sunrise on Sunday, so my son and I got up early that morning and headed to the beach where I was lucky enough to see the sun rising. The sunrise lasted for about an hour before the clouds recovered the sun and sky.
I have recently started using Procamera 7 ($4.99) to take all of my iPhone shots including this one. I always get to my photo site before the sun rises or sets. I believe you get better color this way. I had an hour to shoot, so I started right away. I saw this bird soaking up the sun while enjoying the waves, and thought it looked like a great shot. Always use your focus/exposure settings by tapping the screen. Place your focus on the main subject, and adjust the exposure to your lighting likeness. I took quite a few shots of this scene, from several different angles. This ensures that if there is any blurry photos, you'll have still some that are perfect. After choosing my favorite shot of the bunch, I saved it to camera roll.
Master your iPhone in one minute a day:
Sign up to iPhone Life's Tip of the Day Newsletter and we'll send you a tip each day to save time and get the most out of your iPhone or iPad.
Next I bought my photo into PS Express (free). I do this with "all" my photos for one reason. I do this to sharpen and de-noise the photo. You have to use your adjustments when doing this. Too much of either or can ruin the look, so be careful. After adjusting these features to my liking, I saved to camera roll. Tip: In most cases I'll adjust sharpen to 40–45%, and the de-noise to about 55–65%.
I next bring my photo into Snapseed (free). I used only the Tune Image option. In that option are a few different types of adjustments. I started with the Ambiance and adjusted it to my liking—around 65%. I never mess with the contrast much, though in some cases you may need to. Same goes with the Saturation. It's up to you if you need these, though I didn't on this photo. I used the Shadows option next, and adjusted to 25%. Next to the Warmth option which I adjusted to 25% to add a little color of warmth. Lastly, I went to the Brightness option and actually darkened the image to -15. I always darken my sunrise and sunset photos just a touch. This allows all the wonderful colors to pop.
After that I went to another go-to app of mine, LensLight ($1.99). Since I take a ton of landscape shots, I use this app frequently. It always adds a fantastic touch to your sunrises and sunsets. I used the Anamorphic Sun option. When adjusting this, I brought the Artifacts adjustment all the way down/off. You'll understand once you play with this app. I also turned the Source down just a touch. The brightness of the sun I brought down just a touch as well. I placed the sun over the the existing sunlight, just to add some pop to it. Always use your adjustments here in this app as well.
The last app I used is called Photo FX ($2.99). I bring my landscape photos here to add just a little more color enhancement. I used the 812Warming option. I chose the fourth setting in this option and adjusted to my liking. This is a great app for introducing great color into your photos.
I hope this workflow has been helpful and will allow you to step up your iPhoneography to another level.