By Oskar Andermo updated on 07/23/2013
In this smartphone coaching series, learn how your iPhone paired with simple success principles can help you create a better life. This is Part 2 of the series.
In my introductory post last week, I explained what it means to live a good life and shared simple yet powerful ways to stay focused on your goals. In this post, we will discuss one of the fundamentals of a good life—your health. Here, you will learn tricks to motivate yourself to take your health to the next level using different iPhone apps.
Master your iPhone in one minute a day:
Sign up to iPhone Life's Tip of the Day Newsletter and we'll send you a tip each day to save time and get the most out of your iPhone or iPad.
What Does it Mean to be Healthy?
My definition of health comes from mental training, a concept developed by Swedish psychology professor, Lars-Eric Uneståhl. He added a plus sign in front of health to illustrate that being healthy is not just staying away from disease. + health is about feeling great both physically and mentally. Many times we take our health for granted until something happens, and then we use all our energy to get back to a healthy state. If you want to feel good, this is not for you. Instead, focus daily on activities that make you healthier. Things like exercise, diet, breathing, stretching, meditation etc.
+ health is divided into the physical aspect and the mental aspect of health. In today's post, we will talk about the physical aspect. Next post, we will discuss how to maintain mental health.
 
How Should I Exercise?
There is so much information out there, it can be confusing and overwhelming. Should I run fast for a short period of time or slower for a longer time? Should I walk or run? Should I lift weights or focus on cardio? The fitness world can be very confusing!
A good friend of mine gave me the best advice on this matter. He said, "The best method is the one that you actually do." So, you need to find something you enjoy doing, and that you will enjoy doing the rest of your life.
 
Use Your Phone as Your Personal Trainer
It is best, of course, if you can work with a personal trainer; however, this can be expensive if you want to do it regularly. Instead, my recommendation is to use your phone and YouTube. That way, your "personal trainer" is always with you in your pocket. There are a ton of exercise routines on YouTube, such as www.youtube.com/user/FitnessBlender, which I recommend. They have a lot of good routines and most you can do at home with no equipment.

Use Internet to Find a Method that Works for You
Take some time and research different diets and exercises that fit with your goals. Use your iPhone while commuting for your research. It's best to also find someone who has done what you aim to do, and who can share tips with you. I don't recommend trying the latest fad diet or exercise product, which usually make the founder wealthy, not you healthy.
Personally, I found a guy who went from 260 pounds to 160 pounds in a year and documented his journey on his blog with pictures and stories about how he did it. Here are his before and after pictures: www.magik.se/viktnedgang.
The trick is to find something you can do for the rest of your life. A diet will only be temporary, and most people gain back the weight just a few months after they stop their diet.

In my last post, I had you create a 1-year goal for your health and had you find a picture representing this goal to put in our phone. This is the picture I am personally using…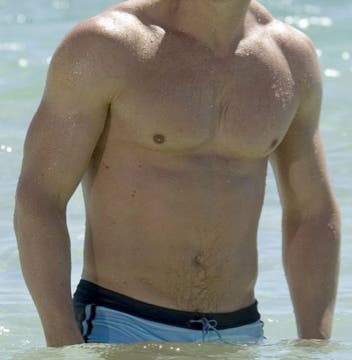 I am not there yet, but it is in progress ☺.

So once you have your strategy and your goal, it is time to go out and do it! We need to motivate ourselves to build the habit of good diet and regular exercise. 
There's no better way to motivate yourself than to use pain and pleasure. First up: pain. Download the application Fatify (free). Take a picture of yourself, and will see how you will look if you do not exercise and continue eating crap! Use the picture to feel the pain of how your future self would feel. Use the emotion of pain to push yourself to take action. You also can try to find a picture of someone else who is more unhealthy than you, and copy and paste it into your phone. Make a folder of the picture from Fatify and also put your goal picture in the same folder. Start by looking at the pictures that gives you the pain, and finish  by looking at your goal picture.
Below is my before and after picture from Fatify, left to right. If I don't exercise, this is how I will look:


Next, write two lists in your notes on your iPhone. First, answer the following question: What will happen to my life 5, 10, 20, 30 years from now if I don't continuously exercise? List everything. Afterward, answer this question: What will happen to my life 5, 10, 20, 30 years from now if I exercise regularly? Go through these notes weekly, and use it to push yourself to exercise.
 
I need more motivation!
If this is not enough, use money to push yourself. In my book on smartphone coaching, I shared a method of buddying up with a friend as an accountability partner. Make a commitment of how many times you are going to exercise each week, and pay him each time you miss. There is even an application for this! It's called GymPact (free). In the app, you give your credit card details. Next, you commit to a number of times you are going to exercise each week, and how much money you will pay if you don't do it. You cannot cheat, as you will have to either check in at the gym with GPS or use the motion sensor in your iPhone to move for a minimum of 30 minutes to make the exercise count. I signed up 6 weeks ago, and I have never exercised so regularly as after my GymPact commitment!

To recap the steps you've taken so far:
-    identify your health goal;
-    Research the Internet to find the right strategy;
-    Use pain and pleasure to motivate yourself to follow through by using your iPhone.

Now, go out and do it! Good luck with your physical health goals. Next time, we will focus on mental health.