By Oskar Andermo updated on 07/09/2013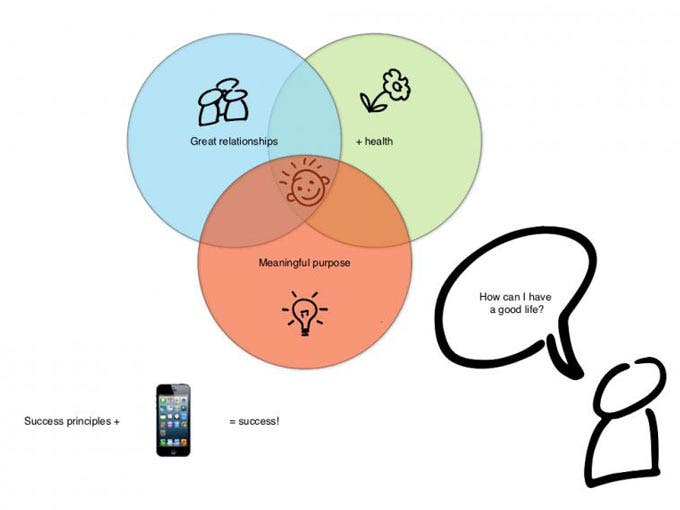 In this life coaching series, learn how your iPhone paired with these simple principles can help you create a good life. 
Before we get started, I will explain what it means to live a good life. Then, I will show you a simple and powerful way to stay focused on what you want instead of what you don't want.
Master your iPhone in one minute a day:
Sign up to iPhone Life's Tip of the Day Newsletter and we'll send you a tip each day to save time and get the most out of your iPhone or iPad.
What is a good life?
When asking people who they believe lives a good life, many will refer to wealthy, successful businesspeople or athletes. Does this mean that if you are super wealthy or are a star in a sport, you automatically have a good life? Of course this is no guarantee. When you dig deeper into this question, most people agree that a good life is: being healthy, having good relationships with friends and family, and finally, having a purpose—something you enjoy doing that makes you happy. The last part is often related to work, as we spend so many hours there. So in this column, we will focus on how your iPhone can help you improve in these three important areas of your life. Unlike a coach, your iPhone can be in your pocket most of the time!
Today, a phone is so much more than just a phone. When I was in high school, the coolest thing you could have was the new Ericsson 337 (I grow up in Sweden where Ericsson has had a big impact on mobile usage). I thought it was such a nice phone back then! It could actually fit into the front pocket of your Levi's 501. You could call and send text messages, but writing SMS was a slow and tedious process. Fast forward to today, and your phone is so much more than just a tool for calling and sending text messages. According to the CEO of Intel, an average smartphone today has more computing power than the whole of NASA at the time of the moon landing in 1969. 
We can use this powerful computer to waste our time or to do good. I would recommend the latter. I am an entrepreneur involved in several different businesses, but the one I enjoy most is coaching. I am a certified coach and work one-on-one with a few clients each month. Working with a coach can be extremely powerful. If you have not done it, I really recommend it. You are basically paying someone to help you take your life to the next level. What a good investment!
A problem I faced with my clients was that since we met at most once a month, they sometimes forgot what we discussed in our previous sessions. The solution I came up with was to program their phones with the ideas we discussed. This way my clients could just take a quick look at their phones to remind them what they were supposed to focus on that week.
In this column, I will show you many different ways to program your iPhone so it's a successful coach that's always in your pocket!
Action Steps:
All changes come from knowing where you are and identifying where you want to be. Next, you can come up with an action plan to bridge the gap.
Identify one goal in each of the areas we discussed: health, relationships, and meaningful purpose. Make a 1-year goal for now. Try to visualize the optimal situation in each category one year from now;

Transform the written goal into a picture in your mind;

Search online for a picture that represents your goal as closely as possible;

Copy and paste the picture into your phone;

Make a folder with these three pictures;

Put a reminder in your phone to review these pictures daily for the next 10 days. When you review the pictures, imagine they are already real.