By

Stacy Carter
Updated 04/24/2016
New apps make our iPhones more multifunctional each day. You can turn your device into a flashlight, heart rate monitor, diet tracker, and much, much more. Among these are a multitude of apps that turn your iPhone into a remote control for your PC or Mac, letting you manage your life wirelessly, right from your iPhone.
Below is a list of popular apps that give you power over your Mac or PC.
1) Remote (Free)
The Remote app by Apple allows you to use your iPhone to manage your Apple TV, Mac or PC, and even iTunes. Remote is easy to install and will allow you to open the whole iTunes directory from your iPhone. What's more, it also lets you create playlists and modify collections.
2) Off Remote ($2.99)
Off Remote is a great solution for parents who want to manage their children's computer use. It lets you log off, lock, restart, hibernate, or turn off your PC or Mac from wherever you are.
3) iShutdown ($1.99)
This app has simlar functionality to Off Remote. It runs very fast, connects multiple computers, as well as hibernates your PC.
4) Mocha VNC ($5.99)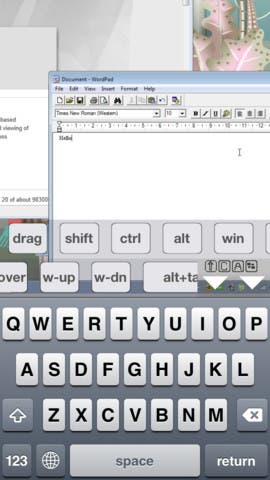 With Mocha VNC, you can view the files on your computer directly on your iPhone, which directly reduces your computer use. The app has a clean and crisp interface, and assimilates the keyboard into a keypad within the app. While Mocha VNC costs $5.99 with its advanced features, you can try the lite version for free.
5) VNC Viewer (Free)
VNC Viewer is known as the mother of all VNC applications, and is a very elegant and powerful app. The simple client allows you tp manage several apps running on your PC and Mac. 
6) Rowmote ($0.99)
This app version is an easy-to-use remote control for your PC or Mac. It allows you to view dock applications and easily and quickly control audio and video . In addition, Rowmote can also control AppleTV.