By John Toma updated on 06/05/2013
The iPhoneography Tip of the Week series features tips, tricks, and tutorials to help you take better pictures with your iPhone.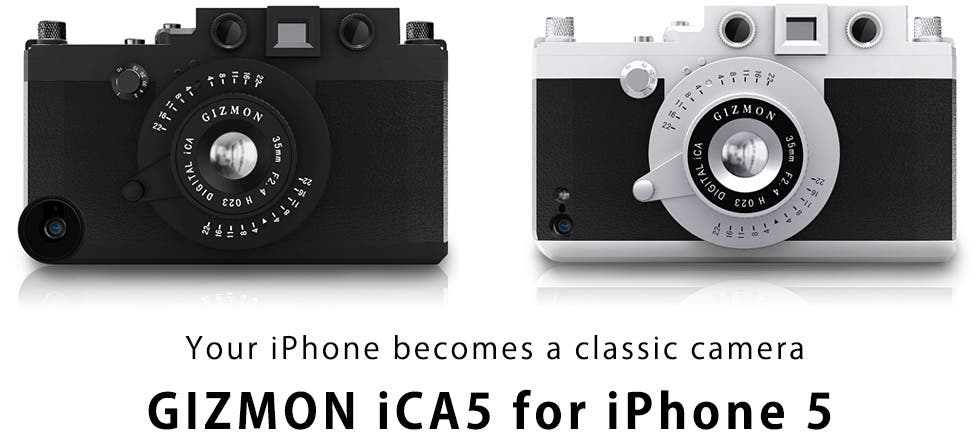 Rangefinders are super hot right now. Photographers looking for a dynamic view while shooting street photography love using rangefinders as their primary platform. The two-dimensional quality, straight-forward shooting is extremely unique. For me, photographing with a rangefinder is far more engaging than using my DSLR. Don't get me wrong, I love shooting with my 5D Mark III, but seeing the focus rectangle glow inside the viewfinder of my Canon QL17 is a truly wonderful experience. With today's digital offerings, you can't go wrong with a Leica or Fuji X100 - the overlays within the viewfinder are brilliant.
Master your iPhone in one minute a day:
Sign up to iPhone Life's Tip of the Day Newsletter and we'll send you a tip each day to save time and get the most out of your iPhone or iPad.
But if you would rather save a few thousand dollars and you don't mind compromising on the image quality, then look no further than your iPhone!
I like to use the Gizmon iCA iPhone Rangefinder Case ($55) to dress up my iPhone like a real rangefinder. This case is attractive and turns heads all the time. People are always asking what I'm shooting with when I carry my iPhone around in the Gizmon case. And the viewfinder actually works! Well, you can look through the viewfinder, but sorry, no awesome lights glowing inside. Gizmon also sells magnetic lens attachments such as fisheye, telephoto and macro lenses.
To add the rangefinder effect, you will need a couple of Apps. I use TtV Camera ($1.99) in conjunction with Viewmatic ($0.99) in order to achieve an image like the one of the Storm Trooper Lego set below. The first thing I did was open TtV Camera and select the viewfinder selection toggle on the right. I chose to go with the Halina viewfinder in order to achieve the target reticle effect. Next, I imported the image into Viewmatic, selected edit, and did the following:
1.       Selected the viewfinder option and chose TTV4;
2.       Selected the aperture/filter option and chose VF19;
3.       Used the Adjustment Arrows to increase the sharpness and saturation;
4.       Saved the image by clicking done.
Take a look at my workflow below: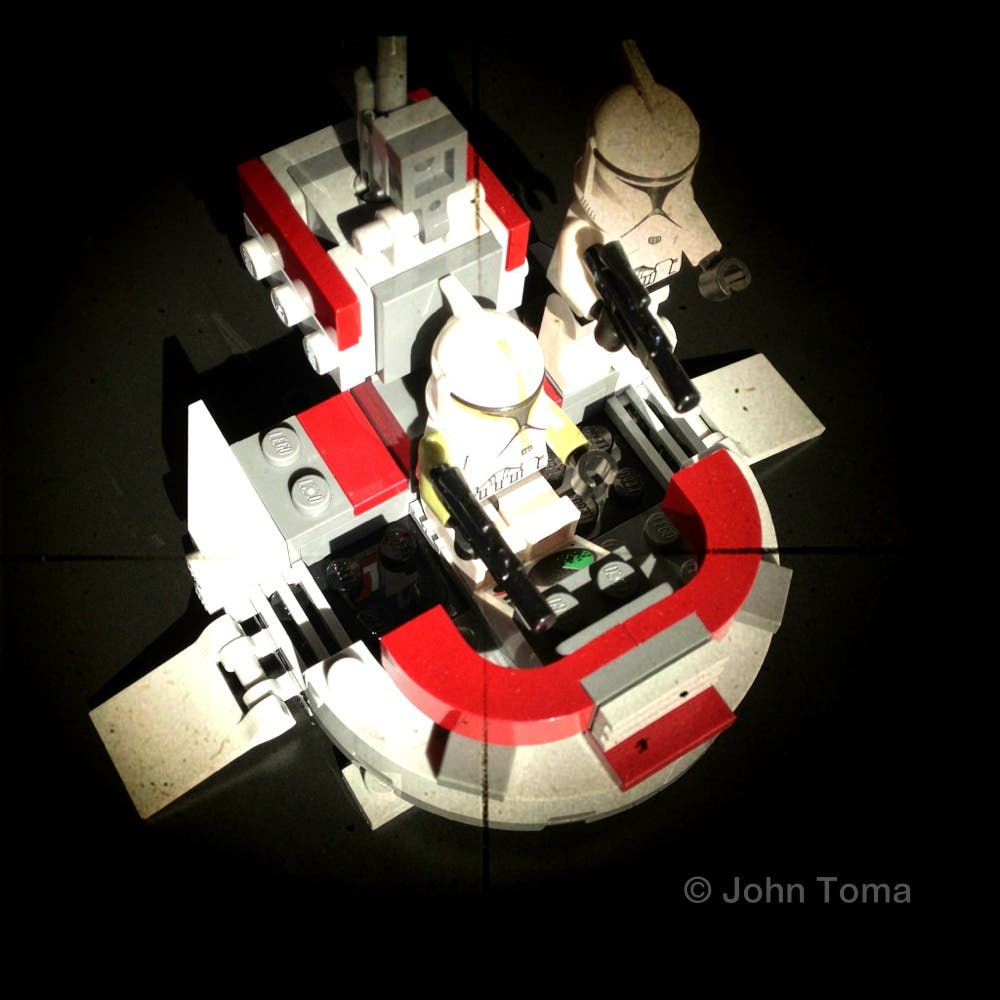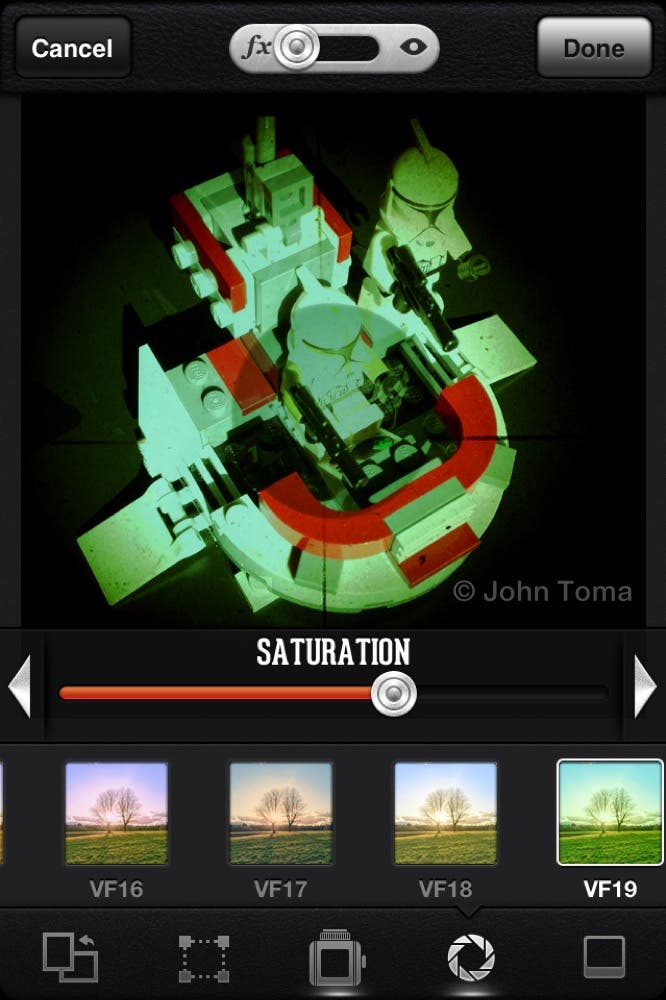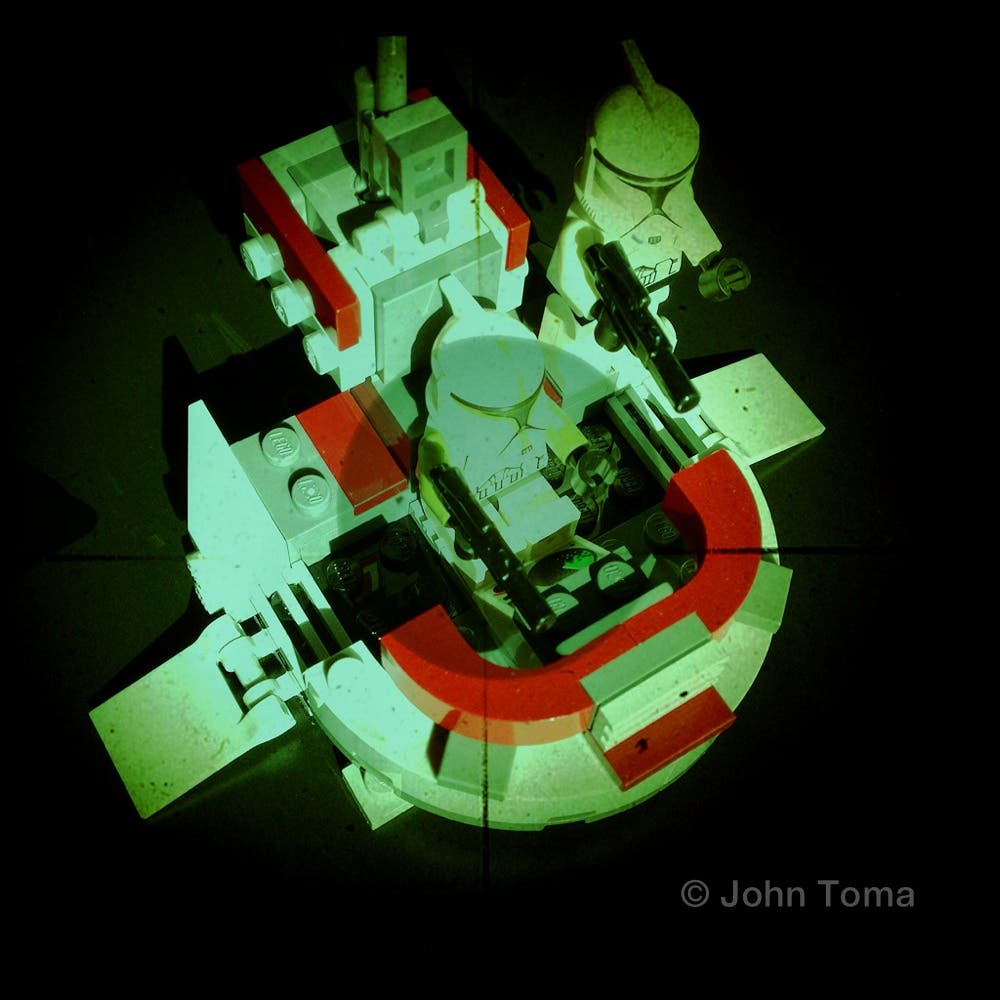 Take some time to practice using one or both apps until you find a great pairing for your image. You can use either app exclusively to generate the viewfinder effect, but I've found using both Apps provides a dynamic look to my images.
For those of you with a rangefinder already, try holding your iPhone camera to the viewfinder of your rangefinder and snapping a photograph – this can generate some interesting shots.
Have you tried a different app or platform to achieve this effect? Let me know.
In the meantime, have fun with your iPhoneography, and thanks for reading!