By Albert Vang on Sat, 05/25/2013
Imagine a crowded party. A gallant young man fights his way through and reaches the bar. He gets a glass of champagne, makes his way back through the crowd without spilling a drop, and hands it reverentially to his date. She smiles and looks at him with approval. This is the sort of thing good push notifications do.
Imagine the same guy. He goes through all the same motions but comes back with a sticky, smelly goo and hands it over to his date. This bloke is a bad push notification. She turns and stalks away, affronted. 
Master your iPhone in one minute a day:
Sign up to iPhone Life's Tip of the Day Newsletter and we'll send you a tip each day to save time and get the most out of your iPhone or iPad.
Understanding Push Notifications
Apple Push Notification Service, launched with the release of iOS 3.0 in 2009, marked the beginning of push notifications. As users cannot operate two apps on the same page at the same time, this service was created to ensure they did not miss important information or updates from apps while they were interacting with other apps. All push notifications are restricted to 256 bytes, and the best part is, you can receive notifications even when an app is not running.
The simplest example of a push notification is the in-built Mail app in your smartphone. Whenever you receive emails on any of the email accounts active on your smartphone, you can immediately see the notifications in the Mail app. The apps that deliver push notifications use the same technology to "push" important information to you. You don't have to open the app – it pushes the most important information straight to the lock screen.
Sometimes, Notifications Get too Pushy...
Most people have at least a few dozen apps installed in their smartphones. Even if you have just 20-25 apps with push notifications, you can begin to feel bombarded with too much information all the time. In cases where the information is relevant or important, people don't really mind it, but when they are constantly notified about things they do not care about, or when advertisements or promotional material is pushed instead of notifications, smartphone users start seeing red. And, of course, an app that sends twenty notifications in an hour – even if the content is not promotional in any way – is annoying.
...But You May Still Love Them
The push notification service is not the underlying problem here. The problem is with developers who abuse push notifications. Apple's guidelines clearly say push notifications should not be used to push promotional content. Android tries to solve the problem of numerous push notifications by notifying the user of only the latest notification from an app. But there will always be developers who use push services unscrupulously.
As mentioned above, notification regarding email is one of the most useful forms of push notifications. Then, there are weather apps that notify the users only when there is a fear of rain, storm, snow, or other extreme weather condition. Word games and games like online chess, where the opponents are playing from different devices, use push services to notify users that it is now their turn to move. In such situations, most iPhone users are more than happy to be notified through push notifications.
Dealing with Unwelcome Push Notifications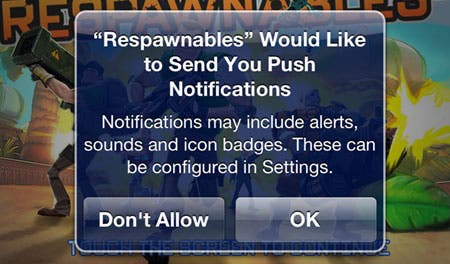 When you install any app offering push notifications on your iPhone, a pop-up appears asking for your permission to send push notifications to your lock screen. But if you tap OK only to change your mind later, most users are not aware they can access the setting of the application to stop the push notifications.
Many users end up simply deleting the app, even if it provides some useful services. The best way to avoid unwanted notifications from an app is to be careful when installing it. By not granting the apps permission to push notifications, you can cut to the root of the problem.
But there is no reason to be afraid of push notifications, even if you have already installed the app. If you find them useful, no worries. But in case you find them annoying, you can easily disable push notifications for individual apps on the iPhone.