By Guest Blogger on Tue, 07/17/2012
The Hidden Pitfall of iPhone's Facebook Integration – Will People Go Overboard with Their Sharing?
At first glance, the iPhone with a built-in Facebook seems like a very good idea, and one that iPhone users were hoping would be implemented sooner rather than later. But now, something that was merely a rumor has been confirmed by Apple at the recently concluded Worldwide Developers Conference. The newest version of Apple's iDevice Operating System, iOS 6, which will be released to consumers this fall, will have what Apple calls "Deep Facebook Integration."
Master your iPhone in one minute a day:
Sign up to iPhone Life's Tip of the Day Newsletter and we'll send you a tip each day to save time and get the most out of your iPhone or iPad.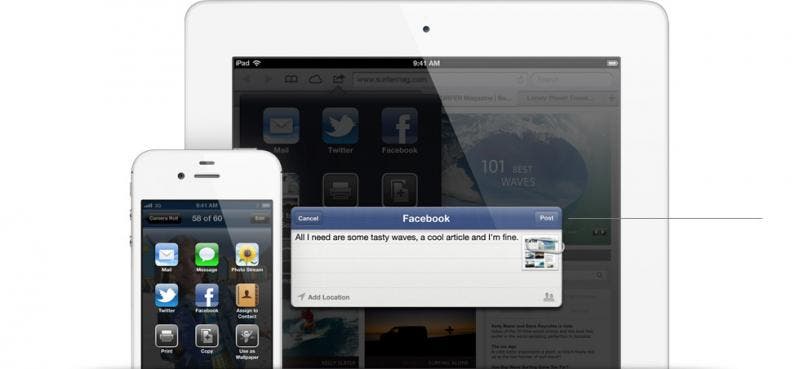 What the User Needs to Do to Access Facebook
In order to get Facebook on your iPhone, the first thing that you will need to do is upgrade your iPhone's OS to iOS 6 (once it's available) and access the Facebook setting. You'll then sign into Facebook through iOS and access this social network in the apps that you frequently use in your iPhone (for example, the Calendar or Contacts app). You'll even be able to sync information (like all of your friends' birthdays) from your Facebook profile to your iPhone calendar.
The Facebook integration will allow you to do a whole lot of other things as well—for example, using the new Maps app to upload your Facebook locations.
The Curse of Oversharing
Let's face it—you are going to increase your Facebook use when it's integrated on your iPhone. You'll no longer have to log in to your Facebook account from your desktop or laptop, or even the app. Now that it will be integrated on your iPhone, it'll make using Facebook all the more convenient. But in this convenience lies a major pitfall—the risk of oversharing.
If you are logged into your Facebook account throughout the day, you are going to "share." That is an absolute given, and it might lead to the oversharing of your photos, links, and messages, as this integration has made it extremely simple to do so.
Now, you might say that it all depends on the individual, and if the individuals can control their sharing, they won't overshare, but it's easier said than done.
As an iPhone user, you'll have a better incentive to use Facebook, and what's more, with deeper integration, it will make sharing of content more engaging. When it's available with iOS 6, developers will also be able to integrate this social media platform into their apps. What this means is that the reasons to use Facebook will keep increasing—will you be able to control its use?
Dangers of Oversharing
There is a thin line between sharing and oversharing. The danger with oversharing lies in the fact that you will go overboard in sharing personal information. More importantly, you'll do it without realizing what you have done. The fact that you'll be on Facebook at all times will give rise to this never-ending need to make use of it, which in turn will make you share things that you otherwise wouldn't have.
Think about a situation where you have an uncontrollable urge to share something, but you don't have anything worthwhile to share. So, you go ahead and do something that you shouldn't. You share personal information with respect to your family, marriage, financial situation, or something else—the kind of information that anybody with an immoral bent of mind can use to blackmail you or put pressure on you in any way or form.
This is just an example of how oversharing can go wrong.
Controlling the Urge to Overshare
You need to keep educating yourself about the need to control your Facebook exchange. You need to be fully aware of the implications and the risk of what you are sharing. This is why you need to have a clear idea about Facebook's privacy settings to make sure that your messages or status updates don't reach people they are not intended for.
But at the end of the day, it's important to understand that both Apple and Facebook have teamed up to offer their users a neat little benefit. What's more, it also makes perfect business sense for them to do so (think Google and Google+).
Whether you use it or not is your call. Be careful, those are my last two words on the matter.
Alicia Carter is an app developer with Perceptive Mobile Apps, a Mobile Apps Development Company that is at the forefront of developing cutting edge apps for iPhone, iPad and Android platforms. She loves sharing her views and opinions about this domain with likeminded people through her write ups.