By Christopher Smith updated on 05/13/2013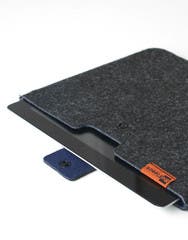 These days, the environment is on everyone's mind. From climate change to dwindling natural resources, many companies have begun creating products in a more environmentally conscious way. One such company stepping to the forefront is ReFleece.
ReFleece is the brainchild of husband-and-wife team Sam Palmer and Jennifer Feller. They created the company with an eye for creating products with highly sustainable practices and terrific design. Among their most popular products are their sleeves and cases for the iPad and iPad Mini. These covers feature interiors made of reclaimed fleece from recycled Patagonia jackets and sweaters. The rugged, water-resistant exterior is made of recycled PET plastic.
Never Feel Frustrated with Your iPhone Again:
Sign up to iPhone Life's Tip of the Day Newsletter and we'll send you a tip each day to save time and get the most out of your iPhone or iPad.
Sam Palmer's relationship with Patagonia goes back to his days helping to design the company's first-ever surfboard. The texture and shade of each case's lining is unique, because the recycled source material varies. For example, the iPad cases come in eight interior color options, but each individual case takes on a different hue based on the materials. ReFleece's iPad covers are also available for purchase via Patagonia and Amazon. They even offer the cases in stores in their home area of Boston, MA, as well as in New York City, among other places.
Seeing the demand for their covers rising, the founders of ReFleece have undertaken 
a Kickstarter campaign 
entitled "
The Great ReFleece," which
ends May 22. 
The campaign aims to raise $25,000 and asks people to send in used sweaters, blankets, and other fleece products to
ReFleece
so the company can make iPad and other tablet covers. In addition, they're also looking to produce new products such as 
coasters and 4-square organizers.
To date, the campaign has 78 backers and has raised nearly $5,000. With its
 iPad covers and sleeves,
ReFleece
 has created a gold standard for the fusion of responsible manufacturing and effective design for 
iOS
products going forward. Stay in the loop via Facebook at facebook.com/
ReFleece
.