By Christopher Smith on Fri, 05/23/2014
Harmonix, the company behind the smash video game platform hits Rock Band and Dance Central, has recently made their entry into the world of mobile gaming with Record Run, a gaming app that the company terms a "'rhythm runner."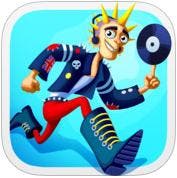 The game begins by asking you to use headphones, then takes you to a scene outside a record store where your character loses his box of records due to a near run-in with a car. In order to retrieve the records and gain entry into the club, you have to successfully avoid all the obstacles on your run throughout the city scene in time with the beat of the song you pick. This is done by swiping up, left, right, and down on your screen at key points. Your score then determines the amount of stars you'll be awarded for the song as well as if you'll get any backstage passes, which serve as valued currency to progress through the game.
Record Run comes equipped with five songs created specifically for the game. You also have the option to add your own music which will align with the game's interface on every run. All in all, there's 20 different missions found here. And you can utilize four different boosts to maximize your performance and a store where you can change outfits or even change characters as the game goes on.
Master your iPhone in one minute a day:
Sign up to iPhone Life's Tip of the Day Newsletter and we'll send you a tip each day to save time and get the most out of your iPhone or iPad.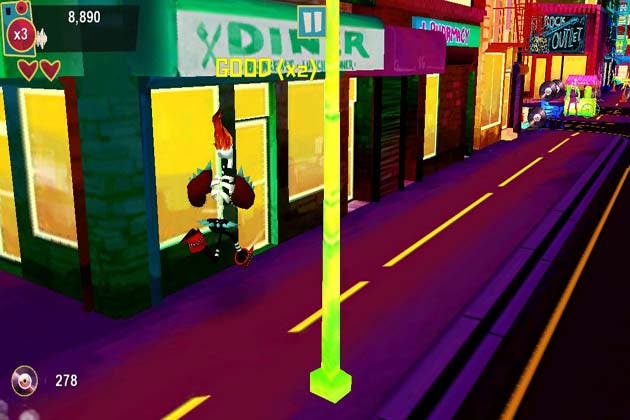 Record Run is entertaining to play when you first get into it. Your character is really responsive to the beat of the song, and if you get past a number of obstacles perfectly, you wind up in a trippy bonus round where everything doubles. You will get caught up in the gameplay at first. However, there are a couple of things that may dim the appeal of the game after a while. The first thing is the touch swipe control. You have to swipe exactly a certain way; any slight difference can register the opposite movement and cause you to lose a life. Also, when you re-spawn, you're still in play during the process so you can mess up without realizing it. Another quirky element found is that you can't use any songs purchased from the iTunes Store due to the DRM-locked files. If that's the bulk of your music library on your phon,e it doesn't leave you many options. It can also be a bit tough to get more than two stars on a song at first, which can take away from whatever record currency you've earned. And you will need to use headphones or turn your phone volume up loud. Play it silently at your own risk. For Harmonix's first attempt, Record Run is a neat little game that has a couple of snags that may not warrant extended play for some users. But overall it's an entertaining game that's worth a spin.
3 out of 5 stars