By Christopher Smith updated on 10/04/2013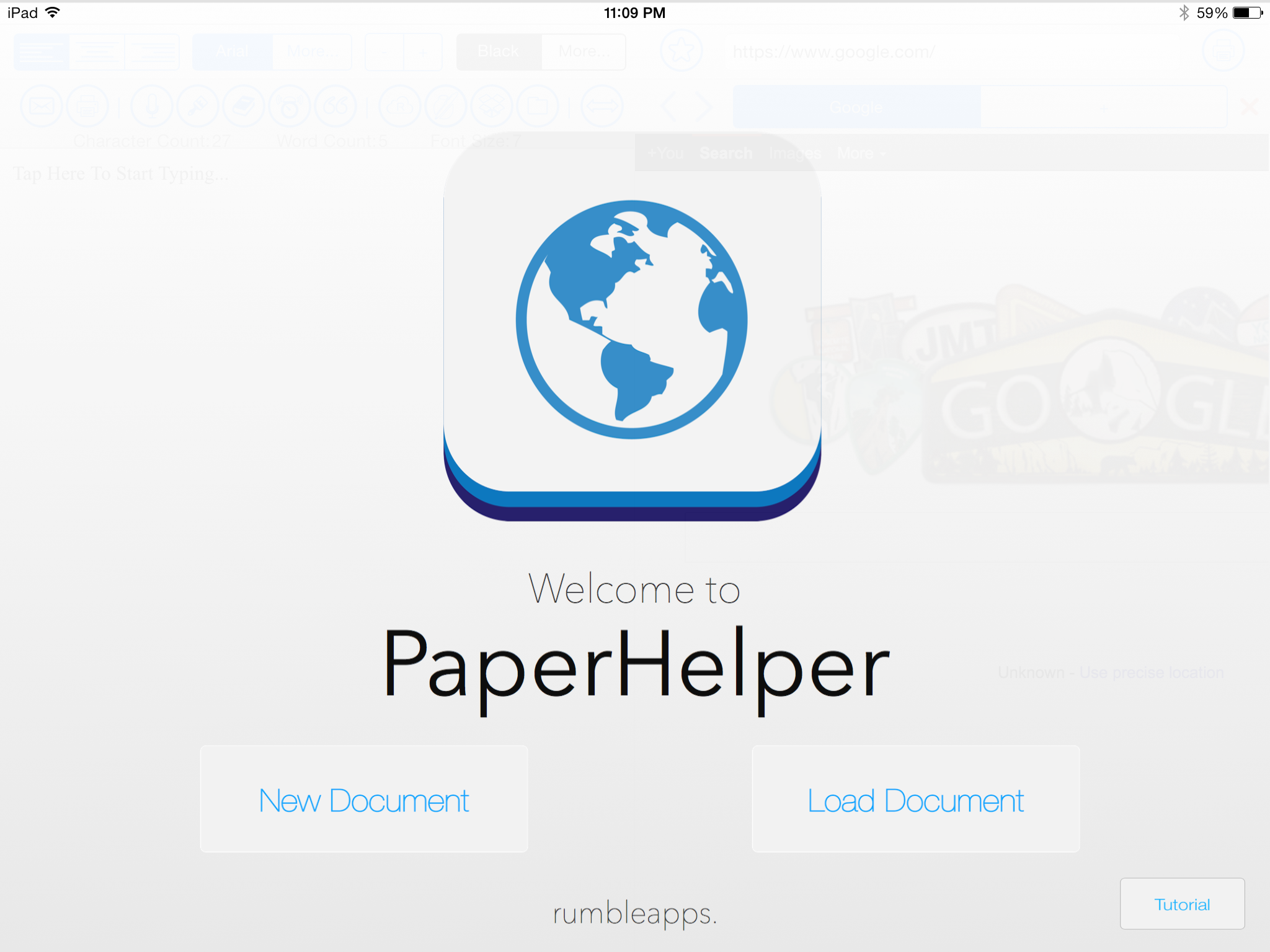 Last year, a new app called PaperHelper caught the attention of many. This app, produced and distributed by RumbleApps, was remarkable for two reasons. One was its novel approach to improving productivity in education along with a unique design interface. The other was that PaperHelper was the brainchild of two teenagers, Cameron Oelsen and Antony Basta, who had formed RumbleApps in 2010. PaperHelper was actually not their first app—that was QuikSocial (free), which gives users the chance to access multiple sources of entertainment and news in one seamless stream. 
With PaperHelper, the biggest draw is the interface that gives you a split screen on your iPad so that you can compose a document and conduct research via a web browser at the same time. This revolutionary feature cuts down on wasted minutes going between your paper and the different tabs you might have open in your browser. (We've all been there too many times.) The built-in spell check is a plus too, in addition to other features like varied text formats. Recently I got the chance to catch up with Cameron Oelsen to ask him a couple of questions about the app and his take on the experience in general. 
Master your iPhone in one minute a day:
Sign up to iPhone Life's Tip of the Day Newsletter and we'll send you a tip each day to save time and get the most out of your iPhone or iPad.


iPhoneLife: What gave you the idea to come up with Paper Helper? What were your inspirations?



Oelsen: PaperHelper was created from the lack of multitasking research apps in the App Store. We,

Antony Basta (my partner) and I, were actually in dire need of this app at the time. So, we actually

created it as a resource for ourselves, which later became a resource for the general public. 
iPL: So, what was your prior experience as far as design and developing?



Oelsen: We actually learned most everything we know from books in the library, and just by simply googling problems! It was actually pretty awesome and fun to learn!



iPL: When Paper Helper was first made available to the public, what were your feelings at that time?



Oelsen: When we first released PaperHelper, we felt it might gain some traction, but nothing really that noticeable. But, after receiving email after email from users pushing to have new features introduced, we started to feel the real impact PaperHelper was making. 



iPL: What were the challenges of being a teen developer?



Oelsen:  Probably the hardest struggle about being a teen app developer is that we had no idea where to start or what to do. This was a brand new industry at the time, so there wasn't much advice to be given from others. We had to find our click, and figure out how to fill in the gaps. Over time we have progressed in both our programming and design abilities that have helped us shape who we are today.



iPL: How do you feel the process of creating the app has helped prepare you for this next stage of life

as you're now attending college?



Oelsen: Deadlines. Definitely deadlines. We had to push out updates as fast as possible, so we would set a date that it HAD to be finished by. No exceptions. It has really changed our mindset and also our working style. May I add that Antony really hates how OCD and perfectionist I am with the design.




PaperHelper is currently on sale for $1.99 until Oct. 4 in the iTunes App Store.