By Christopher Smith on Wed, 02/05/2014
The 2014 Winter Olympic Games in Sochi, Russia will undoubtedly be full of triumphant moments and inspirational stories taking place. Perhaps one of the most inspiring will be a story that is both new and still familiar to many people out there. It's the story of the Jamaican Bobsled Team and their journey to these Olympics. It is partly an ode to determination and partially a gaze into the possibilities of digital currency and crowdfunding on a global scale. 
Master your iPhone in one minute a day:
Sign up to iPhone Life's Tip of the Day Newsletter and we'll send you a tip each day to save time and get the most out of your iPhone or iPad.
First, a bit of backstory. I got wind of Team Jamaica's qualification for Sochi in the two-man bobsled via Twitter. It was of great interest to me since both sides of my family call the island nation home. And like many emigrants, we all take great interest in anything Jamaicans do on a world stage since we pride ourselves on excellence and achievement. The news spread like wildfire and brought people back to Cool Runnings, the 1993 Disney movie that was a fictionalized chronicle of Jamaica's first entry into Olympic bobsledding at the 1988 Winter Olympics in Calgary. Since that first appearance, Jamaica went on to compete in 1994, 1998, and 2002. Winston Watts, a member of the last team from 2002, became the catalyst for Team Jamaica's return when he came out of retirement. Using Watts's home of Evanston, Wyoming as their training base, they focused on a two-man sled instead of the four-man. Watts as pilot partnered with Marvin Dixon, a former sprinter, as brakeman. They managed to compete well enough to earn a place at Sochi without traveling to St. Moritz, Switzerland for the final trials. And it was just as well since they didn't have the funding; since the Jamaica Olympic Association had little to offer in that arena, Watts paid out of his own pocket to get the team to that point. As the news of their qualification spread, Watts took the opportunity to be innovative and use the media as a way to raise funds, beginning with an interview with the New York Times. The next step? Crowdfunding.



Enter Dogecoin.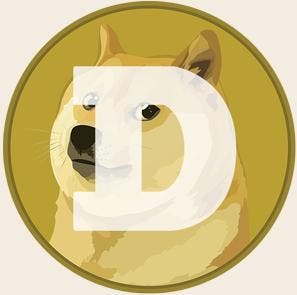 After Watts' initial appeal, he wound up starting a campaign with
Indiegogo
. The story caught the attention of
Dogecoin
, a crypto-currency that was a little over seven weeks old at that point. It owed its existence to an Adobe engineer in Sydney, Australia who took a
popular meme based on the comic "thoughts" of a dog
. Specifically, a
shiba inu
, a Japanese dog
. (
Doge
 is slang for dog.)
Dogecoin
also took cues from dominant crypto-currency 
Bitcoin
and a less rigid version,
Litecoin
. To this point it was seen as a joke currency by some. Via a
Reddit
campaign for the Jamaican Bobsled Team, 
Dogecoin
users raised 27 million of their currency in only a few days. They then converted the
dogecoins
to US dollars, giving them an amount of $30,000. As that campaign was in full force, a man named Lincoln Wheeler got a campaign started with group-funding platform
Crowdtilt
. That
campaign
, which he eventually turned over to Team Jamaica, netted $129,587. It has been hailed by
Crowdtilt
co-founder Jamie
Beshara
 as one of their fastest campaigns, with donations from all 50 states and 52 countries. I can safely guess that the Jamaican expatriate community lent a helping hand. With the combined funds in hand, the Jamaica Olympic Association agreed to lend their support. Watts and the rest of Team Jamaica set out for
Sochi
on February 3 from New York City. And at last report, they garnered a sponsorship deal from Samsung Mobile. This
partnership
resulted in another campaign detailing the bobsled team's journey and a mini-documentary, as well as more support for their participation in the Games. 
The story of the 2014 Jamaican Bobsled Team is highly notable because in the process of the team's journey to Sochi, they've managed to help advance the cause of crypto-currency. Dogecoin went from being taken lightly to seeing its value soar because of their efforts through Reddit. They also take away some of the negative stigma about it due to their easier guidelines in converting Dogecoins to flat currency (made easier by establishing ties with a Canadian e-bank last week) as well as being a distraction from Bitcoin's recent run-ins with the law due to their dealings with the illegal online drug market Silk Road. In addition, it gives a bit more heft to the idea that the global community can band together and lend support to noble efforts more more easier with mobile technology. One thing is certain: Team Jamaica has definitely created a better sequel to Cool Runnings than any scriptwriter could possibly attempt. For fans of the team, they hope it comes with a golden ending.
Jamaican Bobsled Team photo credit: Samsung Mobile