By Donna Cleveland on Tue, 01/29/2013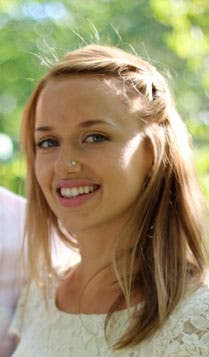 As the new web editor of iPhone Life magazine, I am looking forward to working with so many creative and knowledgeable bloggers.
From discovering quirky apps such as Swackett, which helps you dress for the weather, to getting the scoop on the upcoming Steve Jobs movie, to reading informed opinions about Apple's future, I've not only been impressed with bloggers' initiative, but also have been eager to take their recommendations. As a result, I've already doubled the number of apps on my iPhone and iPad in the two weeks I've been here!
I've been a happily converted Apple fan for several years, using my iPhone and MacBook Pro as a journalist and writer. My dad was the first in my family to make the switch from Microsoft to Apple, and the rest of the family quickly followed suit. He now owns an iPhone 5, Apple desktop, Apple TV and iPad and has even started his own private fund—off limits to my mom—to purchase new additions to his collection.
As the owner of an Internet service provider in Iowa, my dad taught me everything I know about technology. During many dinner conversations, he'd tell us about cool new gadgets he'd discovered, the mechanics of cloud computing or his latest projects building wireless and fiber optic networks.
While it all remains magic in my eyes, his main point has carried across clearly — technology is transforming the world.
While there are many large-scale examples of change, the little things are evolving too. It's amusing to remember the days before autosave when a computer crash could erase months of work, when you kept a road map in your glove compartment, used a phone book and could still get away with avoiding people. (The call must not have gone through.)
It's also amazing to see how far Apple has come. One of my best friends bought a turquoise bubble iMac in the late 1990s, and I remember the bulky relic seeming sleek, cool and mysterious. While iOS products have evolved into super-powered communication devices, it makes me wonder what Apple has in store next.
I am excited to work with bloggers to deliver the latest industry news as well as advice and ideas of ways to use iOS devices to enhance users' quality of life.
My goal is to make the blogging interface as simple and intuitive as possible for our writers, and to ensure the website reflects the message and quality of iPhone Life magazine. 
Master your iPhone in one minute a day:
Sign up to iPhone Life's Tip of the Day Newsletter and we'll send you a tip each day to save time and get the most out of your iPhone or iPad.