By Donna Cleveland updated on 05/03/2013
Buying a case is perhaps the most obvious way to customize your mobile device. While you can doctor your own ringtone, wallpapers, and settings, a case can offer distinctive looks and features to best fit your use of your device. I have yet to meet anyone (myself included) whose love of his or her iPhone 5 doesn't verge on obsession. So why not make your coveted device reflect your individuality?
In this review, I will share details about two well-designed iPhone cases, each serving different functions. Both cases were part of iPhone Life's recent video contest, where we gave cases away to contestants who submitted the best, most convincing parody of an Apple ad.
Master your iPhone in one minute a day:
Sign up to iPhone Life's Tip of the Day Newsletter and we'll send you a tip each day to save time and get the most out of your iPhone or iPad.
1. Aegis 5 for iPhone 5 by TopKase  ($49.95)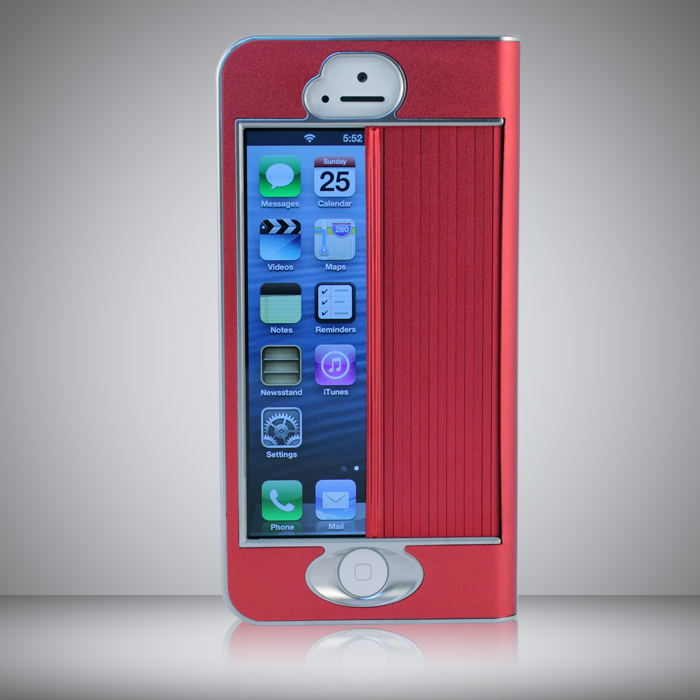 Most cases are called shells for a reason. Usually, cases are open faced, leaving easy access to the screen. The Aegis 5 by TopKase, on the other hand, is more like a retro-looking jewelry box, fully covering its precious contents. The case lends your iPhone a distinctive style while providing a feature I've never before seen in an iPhone case — a sliding door to cover and protect the screen.
I am a big fan of the iPhone 5's screen size. It's size and shape allows you to reach every corner comfortably with one hand. While I steer clear of plastic screen covers, which often create a bubbly surface, I know the screen is the most vulnerable part of my phone and therefore needs protecting. So when I saw the Aegis 5 with its sliding screen covering, I was surprised more manufacturers don't use this design!
The entire case is made of aircraft-grade aluminum, and the sliding door has a raised end, making it easy to flick open. Its anodized surface protects against the little nicks and scratches incurred during daily use. 
When it comes to bigger drops with a significant impact, an aluminum case may not sound like the best cushion for the iPhone. But TopKase lined the inside with eight shock-absorbing silicon pads to protect it in such cases. The padding does add some girth to your phone's profile, but still keeps an all-around sleek appearance.
TopKase has one more trick up its sleeve with the Aegis — the door is a toddy cloth in disguise, lined with quality microfiber that wipes the screen clean of fingerprints for you. Just press while you open and it wipes the screen.
The case is simple to slide on and off thanks to its clamshell design. It's like a book cover you can slide your phone into, and then place security clips in the two exposed corners to hold it in place and protect the corners from scuffs. This leaves all of the ports and buttons easily accessible. Plus, you can mix and match colors with the dual-toned sliding cover!
2. iPower Case for iPhone 5 ($89.99)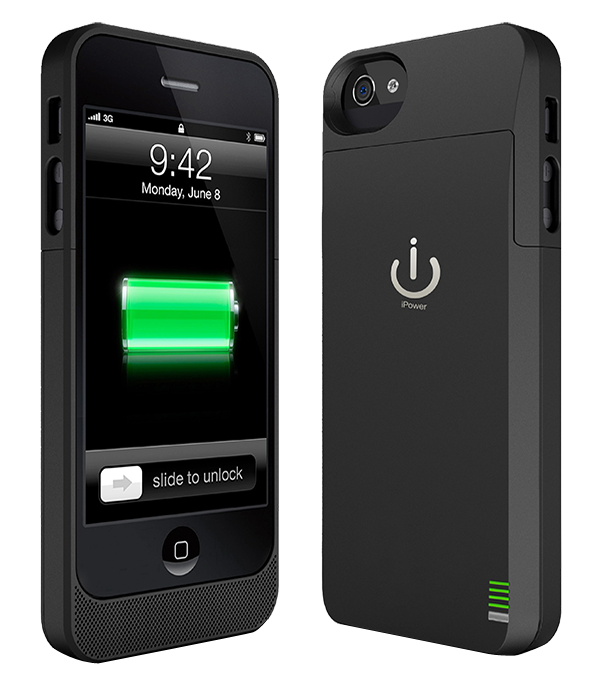 In most circumstances, I find my iPhone 5 battery to be more than sufficient to see me through the day. However, when I travel, I use navigation, camera, and personal hotspot excessively, which quickly sucks the juice out of my device. iPowerUp has created an external battery case that powers your phone without compromising Apple's sleek black design. 
The case will easily keep you powered up and entertained for a long day in the airport or on a road trip. It boasts as much as 9 extra hours of talk time, more than 11 hours video playback, 62 hours audio playback, 7.5 hours of personal hotspot and internet via 3G, or 13.2 hours on the web via Wi-Fi.
To apply, the case separates into two pieces, and you slide the phone into the bottom and lock it into place with the top piece. The external battery will begin charging your phone automatically. The case has an on/off button on the back as well as an LED indicator, which shows you how much back up power you have.
iPowerUp suggests leaving the charger off until your iPhone's internal battery gets low. Then you can switch the iPower Case on and it will charge your phone while it's in your pocket.
iPowerUp suggests using the case all day, and can be left on at night while plugged in. While it weighs half a pound and may add more bulk than you'd like, the extra hours of use make it well worth the extra weight.