By Carolyn Grayson on Tue, 01/21/2014
It's time to get healthy! Isn't that what the New Year is all about? People often take the time as the New Year rolls around to examine their lives, assess the things they would like to change, and turn over a new leaf. Often, one of the things on the list is health. And one of the best ways to stay healthy is to count your calories and maintain your weight. Your iPhone has your back. The App Store has a plethora of calorie-counting and weight-tracking apps, so manythat it may seem overwhelming. Have no fear, I have your back on this one. I've been an avid calorie counter since before electronic devices were invented to count calories. In the early days I used a generic notebook and carried a calorie guide I bought in the diet and fitness section of my local bookstore. Later, I graduated to the Palm Pilot and downloaded CalorieKing's software. When I bought my first iPhone, I too, was overwhelmed by the food diary options the App Store had to offer. I have downloaded and tried, quite honestly, every food diary/calorie counting option the iPhone has to offer. In time for the New Year I'm going to count down my top three favorite apps for calorie regulation and weight maintenance. (The surprise? MyFitnessPal isn't on the list)
3. Nutrition Menu—Calorie, Exercise, Weight & Water Tracking by Shroomies (1.99)
Master your iPhone in one minute a day:
Sign up to iPhone Life's Tip of the Day Newsletter and we'll send you a tip each day to save time and get the most out of your iPhone or iPad.
I love my Nutrition Menu calorie counter for several reasons, the most important being the comprehensive list of restaurant menus and calories available offline. I can not tell you how many times I've been in a restaurant with poor Internet service. Because Nutrition Menu is available offline I have instant access wherever I am. The settings are customizable, allowing users to follow a traditional or points-based diet. You can build a custom food diary, search popular brands, and save foods to your Favorites tab. Creating an account will allow you to back up your data without being subjected to mass emails or offers. In all the years I've used Nutrition Menu I've never received one email from the developers trying to sell me something. One of favorite things about this app is that there is no social element to it. No posting to Facebook or Twitter, or finding friends who use the app. There are no social platforms, no blogs, or forums. If you're into social dieting this isn't your app. One downside of this app is tthat it does not offer a calorie range suggested for your height, weight, fitness level, or age. The default on the app is 2,000 calories—way too many for my 5'2" 94-pound frame. I suggest working with a nutritionist or using a variety of online solutions to find the appropriate amount of calories you need to maintain or lose weight. An added bonus for this app is the Food Journal, a place where you can record your thoughts for the day, personal reflections, or musings. This is especially good for emotional eaters. I also like the fact the you have the option to record your workouts without have the calories you burned automatically being added to your daily calorie goal.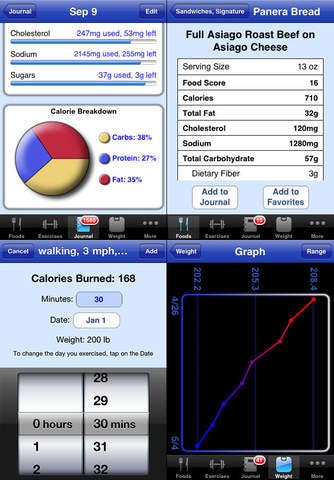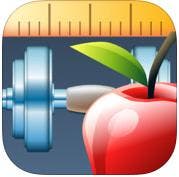 2. 
Tap & Track Calorie Counter (3.99)
Tap & Track's beauty is in its simplicity. As soon as you download the app you'll be prompted to add your current weight, goal weight, height, age, and gender. After entering your data you'll be prompted to chose how much weight you would like to lose, maintain, or gain per week, and Tap & Track will determine how many calories you should aim for each day. The restaurant list is also impressive and the information is accessible offline. Tap & Track was my fitness app of choice when I was training for my first full marathon. When working with a nutritionist you are able to email food logs specifying a date range. What I like about Tap & Track the most is the weekly report. One day of bad eating isn't going to hurt you, I feel that the seven day view helps you grasp that reality. And, if you are a social dieter, Tap & Track allows you to share via Twitter of Facebook, although there are no forums to speak with other users. My only gripe is that when you add your workouts, the calories are automatically added to your calorie budget. I have never eaten back my exercise calories, not even when marathon training, so I don't use this app to track my workouts.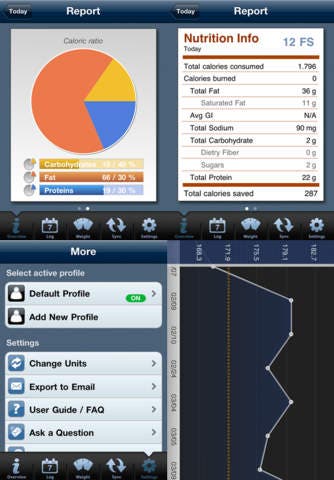 1. Lose It! (Free basic/$39.99 yr. pro)
This is my all-time-favorite calorie counting app. I will admit, I have a pro account. Did you doubt that I would? But even without the Pro version, Loseit! would still get my vote for favorite calorie counting app. One of the things which sets Loseit! apart is the barcode scanner. Simply tap the picture of the barcode at the top of the screen and your phone's camera will open, allowing you to scan the barcode of the food you are about to consume. The scanner is amazingly accurate. I'm not a "foodie" or a cook, so much of my food is purchased from retail chains like Trader Joe's and Fresh and Easy, the app easily finds the food I'm about to eat and adds it automatically to my journal and to my favorites list. The restaurant list is comprehensive and easy to flip though even offline. If social dieting is your thing, there are forums you may participate in to add extra support to your diet. So why opt for pro? If you're an obsessive calorie planner like myself, your pro account will allow you to plan meals in advance. My pro account also syncs with my Wi-Fi scale so I never have to manually enter my weight. You can also add support for wearable fitness devices such as a fitbit or a Jawbone Up band. A comprehensive seven-day overview is also provided, allowing you to see your overall progress and not have to flip through days manually. Loseit! was also one of the first apps to make use of the iPhone 5s accelerometer technology, counting your steps and allowing for extra calories if you reach your goal. I'm a pretty active person, yet I've never reached my goal, mostly because in order for steps to be counted you must have your iPhone with you, something which may or may not be realistic. I can't actively participate in a butt-kicking boot camp class with an iPhone attached to my body, nor would my trainer let me. I find that Loseit! comes in on the low side when projecting calories needed to maintain your current weight; so in this case I do eat back my exercise calories, simply because if I didn't, I'd start dropping weight. Of course, if that's your goal than this is a good thing. Loseit! has forums for you to socialize with other dieters, but if you don't chose to use them you won't even be aware they exist, since they are easy to hide. Unlike MyFitnessPal, foods can be searched or chosen from preexisting lists, as well as manually added.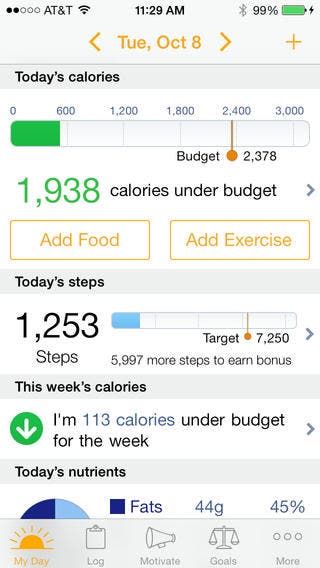 So, why didn't MyFitnessPal make the list? It's arguably one of iTunes most popular dieting apps. First, I'm not a fan of social dieting. I've tried it and I find that there are some really unkind people out there. I count calories for myself. I'm a small person and sometimes people can't understand why someone of such petite stature would be so meticulous about diet and fitness. Granted MyFitnessPal doesn't force anyone to participate in the social aspect of the site, but its always lurking in the background of the app. I've even set everything to private and still somehow received friend requests. It's not a big deal, but it is something to consider. The biggest deal breaker for MyFitnessPal is the fact that there is no list of foods to choose from when trying to find the healthiest option on a restaurant menu. If your friends drag you out for dinner and drinks, instead of being able to find the name of the restaurant within the app and then checking out multiple categories to find lowest calorie option, you need to spend time typing in each menu item than try to remember the calorie content of each before picking something. I want to be able to see all of my menu options right up front and then make my choice. And, where Loseit! tends to underestimate the number of calories need to maintain your weight, MyFitnessPal over estimates. Finally, 1200 calories is as low as MyFitnessPal will go in recommending calorie restriction. If you're on a diet, you can pretty much just assume that MyFitnessPal will tell you to eat 1200 calories. That doesn't feel very personalized to me. 
People often assume that counting calorie is too tedious and that "no one" could ever count everything they've eaten for a sustained period of time. I find counting calories to be easy and beneficial to all aspects of my health. Once you get into the habit of making this a part of your lifestyle you'll be surprised at how quick and natural the process will become. Apps like Loseit!, Tap & Track, and Nutrition Menu have made the process that much easier, leaving little excuse for not adding calorie counting to your healthy lifestyle routine.