By Noah Siemsen updated on 07/15/2013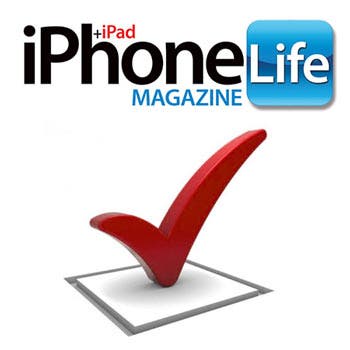 Thank you to everyone who participated in our satisfaction survey, and congratulations to Tim (undisclosed last name) for winning the iPad mini! The response was fantastic, and it was so rewarding to get everyone's feedback on our magazine and website. You are the best customers in the world, and the survey proved it. While we still have a lot of information to go through, we wanted to share a few tidbits with everyone, just for fun.
iPhone Life Survey Results:
94 percent of participants said iPhone Life magazine was equal to or better than other tech magazines. Thank you, we think so too!


Most common answer to "What would you change about iPhone Life magazine?" was some version of "Nothing, it's great now." You are awesome! We also received many specific suggestions that all can benefit from;


Productivity was the clear winner in app interests, with Photography and Gaming as runner-ups;


93 percent of participants that took the survey own an iPhone;


84 percent own an iPad;


80 percent own both (WOW)!


1.8 percent own a Windows 8 Phone. (Coincidentally, 1.8 percent also said the #1 reason they visit our website is for gourmet shortbread or scone recipes. No joke, this is real data. And yes, we did ask that question.)
We can't wait to take all of the information you have shared with us so we can use it to provide you with a better product.