By Tommy Ly on Fri, 11/22/2013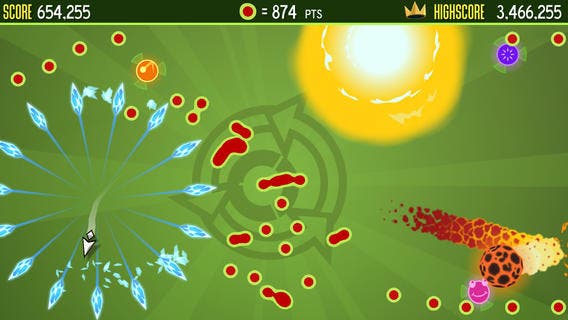 Tilt to Live 2: Redonkulous ($2.99) by One Man Left, the sequel to 2010's Tilt to Live, recently hit the App Store. After a few hours, it's safe to say that this tilt-driven reflex game is as "redonkulous" as it is addictive.
Master your iPhone in one minute a day:
Sign up to iPhone Life's Tip of the Day Newsletter and we'll send you a tip each day to save time and get the most out of your iPhone or iPad.
Design
There are two game modes to choose from: Classic Mode and Code Red. The former is "normal difficulty for human beings," while the latter is "not even fair, and no one should try to play it," according to the in-game descriptions. Despite the difference in difficulty, the premise for both modes is the same: tilt to live.
You take control of a white arrow, and your goal is to avoid red dots, or kill them by collecting different weapon orbs with different effects. More dead dots equal a higher score, and the game goes on until you touch anything that isn't a weapon orb (more on that later).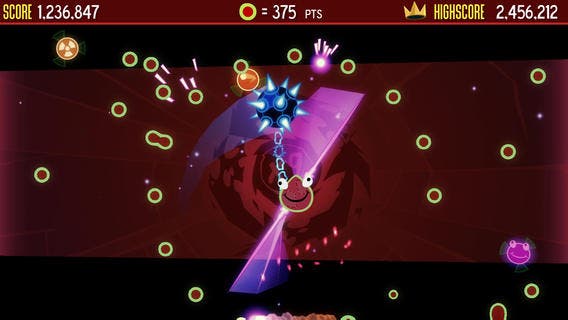 Gameplay
If you've played the original Tilt to Live, then Redonkulous will immediately feel familiar. Although the only way to play is by tilting your device, the same three-control options as before are available: Regular (a relaxed position), Top-Down (with your device parallel to the floor), and Custom (set a comfortable angle to be your at-rest position).
Once your controls are set, you'll be given a very short tutorial. The game gets hectic pretty quickly after that and you'll have to put your reflexes to the test. Touching anything other than a red dot or weapon orb will end the game, and red dots start appearing in several different formations as quickly as you can tilt. You'll have to learn what each weapon orb does while on the go. Each orb has a different function, and while all are useful in their own ways, you'll have to figure out which is best for each situation. Will you herd dots together and nuke them with the orange orb? Or will you smash a purple orb and go Darth Maul on them with a dual-sided laser sword?
In addition to the new weapons in Tilt to Live 2, new enemies will enter the field randomly and none of them are simple to deal with. On occasion, missiles will fly in from random directions, but dodging them isn't impossible. The new dot bombs are pretty difficult to deal with and also seem to appear at random. Once they appear, a timer starts counting down, meaning you have until it reaches zero to destroy the rotating targets around it, unless you want another group of dots to deal with. If you touch the bomb itself, it's game over.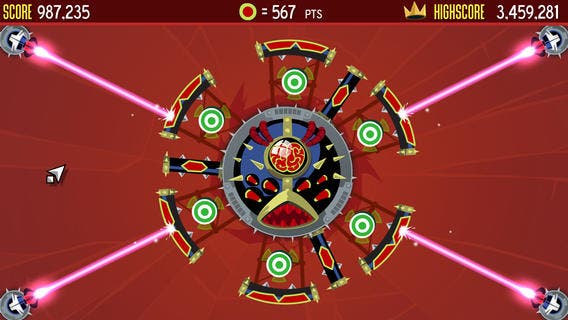 If that wasn't enough, a major new addition to Tilt to Live 2 is bosses. Like the bombs, these appear to spawn at random (after a small warning) and there are several different types to deal with. Each one I've encountered has been fairly difficult to defeat, but all go down the same way. Just avoid their defenses and destroy the green targets. If you're skillful enough to take down a boss, the game gets much more difficult afterward, and it only gets worse from there.
The Good
This is a truly fun game. Mastering it isn't impossible, but will definitely take some time. No in-app purchases are available, meaning any power ups or new weapons have to be earned by skill alone, which I feel makes the game more challenging. The game moves at a easy enough pace to ease new players into it, while keeping seasoned players on their toes.

Although it has nothing to do with how the game plays, the music in Tilt to Live 2 is surprisingly fitting. The game's visuals are greatly improved compared to its predecessor and every explosion, missile, and laser looks great on the Retina display. 
The Bad
New weapons are unlocked by completing certain challenges in the game. Beating a boss was a challenge I was stuck on for a long time. I can only imagine how some less determined players will do.
The Verdict
If you're looking for a fun, addictive, fast-paced game for iOS, Tilt to Live 2: Redonkulous is a must-have for iPhone, iPad, and iPod touch. That is, if you're willing to push through how difficult it may be in the beginning.
Rating: 4 out of 5 stars