By Tommy Ly on Mon, 12/02/2013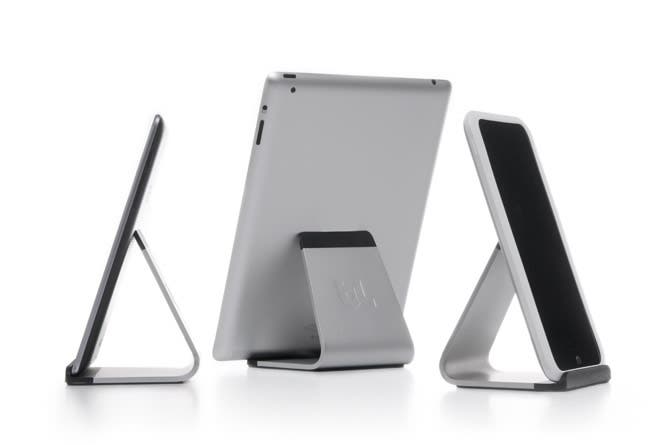 Bluelounge has been making some great accessories for smartphones, tablets, and computers for the past few years. We recently got a chance to test out the Saidoka dock for iPhone 5/5s ($49.95) and the Mika ($39.95), a universal stand for tablets, e-readers, and laptops. Will either deserve a place on your desk?
Design
The Saidoka, which comes in both a Lightning version and 30-pin version, is a charging dock for your iPhone that's designed to sit next to your keyboard. Available in both black and white, Saidoka keeps your iPhone docked at roughly the same angle as Apple's keyboards, making responding to texts or checking apps a breeze while you work. Two micro-suction strips on the bottom of the dock aid in adhering it to your desk, but won't leave any residue if you decide to move it. At just 3.25" wide and 4.5" deep, the Saidoka will be right at home next to your keyboard. Just attach the included micro-USB to the back of Saidoka, and the other end into your computer, set your phone in, and you're good to go. 
Master your iPhone in one minute a day:
Sign up to iPhone Life's Tip of the Day Newsletter and we'll send you a tip each day to save time and get the most out of your iPhone or iPad.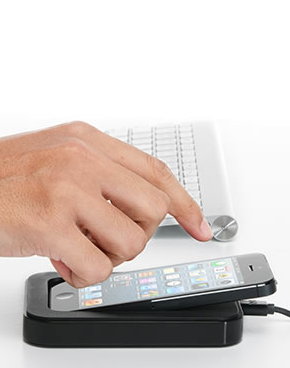 The Mika is a fixed-angle aluminum stand, akin to the L-shape stand of Apple's iMac. Save for the soft rubber edges on the top and bottom, Mika's sandblasted aluminum finish mirrors that of the iMac and Macbooks, allowing it to blend seamlessly into your Apple-centric workspace. At 4.5" at its widest point, and just 3.75" deep, the Mika won't add much clutter to your workspace.
Functionality
Saidoka: Although Saidoka can technically work with a case (there is a rubber insert that can be removed, allowing a case-clad iPhone to be docked), it wasn't so for me. I'm fairly certain that the only cases that will be compatible with Saidoka are shell-style cases that only snap on to the sides and back of the iPhone. But, once you remove whatever case you may be using, simply dock it in and onto the Lighting connector. While in the Saidoka, your phone can be charged and synced to your computer. 
Since Saidoka holds your phone at a similar angle Apple's keyboards, transitioning from typing to dealing with your phone is seamless. When it's time to run or answer a call, removing the iPhone from the dock was easily doable with one hand, in my experience. Unfortunately, the dock lacks any type of acoustics, rendering it useless if you want to take a call on speakerphone or listen to music while your phone it docked.
Mika: The Mika holds your tablet (the iPad Air in my case) at roughly a 70-degree angle, which for me, was perfect for a few taps here or there while working on my main computer. With my iPad in landscape orientation, the Mika's angle was great for watching movies and playing games that didn't require me to hold the device in my hands. Reading with the Mika is also surprisingly pleasant, whether it be at the desk, or during a meal at the table. Unlike the Saidoka, Mika doesn't have any micro-suction pads to secure it to your desk. Fortunately, this makes moving the stand a quick affair, allowing you to quickly dock your iPad where you need to.
Pros
Saidoka:
Comfortable angle for handling alerts and texts

Good size for existing work space
Can charge and sync your iPhone while docked
Mika:
Blends in with any Apple-centric workspace

Can be used with any

iPads

, tablets, and even laptops

Lightweight, yet durable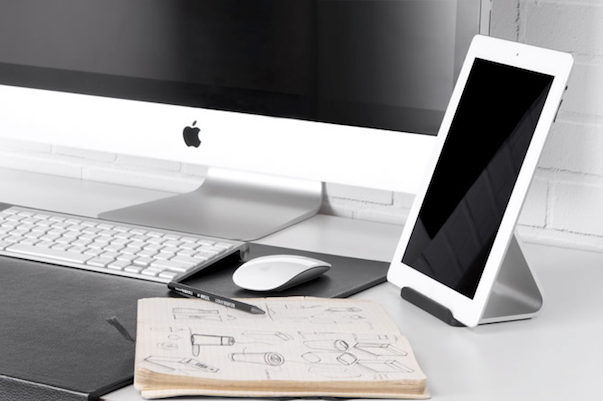 Cons
Saidoka:
High price for limited functionality
Won't work with many iPhone cases
Poor acoustics
Mika:
Fixed angle, but that's the point
The Verdict
If you're on the lookout for a nice iPhone dock, it may be better to pass on the Saidoka. While it's good at what it does, it may be tough to justify the price, especially when you have to take your phone out of its case to use it.
On the other hand, the Mika is a great stand that does its one job beautifully—both literally and figuratively. Its price may be a bit high for a fixed-angle stand, but you'll be hard-pressed to find a more elegant stand for your iPad.
For more information on the Saidoka and Mika, visit Bluelounge's website.