By admin updated on 11/23/2012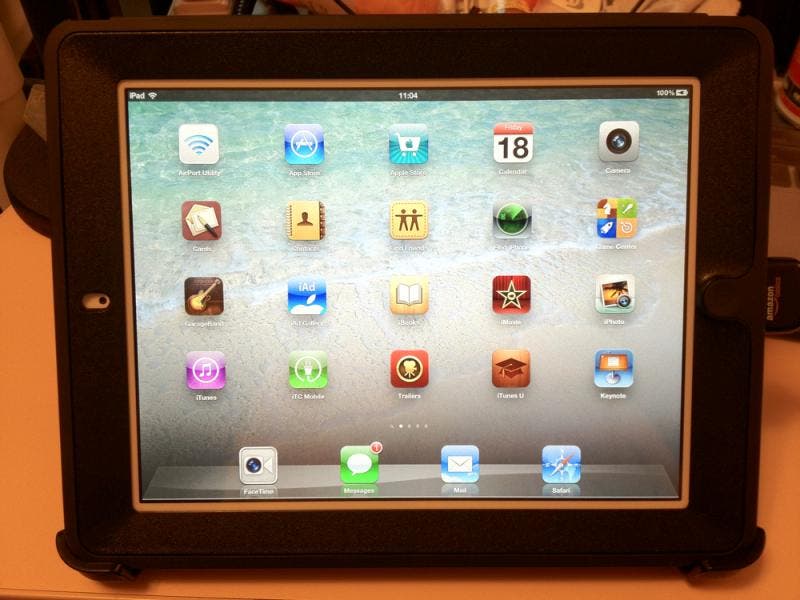 On April 13th I walked into my local Apple Store unaware of how much the new iPad would change my daily digital life. The hopeless romantic in me also decided to get one for my wife as an early birthday present. Since we recently upgraded to the iPhone 4S from the 3GS I decided the Wi-Fi (64 GB) version would be a perfect fit for each of us.
Master your iPhone in one minute a day:
Sign up to iPhone Life's Tip of the Day Newsletter and we'll send you a tip each day to save time and get the most out of your iPhone or iPad.
I had to create some kind of diversion and tell my wife that I was going inside alone to pick up my iPad. Since I had already paid for it online, by way of the Personal Pickup feature, it was not going to take too long to get it. Thankfully, she agreed and remained in the car.
Once inside the store I asked the gentleman that helped me to ring up her iPad first and put it in a bag in case she decided to walk into the store. He put cardboard around both sides of the iPad box in the bag so my wife would not be able to see it. Then I paid for mine and left the Apple Store.
When I was back inside the car, and my wife was looking away at something, I took out the black iPad and handed it to her (I got the white iPad for myself). She was ecstatic to say the least. After a hug and a kiss we headed home.
After launching iTunes on my Mac Pro I set up both iPads and then installed some of the iOS apps we have downloaded since 2009. Then it was time to try out the new iPad. Previously, I have used the new iPad during visits to the Apple Store, but there is a huge difference between trying one out for a few minutes and owning one.
My first impressions?
The build quality of the new iPad is quite impressive

The new iPad is comfortable to hold in my hands, and it is so easy to switch between landscape and portrait views

The Retina display is absolutely beautiful and very sharp for my tired eyes

The 64 GB of storage space is sufficient for installing most of the iOS software we have and most of the AAC files I have created from my CDs

The new iPad instantly recognized the 5 GHz Wi-Fi network I set up on Apple's latest AirPort Extreme

The software update from iOS 5.0 to 5.1 worked perfectly through Wi-Fi

Multitasking by way of the left-right, four-finger swipe is very smooth. Swiping up to reveal the multitasking bar is much more efficient than having to use the physical button all the time. I am still trying to get used to the pinch to go to the Home Screen. LOL These multitasking gestures can be enabled in Settings > Multitasking Gestures.
Now that I have had this iPad for just over one month I must say that it is really changing my daily computing habits. When I first get up in the morning I go to my computer/study room, turn the iPad on, and then start up Mail, Safari, and the Absolute Radio app to listen to music from the 1980s. After having some delicious English Breakfast tea I read a few of the magazines from the subscriptions I have bought through the iBooks app. In my opinion, the best feature of the iPad is being able to view all the electronic magazines that are available for iBooks in beautiful color.
A couple of my favorite iPad apps...
The Economist (economist.com) is simply wonderful. You can download audio for each issue and have the iPad play it in the background while Web browsing, etc. I usually listen to news from around the world with this app while working on my university assignments.
Animoog (moogmusic.com) is much better on the iPad than on the iPhone. I am going to have fun seeing what this app can do in the home music studio I am setting up. I am so glad I bought this app when it was initially released for $0.99.
Most of my Web browsing is now being done on the iPad. When I have to research something for a university assignment I can do it quickly on the iPad without losing focus from what I am doing on my MacBook. E-mail on the iPad is definitely sweet. There is no need to have Mail running on the MacBook when I'm using the iPad.
My wife definitely loves her iPad, since she is usually curled up with it instead of her MacBook. Now, she is using her MacBook only for specific tasks.
I bought the new iPad, because of the Retina display and for testing iOS apps that I am programming with Xcode. It is amazing how the iPad is changing everything I am doing on a daily basis.
Yes, change is definitely a good thing. :-)