By Dig Om on Mon, 01/14/2013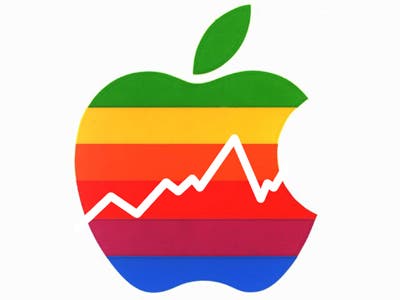 Apple's share price plummeted this morning, dropping by $16.23 to $505.00 after
reports
from the Wall Street Journal that Apple had cut parts orders
(screens and other miscellaneous components)
by as much as half as a result of a lower than expected demand for the iPhone 5.
Apple shares dipped to as low as $498.51, early today, before crawling back to $505.00 by later in the morning. This is the first time in almost a year that Apple's shares have dropped below $500.00 and could signal any number of things for Apple, from potential market saturation, to the fact that the iPhone 4 is still wildly popular and selling extremely well. The competition from the likes of Samsung and other smartphone manufactures is fierce and of course, that plays a significant factor in Apple's market position.
There have been rumors circulating for sometime now that point to the possibility of a lower than expected profit margin this past quarter, and only time will tell. Apple is set to announce their earnings in the coming weeks and we will have a better idea at that time as to just how the iPhone 5 has been faring since its release four months ago.
Rumors are also circulating that Apple is toying with the idea of introducing a cheaper version of the iPhone to keep up with the competition, and we are also hearing that Apple will likely be refreshing their iOS product line up between March and July, as the tech giant continues with its ramped up product-refresh cycle, as witnessed last year with the introduction of the iPad 4 so hot on the heels of the iPad 3.
I've said this before, and I think the evidence is playing out on Wall Street: Apple needs to
really
hustle right now, rather than sitting back and resting on their laurels, if they want to maintain their market position in this ever changing and highly competitive landscape of smartphones and tablets. Especially with regard to the younger generation, Apple needs to tread carefully. After decades of being the rebellious, youthful and artsy brand, perhaps Apple needs to consciously reinvent themselves in a fresh way.
Ask many teenagers today
and you will get the sense that Apple represents their parent's brand, and that could spell trouble for Apple as time rolls on.
I look forward to seeing how Apple responds to this period of turmoil with regard to its market shares. Stay tuned to iPhone Life for all the latest on Apple and their Wall Street status, as this saga continues to unfold.