By Dig Om updated on 04/07/2014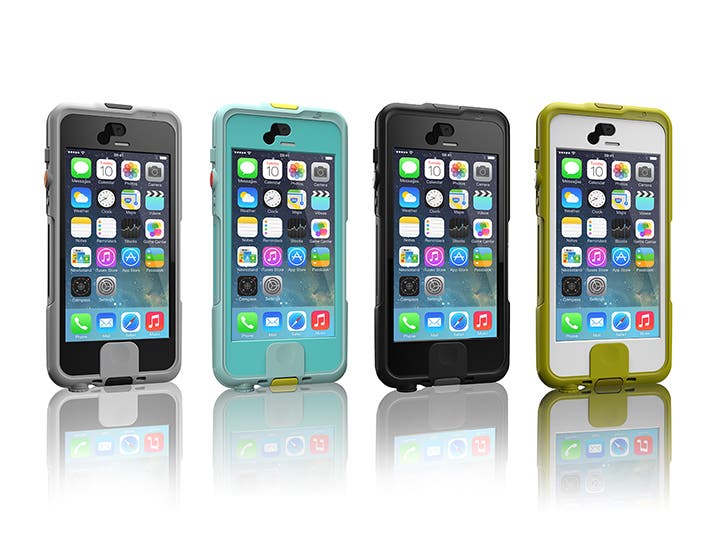 Lifedge is a relatively new company on the iDevice case manufacturing scene. Based in the UK, their products can be purchased both locally and abroad. Lifedge specializes in creating classy, low-profile, ruggedized waterproof cases for iDevices. Currently their catalog of cases consists of an iPhone 5 version, (which is compatible with the 5s, though without allowing Touch ID use) and an iPad 2–4 compatible case. As of yet, they do not offer a case option for the iPad mini or mini with Retina, nor do the have an iPad Air case, but hopefully we will see a wider case selection of iDevice cases from this fledgling company in the near future. Stay tuned to iPhone Life and I'll keep you posted as their product line continues to grow. In the meantime, let's take a closer look at some of the details and specifics of these waterproof and highly durable iDevice cases.
Lifedge iPhone Case ($119.99)
Master your iPhone in one minute a day:
Sign up to iPhone Life's Tip of the Day Newsletter and we'll send you a tip each day to save time and get the most out of your iPhone or iPad.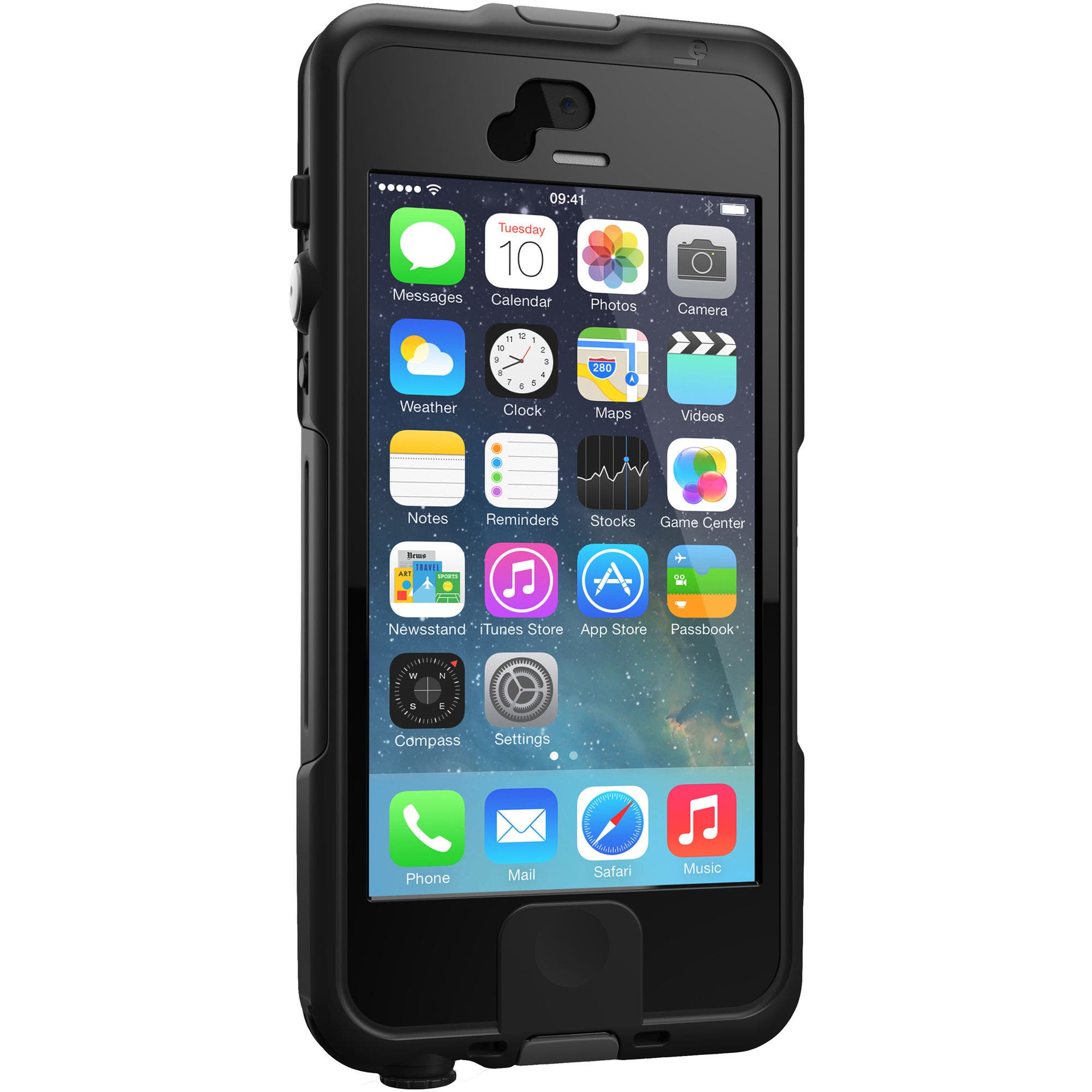 The Lifedge case for the iPhone 5 is an excellent entry into the ever more crowded field of waterproof iPhone cases. In fact I would be so bold as to say that out of the ones I've spent hands on time with, the Lifedge is definitely one of the best.
It has style and elegance and manages to provide your iPhone with a very high level of protection while maintaining a form factor that is sleek and slim, easy to grasp and very comfortable in the hand. It's refreshing to have such a stellar option for exceptional protection of our precious iPhones that don't add much in the way of weight or bulk.
All of the things that I look for in a top-level waterproof iPhone case are present in the Lifedge. From relatively crystal clear audio quality, to easy on/off and accessibility to all of the iPhone's ports and functions (with the notable exception of Touch ID) the Lifedge iPhone case is indeed, the complete package.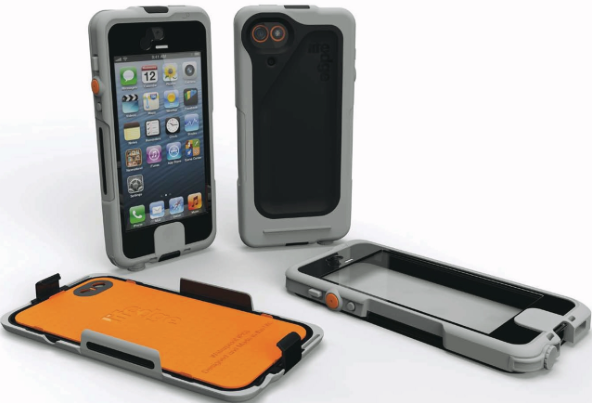 The Good
Great form-fitting case, with a low-profile, slimline design.
Excellent acoustics; the speaker could be heard well and I could be heard well on the other end. Audio quality is among the best of any waterproof, ruggedized iPhone 5 case I've tested.
Optical-quality lens over camera.
Stylish and attractive, with its own understated and unique style.
Silky, textured rubber of the shell provides traction and grip.
Large, clearly defined volume-up button. Makes photography in muddy conditions, with gloves on, or underwater much easier. Obviously this also makes it easier to control the volume in the dark or in situations where you can't visually spot the buttons.
Screw covering headphone jack is attached by a flexible, plastic arm, making it next to impossible to lose. Includes a headphone jack adapter to allow you to connect your wired headphones to your iPhone while in the case.
Even though this case was designed before the introduction of iOS 7, the low bezel around the touchscreen does not interfere with accessing Notifications or Control Center, unlike some other ruggedly protective cases on the market.
The Bad:
Lanyard attachment point too close to camera, lanyard kept sneaking into the shot. I felt it would've been better if the attachment point was on the lower, bottom corners of the case.
Hinged door covering lightning port seems to open rather easily, which of course would be disastrous if it accidentally popped open while submerged.

No Touch ID support!
Verdict:
The Lifedge iPhone case can compete with the best of them. Its biggest drawback is its price, at $119.99 it's hard to recommend this case over equally good but lower priced options. Despite the fact that it is an excellent and versatile protective case, its steep price tag compared to some of my other favorite cases in this same category may turn otherwise potential customers away from this well-crafted case. The high price is the only thing standing between the Lifedge iPhone case and a full 5 Star rating. Nonetheless, despite the nearly $140.00 USD that this case will set you back when shipping is factored in, it still rates as a 4.5 Star accessory. I also expect the price to drop before long, as new Apple devices (and subsequently cases) hit the market later this year.
Lifedge iPad Case ($159.00)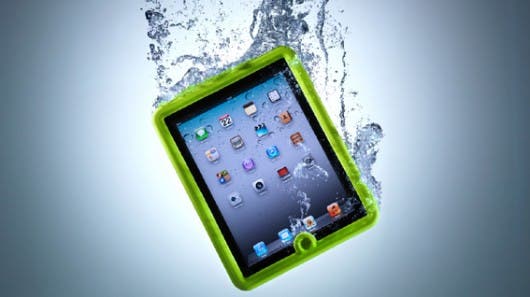 The Lifedge iPad case is compatible with the iPads 2–4. While there are many things I absolutely loved about the Lifedge iPad case, the fact that the touchscreen protector bulged out a few millimeters from the actual glass surface of the iPad's touchscreen canceled out the many great attributes of this potentially awesome iPad case.
I would love to see Lifedge tweak this one single but major design flaw. If not for this significant issue, this case would have catapulted to the top of my short list of the best waterproof, heavy-duty iPad cases, as everything else about this case is worthy of high regard.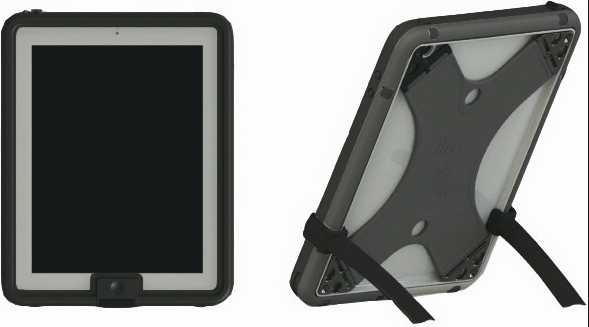 The Good:
Convenient hand and mounting strap on back.
Easy on/off.
Like its iPhone 5 cousin, the iPad case's screw-in plug covering the headphone jack is attached by a flexible, plastic arm, making it next to impossible to lose.
Compact size; less bulky than many "rugged" much less waterproof cases.
The Bad:
Big complaint: the plastic touch screen protector bulged outward way too much, making interacting with the iPads screen a tedious and imprecise affair. This could be a deal breaker for many.
The support arm that allows for propped up landscape or portrait orientation are convenient and work well, but they are far too easy to loose. At least they include two, in the event that one does happen to get lost.
 This case doesn't come with a headphone adapter for connecting to your iPad while it's in the case. Although the case's headphone access point is large enough (in theory) to allow for a headphone jack to get at your iPad without the use of an adapter, the fact of the matter was that try as I might, I could never get the Lifedge's headphone port opening to line up precisely enough with the iPad's headphone jack. I was never able to use a pair of wired headphones with the iPad while it was in this case, and due to the nature of the problem, a headphone adapter (like the kind included with Lifedge's iPhone case) wouldn't have helped anyway.
The price is prohibitive. The case costs $159.00 and with shipping included the case will run you $176.50. There are other cases that provide comparable protection and better user experience that are available for far less.
Verdict:
The Lifedge iPad case would easily get 4 or 5 stars from me if not for the significant problem of the bubbled screen protector which makes accurate and precise touchscreen interaction impossible. If your primary use of your iPad is watching videos or listening to streaming music then I reckon the lack of touchscreen responsiveness won't be an issue. But for data entry, gaming, drawing, or any other number of myriad uses that your iPad is capable of, the faulty screen protector will be a hindrance. Until this is remedied, I have to give the Lifedge iPad case a 1.5 out of 5 Star rating.