By Dig Om on Mon, 06/11/2012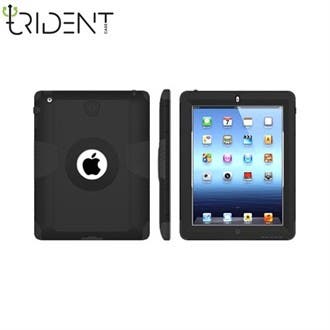 If you are looking for an iPad case that can take the abuse and hardships of an active lifestyle and keep your iPad safe and unscathed, please allow me introduce you to the Kraken by Trident.
Master your iPhone in one minute a day:
Sign up to iPhone Life's Tip of the Day Newsletter and we'll send you a tip each day to save time and get the most out of your iPhone or iPad.
This rugged protection case isn't just for heavy-duty use though. The Kraken's low profile design is such that, while having your iPad in it you may rest assured that your iPad is secure and, you won't feel like your iPad has all of a sudden become some bulky and cumbersome brick.
The Kraken consists of a silicone, shock absorbing inner skin, encapsulated within a tough polycarbonate, front and back panel that snap together around it. A built-in screen protector seals the edges of the device, protects the front camera and guards the device from fingerprints, smudges, scratches and moisture while maintaining complete touchscreen interactivity.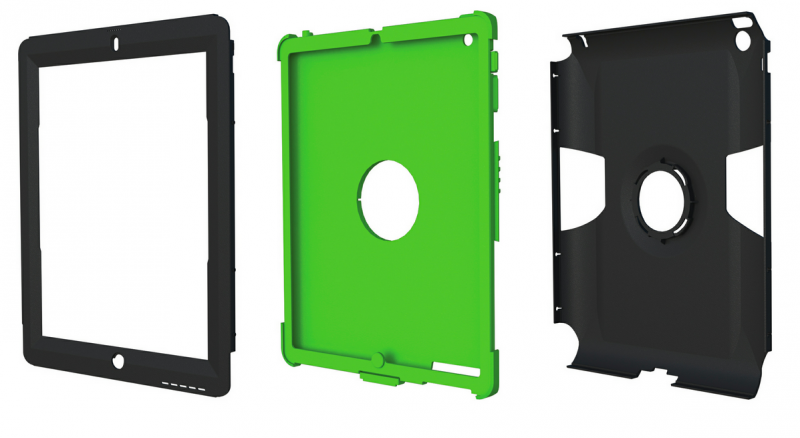 The Kraken doesn't add much in terms of extra size or weight to your iPad and even though the smooth (slightly textured), hard plastic shell doesn't provide much in the way of traction, there are enough strategic points where the underlying silicone is designed to show through (including a ribbed grip design on the sides and as extra thick corner protection), that the iPad being too slippery to hold effectively when on the go, or slipping through your fingers if your hands are wet is not a major issue.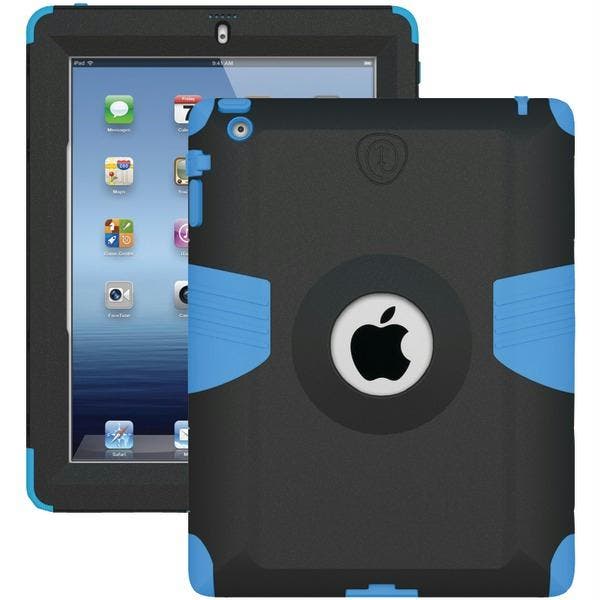 The Kraken incorporates silicone flaps designed to cover the docking and headphone ports, and the speaker and mic are shielded by a thin "micro dust filter" which keeps out debris and fine particles. Through an audio enhancing "sound scoop" system, sound is both amplified, and redirected from the iPad's rear-facing speaker to the front of the case. The Apple on your iPad's backside is prominently displayed, framed within the back shell. The window, through which you see the rear Apple logo, isn't just for looks though. The circular cutout also serves as the mounting point for Trident's AMS, aka: Adaptive Modular System.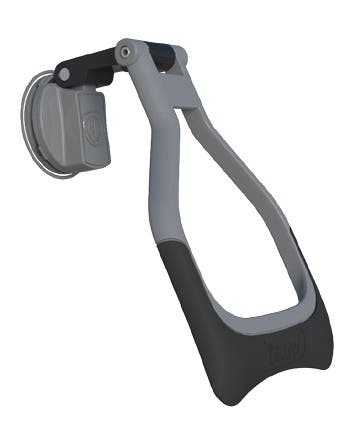 An example of one of the accessories to the Kraken AMS case: The handle/stand.
The AMS approach allows you to use one case that can be mounted upon multiple appendages (such as stands and adjustable arms) with the same point of attachment.
Overall, Trident has done a marvelous job with their design of the Kraken rugged case for the iPad line. If it had a bit more traction to its exterior surface, that would count as a plus for me, but other than that small point, I would say the Kraken should fit the bill for anyone in the market for a tough and resilient iPad case that gives serious protection, without sacrificing much in terms of a sleek and stylish form factor or adding much in the way of bulk. The Kraken is available at Tridenteer.com for a price of $60.00.
If you have one, or, are about to go off and order one, please let me know what you think of it in the comments below.
As always, thank you for reading.