By Dig Om on Wed, 10/31/2012
Well, it's not every day that I post a picture of a man's buttock here at iPhone Life, but I figure, if ever there was an exception...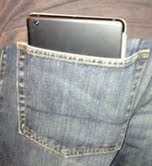 Happy Halloween.
Photo of Jim Dalrymple of the Loop, showing off his assetts.
And the iPad mini seems to fit easily into a pocket.
Yep, thanks Jim.