By Dig Om updated on 04/16/2013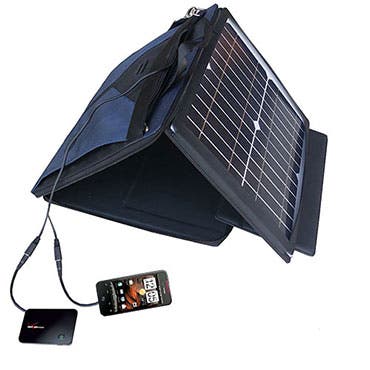 Master your iPhone in one minute a day:
Sign up to iPhone Life's Tip of the Day Newsletter and we'll send you a tip each day to save time and get the most out of your iPhone or iPad.
I spent 6 years living on a sailboat in the Caribbean, and during my time on the yacht, I developed a great appreciation for the Sun's ability to keep my batteries powered up for free, wherever I happened to drop anchor.  Since my sailing days I find I'm always on the lookout for efficient ways to harness this abundant source of electrical power for personal use, especially as one who spends a great deal of my time outdoors, with my iDevices. So you can imagine how thrilled I was to learn about the SunVolt, by Gomadic.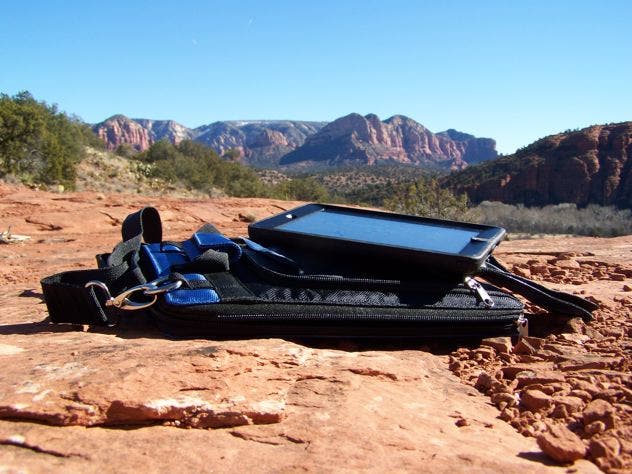 The Gomadic SunVolt is a powerful, portable solar charging station that allows you to charge your iPhone, iPad, camera etc. directly from the Sun. For you techies, it puts out up to 10 watts of power (8-14 volts) under optimal solar charging conditions, which translates to enough solar power to charge your iDevices as efficiently as if they were plugged directly into the wall.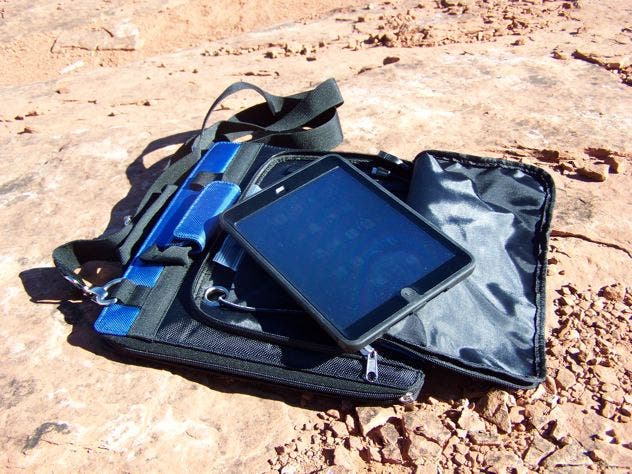 Utilizing a top of the line, monocrystalline solar panel the SunVolt weighs in at just under four and a half pounds, and measures 13-inches by 12-inches by one and a half inches thick. It comes with a circuit-protected extension cable, a pair of standard female USB output extensions and three charging ports. Additional accessories, include the Gomadic Solar Cache, a 3400 mAh Li-ion battery pack, and various other charging adapters available to suit just about every need.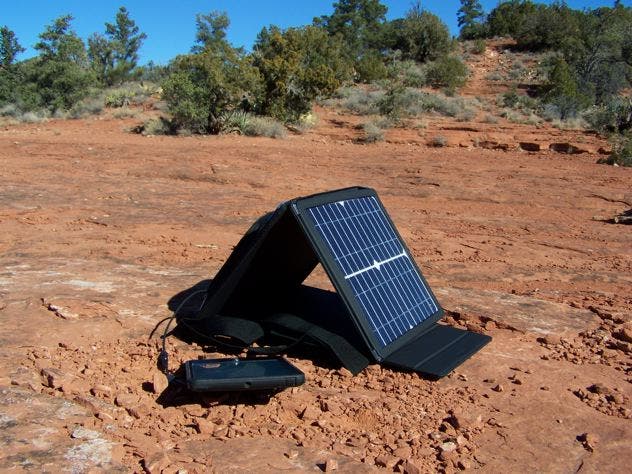 Using 1680 heavy-duty ballistic nylon for its external shell, Gomadic's SunVolt doesnt claim to be fully waterproof, but it certainly provides a sturdy, highly water resistant case for the SunVolt. The outside accessory pocket has room enough to carry, not only your SunVolt's Solar Cache battery and cables, but also your iPhone and/or your iPad mini. I was able to carry all of the cables and the Solar Cache, plus my Lifeproofed iPhone, plus my Otterboxed iPad mini, all in the sufficiently spacious outside pocket. The outside pocket isn't roomy enough to tote the larger iPads 2-4 around in though, especially not if they are in any kind of bulkier, rugged case. I found in my testing that I was able to slip my full-sized iPad into the SunVolt's main compartment and zip everything nicely shut, so that I could also carry my larger iPad around with me conveniently.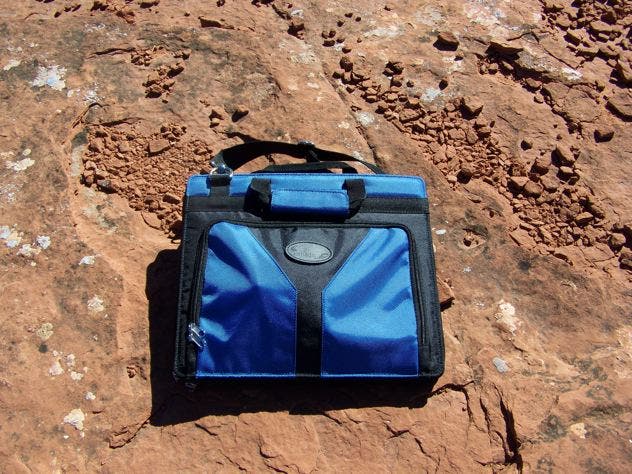 The SunVolt folds open, like a folio case, and can be propped securely at many angles to take the most advantage of the Sun's charging power. The design is solid, well built and rugged, while still maintaining a certain urban-fashionabilty. The SunVolt even has a woven shoulder strap included, which clips on to heavy-duty D-rings on the corners of this folding solar panel array.
I am a heavy user of my iDevices. I can wear a battery down within hours. With the Sunvolt, on a sunny day (no solar panel is as effective as it can be on a cloudy or ovecast day) I was able to keep both my iPhone and iPad fully charged utilizing the panel's direct charge during the day and via the Solar Chache battery once the sun set. If you reckon you might find your self in situations where you don't have easy access to a wall outlet, whether at the pool, the beach, backpacking, camping, RV-ing or perhaps, traveling and exploring in off-the grid  adventures in remote places like Baja or Bryce or Costa Rica or Peru, then the SunVolt is a reliable and very powerful way to keep your iDevices charged on your journeys.
If you can't see the SunVolt video above, click HERE.
The SunVolt MAX (A larger panel, 50% more powerful! For $130.00)
Pros: Accessories
Lifetime warranty.
Storage compartment for iDevice, holds up to an iPad mini plus charging accessories.
Puts out a LOT of power, charges fast!
Cons:
Large size and weight make it not the most portable option, especially with regard to the larger sized SunVolt MAX.