By Dig Om on Fri, 07/13/2012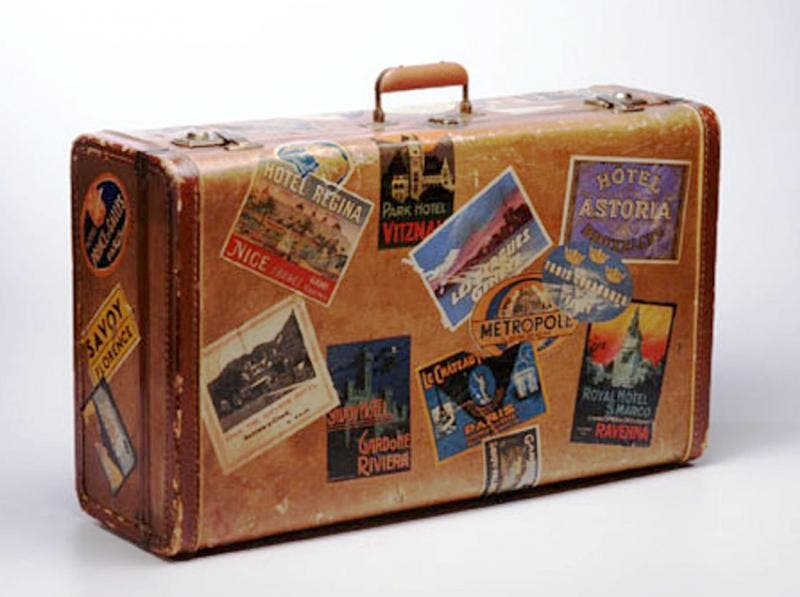 Master your iPhone in one minute a day:
Sign up to iPhone Life's Tip of the Day Newsletter and we'll send you a tip each day to save time and get the most out of your iPhone or iPad.
Hello there fellow travelers and adventurers! Welcome to my Special Summer Travel Series here at iPhone Life. Each week we've been taking a in-depth look at a wide variety of different apps, accessories and gear that make summer travel with our iDevices easier, more convenient, safer and more enjoyable.
This week we are featuring a product by the Lifeproof Company, makers of the best waterproof and rugged protection cases on the market. The LifeJacket by Lifeproof is a great invention that turns your already sturdy and dependable Lifeproof case into a floating, completely submersible, tractioned, highly shockproof (drop it from a 50 foot building and watch nothing happen) portable media and computing station.
Simply snap your Lifeproof case into this pliable, technologically advanced foam polymer mold and your Lifeproof case becomes practically invincible. For the times when extra protection is called for, the LifeJacket will surely see you through. Considering what it does in terms of protection from any number of extreme circumstances it's got a relatively small form factor too. It's lightweight and while it does make your iPhone a little larger, the trade off for the security and protection is definitely worth it for the times you most need it. Whether dealing with extreme snow and cold, like snowboarding or mountaineering, or extreme wet with potential for hard impacts like jet skiing or river rafting, the LifeJacket will not let you, or your Lifeproofed iPhone down!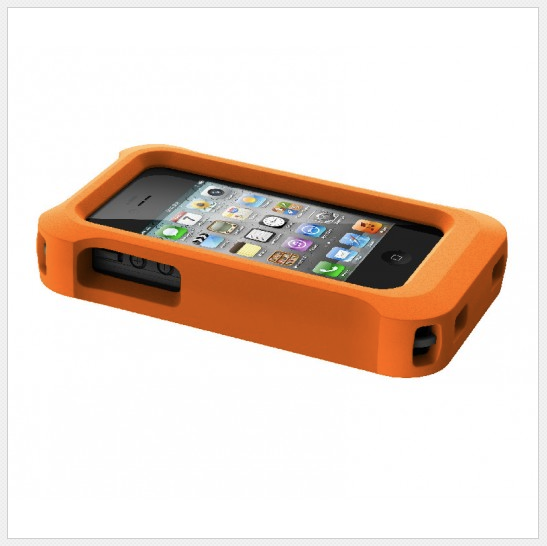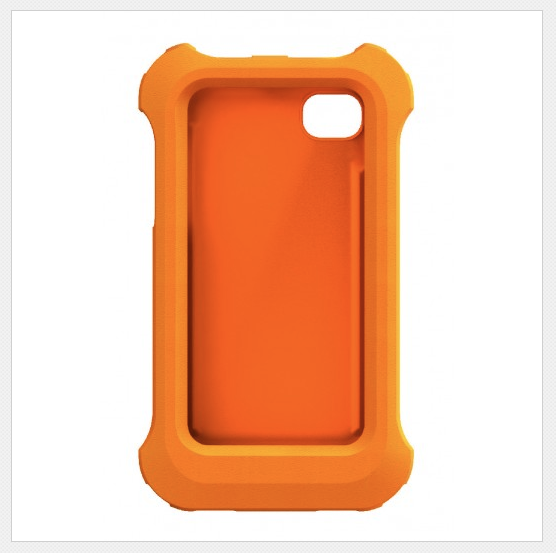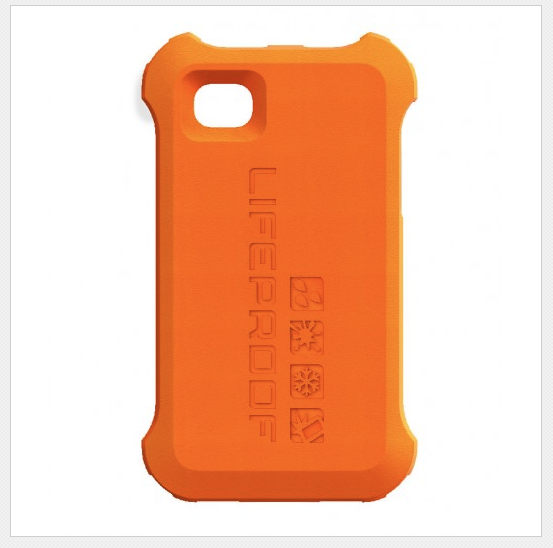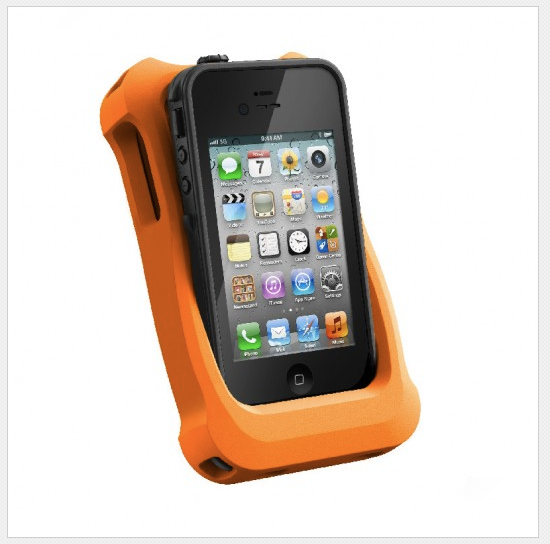 Some of my observations after putting it to the test in the rivers and off-roads of the rugged, northern Arizona desert:
•Even though the case makes the iPhone bulkier, it's not too much, certainly not more than I could hold comfortably in one hand while I use all of my iPhone's features. And it's VERY lightweight, in fact, in terms of weight; I reckon you'll barely notice it! And it comes with a strong and securely attachable lanyard option so your hands can remain free.
•While not a huge fan of a bright orange color under normal circumstances, I understand that in this instance and in the situations this case may likely encounter, it serves a valuable function: that of being able to easily locate a dropped iPhone as it floats on the water's surface.
•A definite plus of the LifeJacket is the way it takes the already enhanced audio that the Lifeproof case is engineered to deliver, and actually increases the decibels (all be it by a small amount) of the speaker's output, making your iPhone sound even louder as the sound waves travel through special amplifying channels.
•Unfortunately, at least as of this writing, Lifeproof hasn't released a adaptive mount that will allow us to mount our LifeJacketed iPhone like we would our regular Lifeproofed iPhone, using Lifeproof's own line of mounting accessories, or compatible GoPro gear, onto our selves or our vehicles as we adventure into the realm of hardcore, gnarly action. But that's a small detail as long as we stay upright and avoid crashing. Which, while the goal, is sometimes unavoidable, and since I like to film my crashes as well as my successes, a mounting capability for the LifeJacketed Lifeproofed iPhone would be a handy addition to the already comprehensive Lifeproof lineup. For instance, I like to attach my Lifeproofed iPhone to my motocross motorcycle when I ride the track, and the added shock protection of the LifeJacket would be welcome, just in case (no pun intended). The ground hits pretty hard sometimes…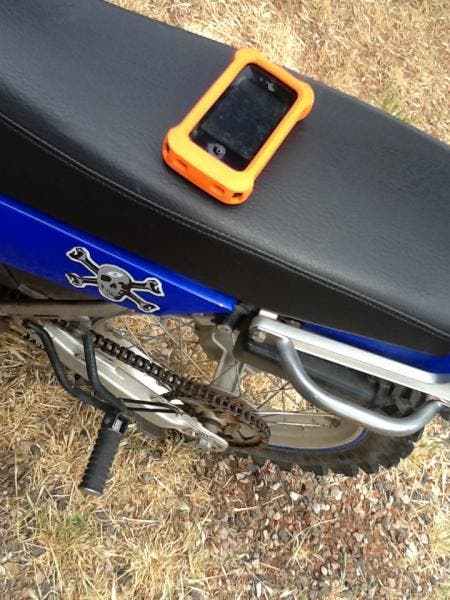 My Yamaha 250 Enduro motorcycle and my LifeJacketed Lifeproofed iPhone along for the ride...
If you are looking for an extra layer of protection for your Lifeproofed iPhone case, then the LifeJacket is a must-have. Whatever your choice of adventure, be it fishing, hunting, swimming, skating, search and recue, whatever, you can rest assured that your iPhone is safe and protected to a ridiculous level in the LifeJacket.
And if you haven't gotten hip to the Lifeproof case yet, let me introduce you now.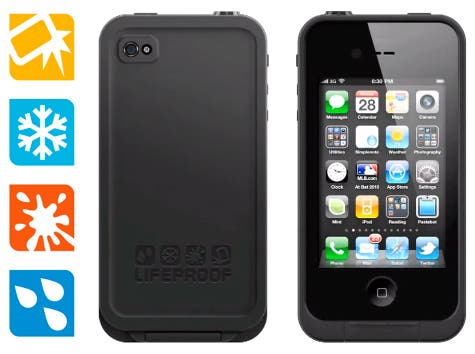 Briefly, the Lifeproof case is the toughest, sleekest, slimmest, most well designed waterproof and heavy-duty protection case currently available. The Lifeproof case does this without sacrificing fashion or function. Keeping to a minimalistic approach, with the intention of emphasizing the iPhone's elegance rather than hiding it under layers of bulk, the Lifeproof case is the case I'd recommend for anyone into extreme adventures, anyone into an active lifestyle on the go, and in fact, anyone who has ever lost an iPhone to it falling in the water or getting cracked! That said, even if you were a parent of young children looking for a great way to childproof your phone while still keeping it stylish, or a relatively sedentary office dweller that had to walk to work in the rain, the Lifeproof case would come in handy! The Lifeproof case goes a long way to protecting your phone when the next calamity that's waiting around the corners finally hits, and now with the LifeJacket as an option in the Lifeproof catalog, what can't your iPhone take. What situation can it not partake? And how convenient that Lifeproof has made it so that whatever we do and wherever we find ourselves, everybody's favorite gadget can be right there by our side, for internet, GPS, video, social sharing, gaming on the go, and oh yeah, phone calls.
The Lifeproof case and the LifeJacket are both available now at Lifeproof.com for $80.00 and $40.00 respectively.