By Dig Om on Tue, 03/11/2014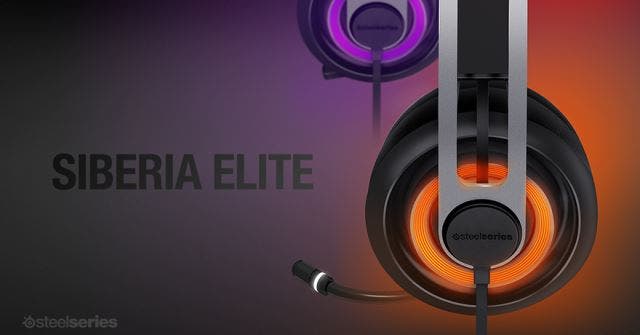 SteelSeries has garnered an international reputation as a leading company in both cutting edge personal listening gear, as well as gaming accessories, including what is in my opinion, the best MFi iOS game controller on the market, the Stratus. Their Siberia Elite headphone ($199.99) are already considered a high-level, gaming-specific headphone, but read on to find out how they stack up as a dual purpose headphone, one that shines as both a gamer's premium headset, as well as an audiophile's dream headphone.
Master your iPhone in one minute a day:
Sign up to iPhone Life's Tip of the Day Newsletter and we'll send you a tip each day to save time and get the most out of your iPhone or iPad.
Design
Even the best sounding headphones will quickly loose my interest and quash my enthusiasm if they aren't comfortable to wear. No matter the audio quality, if a pair of headphones is uncomfortable to have on for extended periods, then their overall performance becomes diminished and marginalized by their comfort factor. Well, I can honestly say that the Siberia Elite headphones are some of the most comfortable cans I've ever tried on. However, not only are they amazingly comfortable, they also deliver massive, studio-quality sound. I could see these headphones being ideal whether in the recording booth, during video game competitions, or just for an audiophile's sheer enjoyment of music.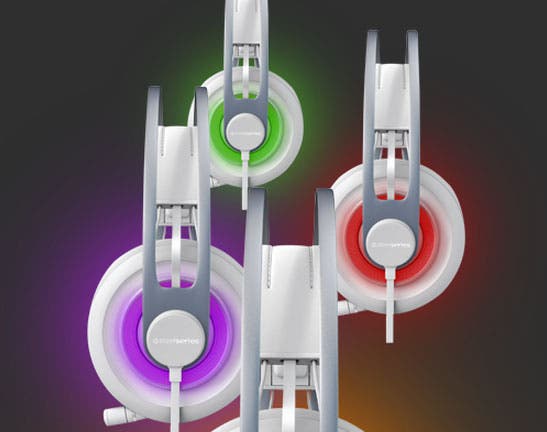 The Siberia Elite headphones feature generously plush and roomy ear cushions that not only surround your ear without them feeling crowded or crushed, but also effectively seal out external noise (trust me, I live near an airport). In fact, in my evaluation, the Siberia Elites were one of the few headphones I actually felt comfortable wearing while lying down on my side. The majority of headphones I've experienced would end up pressing aggressively against my ear and would become uncomfortable fast. With the Siberia Elites on however, I was not only able to relax and lie on my side with them on, I felt zero discomfort while doing so. In fact, I was able to play one of my favorite new iOS games (The Walking Dead, Season 2) all the way through the latest episode without ever adjusting the headphones or feeling that I'd best sit up for the sake of my ear's comfort.
Part of the Siberia Elites' comfort is due to their luxurious (yes, they're ginormous) ear pillows, but part of it is also due to its other well-thought out design elements. For instance, rather than the more common click-catch incrementally adjustable headband, the Elites rely on a spring-loaded stretch functionality, which allows these headphones to adjust precisely and effortlessly to your exact fitting. Additionally, the headband, like the ear cushions, is covered with premium leathe, over supple memory foam, for a comfort fit that is among the best you'll find, especially if over-ear "circumaural" headphones are your thing.
Another really awesome feature of the Siberia Elites (one that may be lost on iDevice users since it relies on the USB sound card, but is way cool nonetheless) is the light show they put on. When used for laptop/desktop gaming in conjunction with the included sound card, the frosted lights embedded in the external headphone housing light up with a rainbow of bright, beautiful colors. It's a very classy and customizable personal touch.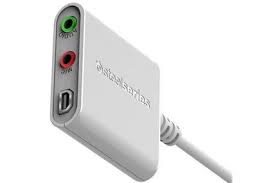 Incorporated into the exterior of the earpieces you'll also find a retractable, noise-cancelling boom mic and a microphone on/off dial on the left side's earpiece, as well as a volume control dial on the right side's.
Designed with gamers in mind, the Siberia Elite's high quality, retractable, and flexible microphone boom (which also lights up when used with the USB sound card) provides optimum voice capture, whether you use it when communicating tactical strategies with teammates in live, online iOS gaming like N.O.V.A. 3 or Metalstorm: Aces, or just chatting with family on FaceTime.
Though these headphones are on the larger side of things they are still incredibly lightweight and form fitting and provide a level of superior comfort that is hard to find on today's market. I give the Siberia Elite 5 out of 5 stars for comfort.
Sound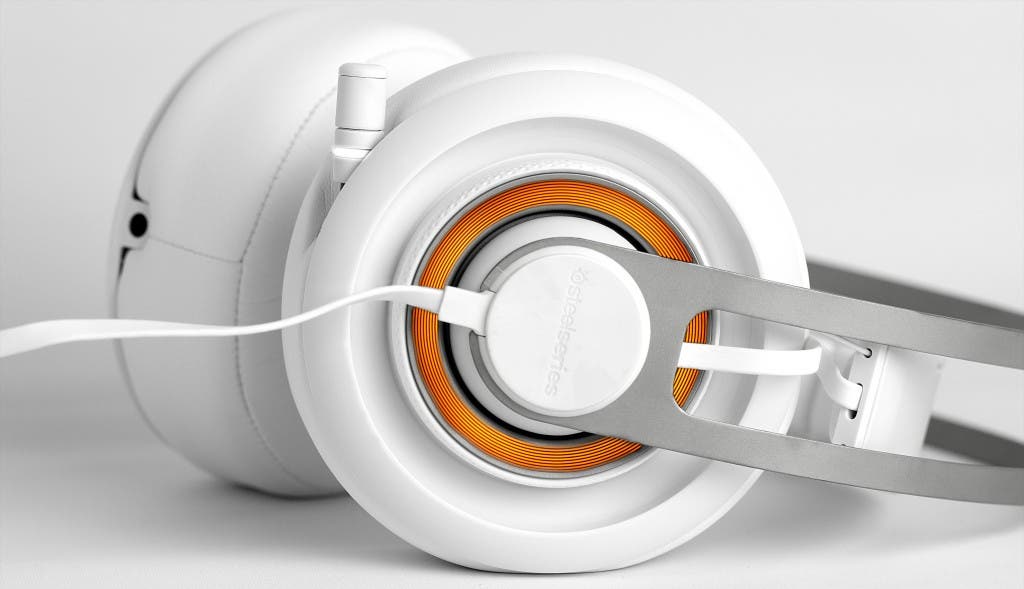 In terms of sound, the Siberia Elites reflect the many years of catering to the demanding standards of dedicated gamers. The drivers of the Siberia pump out expansive and amazingly accurate audio and the large ear cushions work very effectively to isolate external distracting sounds.
With built-in Dolby ProLogic IIX technology, and a wide-open, atmospheric soundscape (especially considering they are closed back as opposed to open backed headphones) the Siberia Elite headphones create an environment for clearly delineated and well-balanced acoustic frequencies. With finely engineered and precision-tuned speaker drivers, the spatial orientation of the audio effects, in the dramatic surround-sound theater rendered by the Siberia Elites is a truly a treat to behold. There's even a free app (unfortunately, it's only for PC or Mac at this time) that lets you connect to your laptop or desktop via the USB sound card and customize your listening settings and microphone settings as well as the ColorShift LED lights on the ear cups.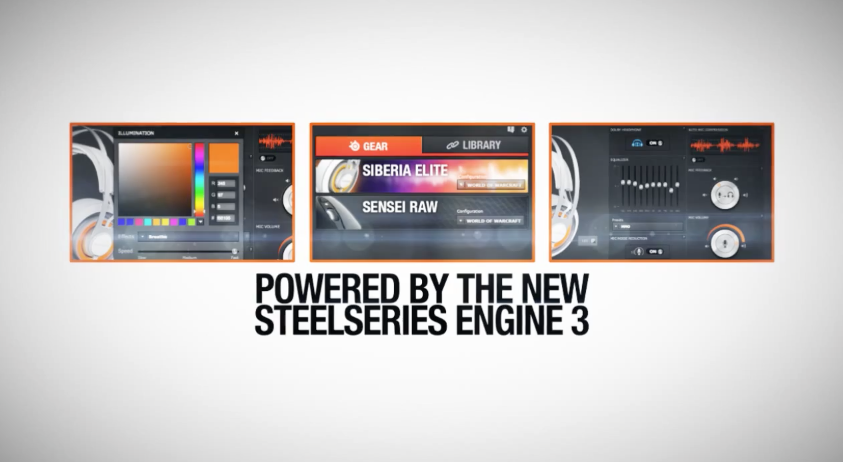 With the Siberia Elites on, I got to experience everything from some of this year's crop of Oscar winning movies in HD (thanks Amazon), to incredibly dynamic, high-fidelity games like Infinity Blade III, Modern Combat 4 and N.O.V.A. 3, to name a few. I was consistently impressed with their high performance and top-quality sound. There aren't many headphones that are such a perfect fusion of elegant design and dynamic acoustic range, but the Siberia Elite are truly the complete package. With the Siberia Elites, SteelSeries hit the ball out of the park, and I give them 4.5 out of 5 stars for stellar sound delivery and audio output.
If you can't see the embedded video above, please click HERE.
Pros
Superior Comfort level.
Exceptional sound quality.
The bells and whistles are a special plus, like the lighted earpieces and retractable boom microphone.
The volume control dial and the microphone on/off incorporated into the earpieces is a great touch.
Cons
The Siberia Elites are relatively lightweight but also quite large, and since they do not fold up or collapse in anyway, they remain on the bulky side. For anyone looking for a highly portable pair of cans, ones you can easily throw in a suitcase, pack, or messenger, these may be somewhat cumbersome.
It would have been nice to see a mic/volume control incorporated into the headphones cable, for a greater level of hands-free call and music control options.
I didn't care for the naked steel headband frame, only because of the resonant echo they produced whenever they brushed against something as they create a loud "twang" when bumped. This could be a distraction, especially when listening to music at lower volume levels.
Verdict
I consider the Siberia Elites to be a superior pair of headphones. They are very reasonably priced considering the quality, features, and performance you get with your investment. There are a lot of great headphones at around the $200 price point, and these are without a doubt one the best performers I've come across. In fact they are an early front runner for one of the best headphones of the year! I award the Siberia Elites an overall review score of 4.5 out of 5 stars.