By Dig Om on Fri, 09/14/2012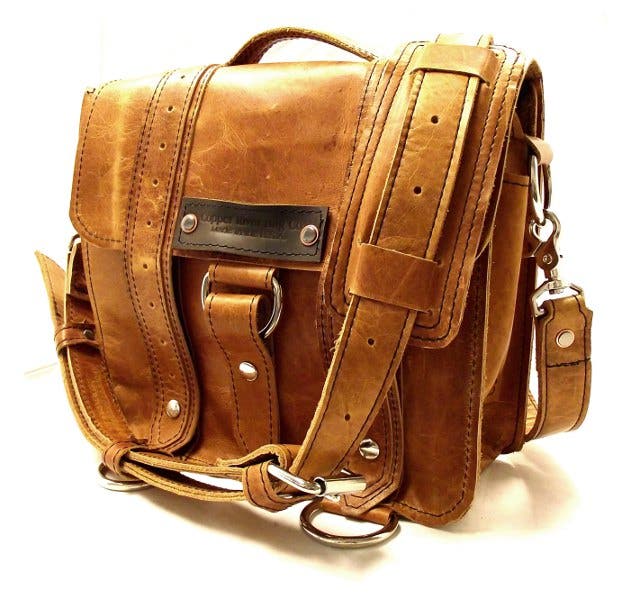 That which makes something a "great deal" is very relative and subjective.
Master your iPhone in one minute a day:
Sign up to iPhone Life's Tip of the Day Newsletter and we'll send you a tip each day to save time and get the most out of your iPhone or iPad.
For instance, for the unrivaled security they provide, I would call the Lifeproof line of iDevice products a "deal", even though they might be some of the pricier iDevice cases on the market. With regards to quality and protection, the old adage "You get what you pay for." is often true, especially when it comes to products that claim to be durable and built to last.
When it comes to a quality manufacturer of iPad and laptop bags, you'd be hard pressed to find a better deal than a Copper River Bag. First of all, Copper River Bags come with a 100-year warranty! I guarantee you, not many companies would say such a thing about their product. This puts them in league with such reputable, top companies as Eddie Bauer, L.L. Bean, Leatherman and the handful of other manufacturers whose warranties extend throughout the life of their product.
Copper River Bags are nothing short of works of art. Practical, durable works of art mind you, but art nonetheless. Each bag is hand crafted here in America in the beautiful Sierra Nevada Mountains. Using rugged, full grain leather, each Copper River Bag is built to carry your devices and gadgets, now and for generations to come. Truly, if you decide to invest in a Copper River Bag, it is something that, barring any unforeseen natural disaster, you will likely find yourself leaving to a loved one in your will.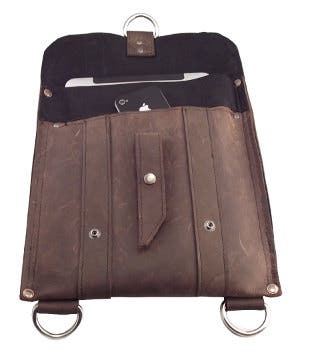 Copper River Bags: Slim iPad Messenger
Copper River Bags is a family run business with a tradition of excellence, and indeed, they make an excellent product! The levels of craftsmanship and attention to detail that are evident in these bags is on par with what you might see in the most elegant of storefronts in a fancy, swanky Southwest town, like Santa Fe, Sedona or Taos. And while their bags are indeed stylish, Copper River Bags are also some of the most durable, well-made and sturdy iDevice carriers on the market! Of course they make several other types of carry bags along with their iPad bags, including camera bags and laptop bags, all of which are available in many styles and in many sizes.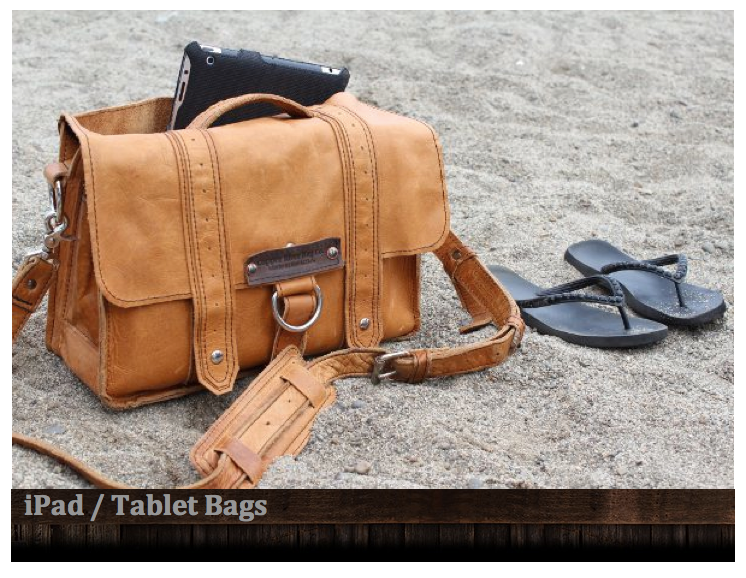 Copper River Bags: Safari
I was fortunate to get some hands on with the Safari iPad Messenger Bag and if you think it looks enticing in the pictures here... Oh my, what a special bag this is to behold in person. This is one classy bag, that would look good on anybody, cowboy or cowgirl, city folk or island folk, republican or democrat, student or professor, "gay" or "straight"... You name it, this bag is one of the few bags that seems like it could fit anyone's and everyone's style. The price ($126.50) is well worth it, in fact, Copper River Bags offer some of the lowest priced, high-quality leather bags that I've been able to find. Its even more of a deal, when you consider that it will last you for many, many years, guaranteed. Think of it like this: most folks spend between $75 and $100 on laptop/iPad carriers every two or three years. When you do the math, you see how fast the Copper River Bag pays for itself, many times over in fact. I have seen other bags that are very similar to the Copper River Bags in terms of quality and craftsmanship, retail for upwards of $300.00 -$400.00!
The Safari:
The Safari, over-the-shoulder messenger style bag is very functional and very fashionable at the same time. First of all, it is water-resistant, which is a plus when talking leather bags since water can be damaging to leather if not cared for properly after exposure. It is constructed from 100% full-grain, stone oiled leather. The Safari has a dedicated rear sleeve inside to carry your iPad (without a case or with a minimalistic shell or folio) and ample room forward to carry a light jacket, a drink, a snack, keys, flashlight and your iPhone. Or, if you happen to use a more rugged iPad case, such as the Lifeproof, Otterbox or Griffin, then you can fit your iPad into the front, larger stowage area. There's also a small leather pocket on the side in which you can tote your iPhone, keys, or some other small items. The Safari is roomy, but still compact, designed for someone who wants to carry their iPad and only few other important items. It's not a large bag, though Copper River does make many larger bags to fit whatever your need may be.
The bag has bold buckles and rings accentuating the beautiful tan leather, and snap buttons and straps serve to close the bag. Overall, the Safari is a simple and well-executed design. This bag will age well, only looking better the longer you use it, and I doubt it could ever go out of style.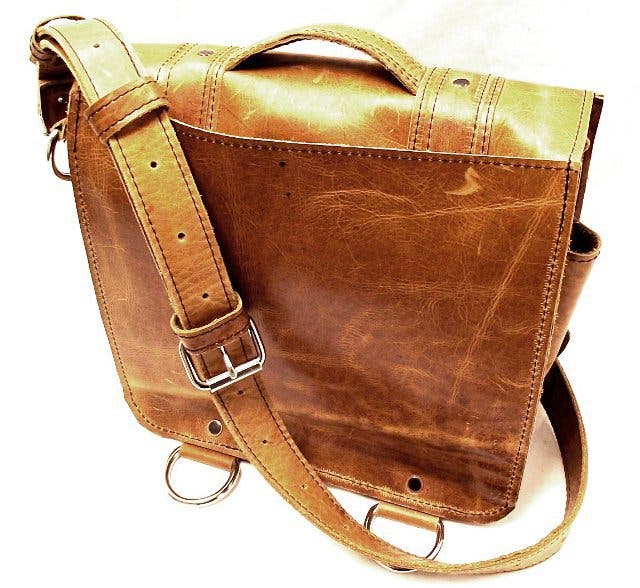 Quality leather is one of the most durable natural materials we have, and the Copper River Bags are made with high-quality leather. The bags have a distinct aesthetic charm to them, as each is unique, with the leather showing its ruggedly perfect imperfections. Each piece of leather is meticulously selected and hand-sewn together giving the Copper River Safari its totally authentic feel of quality craftsmanship.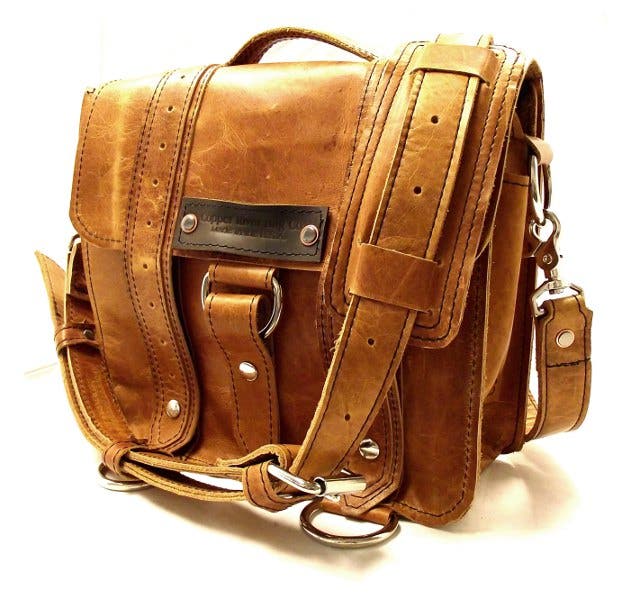 Copper River Bags: Safari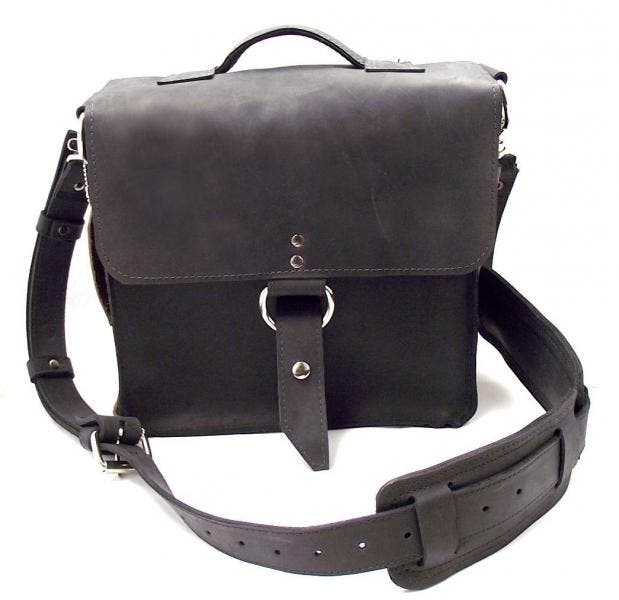 Copper River Bags: Midtown Bag
Copper River Bags: Journeyman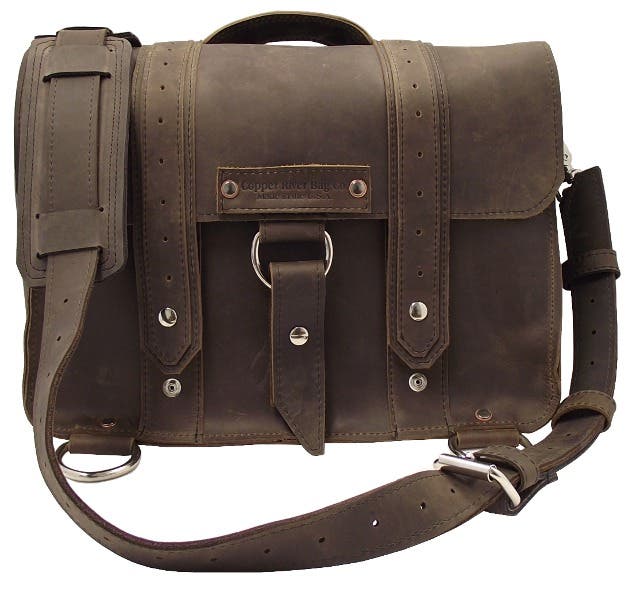 Copper River Bags: Voyager
Copper River Bags is a homegrown, small business, with a great reputation. They offer quality service and have a refreshing "spirit of pride" for their stellar line of iPad and laptop carriers. I highly recommend that anyone in the market for a top-notch bag, especially if you've ever flirted with the idea of a getting a good leather bag but have shied away due to their typically high prices, check this company's products out. I think you too, will be very impressed and as enthusiastic about what Copper River Bags has to offer.
Thank you again for reading, and stay tuned for more from my review series, here at iPhone Life...