By Dig Om on Thu, 08/30/2012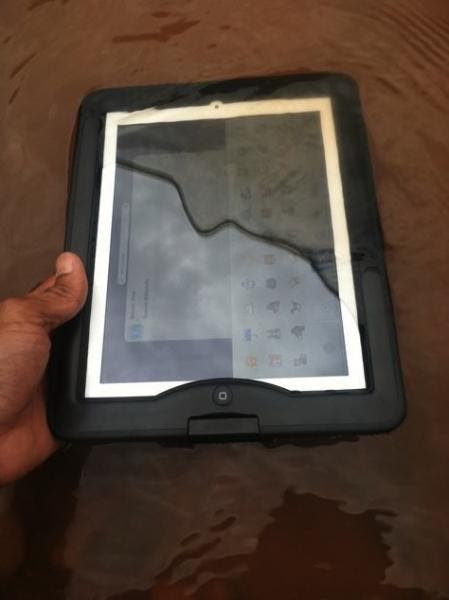 If you are looking for a case that will provide the most protection (including waterproofness) for your iPad while keeping the bulk to an absolute minimum, do yourself a favor and check out the nüüd, by case design experts, Lifeproof! Truly, I can say, this is one of the best all-purpose, heavy-duty cases on the market and one I can highly recommend, whether it's for everyday use around the house, a day at the office, working on a construction project or rugged outback adventures. You name it; this case will have you covered!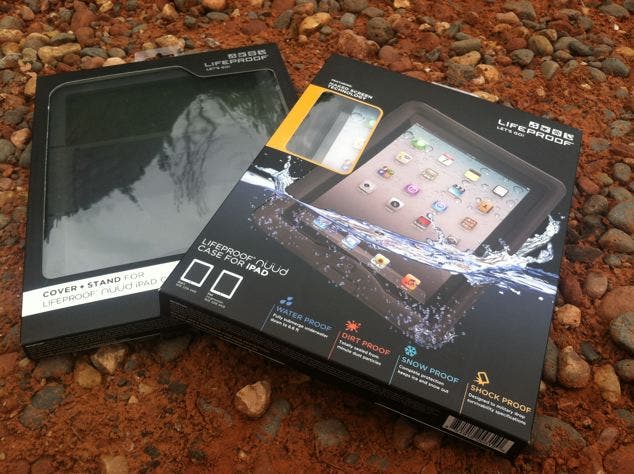 I am a huge fan of the Lifeproof products, and must say, I also greatly appreciate their standards and integrity as a company, when it comes to the design of their products. Lifeproof is not a company to produce trifling cases, not at all. Lifeproof CEO Gary Rayner is a man of both vision and dedication and the accessories that his company brings to the world are, in my opinion, nothing short of outstanding and revolutionary. I'm glad he's got his patents in place because the Lifeproof case designs are so revolutionary that if he didn't, there would be no shortage of copycats.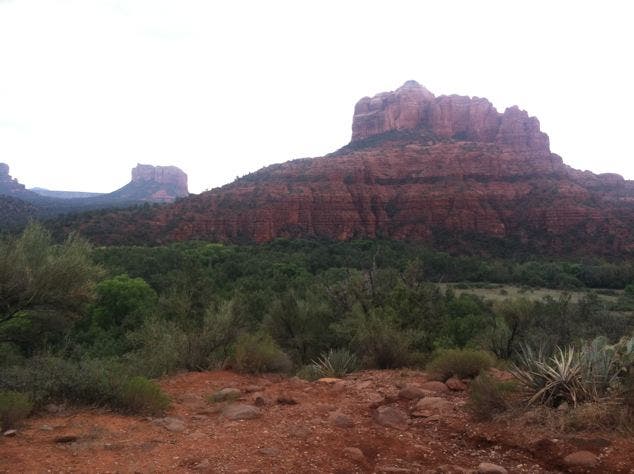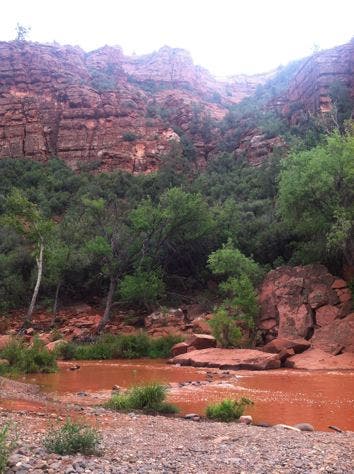 A rainy day by the creek in Sedona Arizona seemed the perfect opportunity to innaugurate my iPad to the Lifeproof nüüd.
How do you imagine an iPad case, that doesn't even have any integrated screen covering, would manage to protect your iPad so well, especially from debris and liquids? I know for me, having grown so accustomed to protective cases incorporating a clear plastic screen built into the case design, I was a little unnerved by the fact that for the first time EVER, my iPad had no screen protection whatsoever over the touchscreen. Now, I know many of you likely use your iPhone's and iPad's without a screen protector, but for me, considering how rough I can be on my iDevices, I have NEVER EVER EVER been comfortable using my iDevices without a case that offers screen protection. Never.
But when I was introduced to the Lifeproof nüüd, I was forced to reconsider my reasoning for not wanting to use a case that did'nt offer integrated screen protection. You see, the nüüd is a case that is shock proof, waterproof (IP68) and meets up to military standards of ruggedness, all without having any kind of screen protection. "What?!?" you say, "How can this be?!?" I KNOW, I know! That's what I said! But when I stopped to think about it, what was at the root of my apprehension? After some thought it came to me that the reason I always wanted a screen protector was because I just could not imagine a way that a case could offer water protection and crack protection without it. But the fact of the matter, I realized, is that Apple has designed the iPad with super strength Gorilla Glass, which means theoretically, I shouldn't have to worry about scratches or cracks (unless it lands "just right"), and honestly, any impact that is sufficient to crack the screen, will do so whether the device's touchscreen is covered by a thin plastic screen or not. While there is no screen protector built into the nüüd's design, Lifeproof does allow for the fact that some of us may still prefer to use a screen protector and recommends Zagg's screen protector, which is one of the only ones compatible with the nüüd.
As for the water protection, well, that's where Lifeproof's ingenious design comes in to play!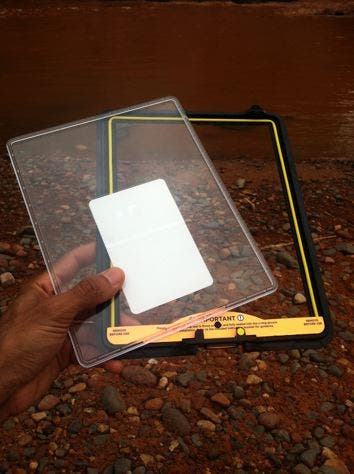 The Lifeproof nüüd: with a clear plastic rear, and the front, with the included mock iPad box to test waterproofness.
The Lifeproof nüüd has been crafted to allow us to interact with our iPad the way Mr. Jobs intended. With a series of heavy-duty, o-ring seals, the Lifeproof case's inner o-rings manage to effectively clamp down against the glass of the touchscreen without obstructing use. Furthermore, the incorporation of a raised beveled edge around the glass only enhances the level of screen protection it offers. And if that weren't enough, the nüüd is constructed of both a rigid polycarbonate, fused together with a rugged silicone bumper, which allows the Lifeproof to be one of the most shock absorbing drop-proof cases on the market. The nüüd offers this unprecedented level of device security without adding a lot of extra weight or mass, relatively speaking. Certainly no more that say, an Otterbox Defender or Griffin Survivor (two other leading heavy-duty iPad protective cases) adds, and they can't claim waterproofness.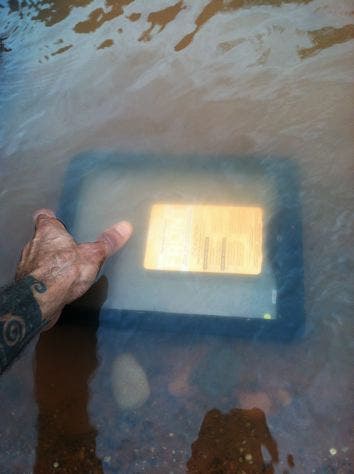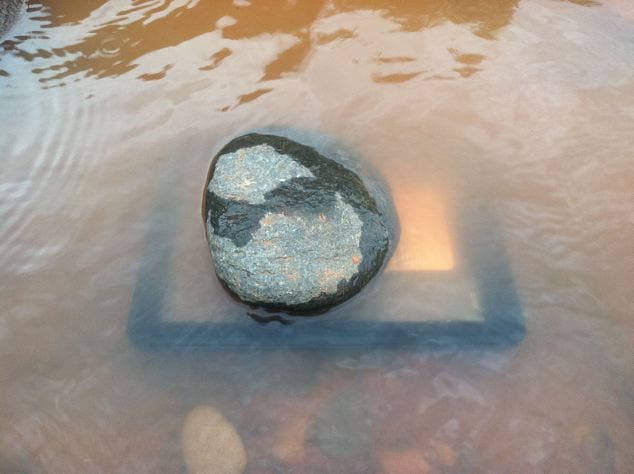 Lifeproof's "required" submeersion test using iPad stand-in.
What's more, I feel like I've just been reintroduced to my iPad! As I said, I have never used my iPad without a screen cover, and now that Lifeproof has created a case that keeps water and debris out wile leaving the screen exposed, I feel like I have an entirely different relationship with my good ol' iPad. The responsiveness of the bare naked glass is unrivaled! Even the best of plastic screen covers pales in comparison to a nude iPad screen! I testify! I owe a great deal of gratitude to Mr. Rayner for creating a case that allows me to at last indulge in this new level of intimacy with my iPad! Honestly, I never knew what I was missing till now.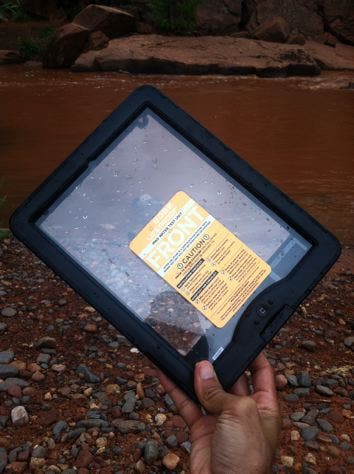 No water got into the "iPad"! Time to test it out for real!
The nüüd has a secure clasp that snaps into place over the docking port, a removable, screw-in headphone jack cover and a clear back panel to show off your Apple logo on the back. Additionally, when I got my nüüd, I also got the screen shield/iPad stand, which is sold separately.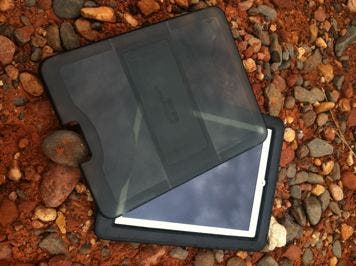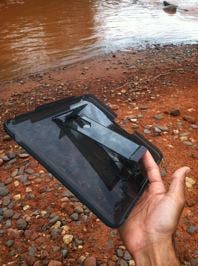 The screen shield is constructed of a sturdy plastic material, similar to a Tupperware container. It can definitely take some abuse and with the shield on, it would be extremely hard for anything to damage your touchscreen, much less your iPad. The screen shield also allows for charging while the cover is on, as well as headphone use. Take the cover off, and flip it around with its integrated, fold out support arm, you have an iPad stand that can hold your iPad in any number of different viewing positions. With these (the shield and the case together), Lifeproof has crafted what is arguably one of the best, most durable and most protective iPad cases available.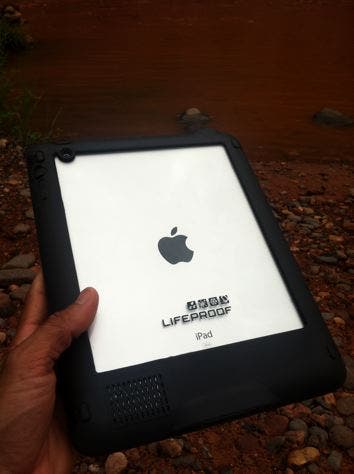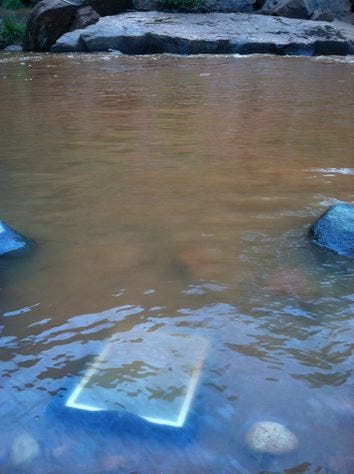 In the case, let the testing begin...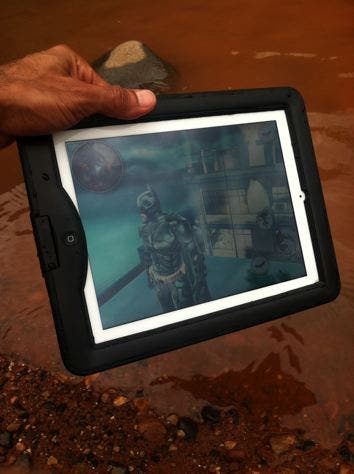 After over half an hour submerged in the flowing creek, not a drop of water got past the Lifeproof nüüd!
I'll be writing more on my developing relationship with this great new case, so stay tuned for further reports and updates as I continue to test and evaluate this wonderful new product.
The Lifeproof nüüd is available for $150.00, and the screen shield sells for $30.00. Lifeproof offers a deal if you get both together for 160.00.
---
Thanks for reading and stay tuned for more reviews of the latest and greatest apps and accessories here at iPhone Life.