By Dig Om updated on 07/31/2013
Now more than ever, we adventure enthusiasts, social nomads, and adrenaline junkies have our choice of a wide selection of high-quality portable Bluetooth sound systems to use with our iDevices during summer adventures. Read on to get the scoop on the latest crop of new, rugged Bluetooth speakers...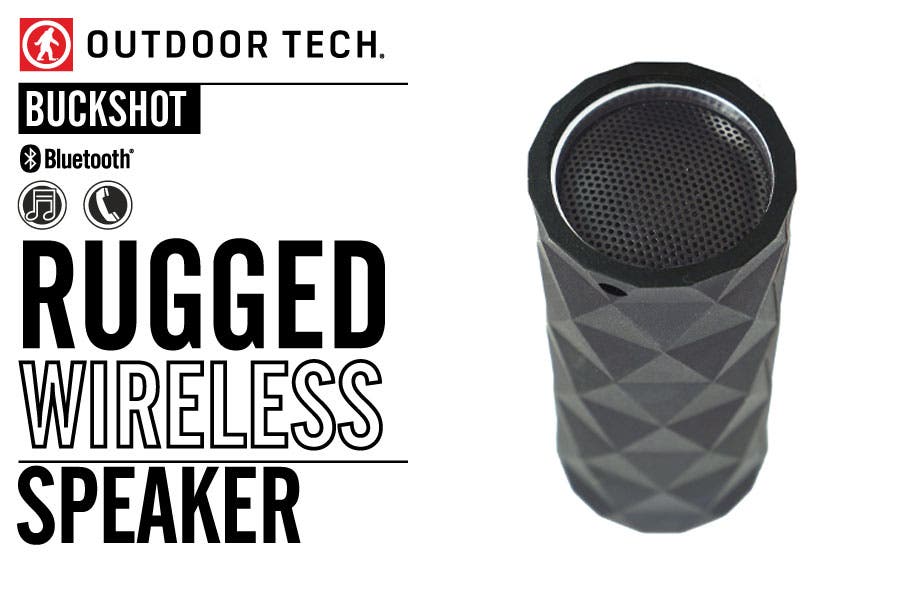 Over the years, Outdoor Tech has made some stellar contributions to the world of iOS-compatible, ruggedized audio accessories. Now with the Buckshot, it has revolutionized what a small, portable, and extreme-duty Bluetooth speaker can be. The Buckshot is the smallest rugged (IPX5) Bluetooth speaker I have encountered. This speaker is about the width of your hand. Even with its shock absorbent silicone outer shell, it still has only slightly more girth than a role of quarters.
The Buckshot comes with a rubberband-style clasp to mount the speaker on handle bars, and it also has a lanyard attachment point so you could theoretically clip it to a keychain, backpack, or belt.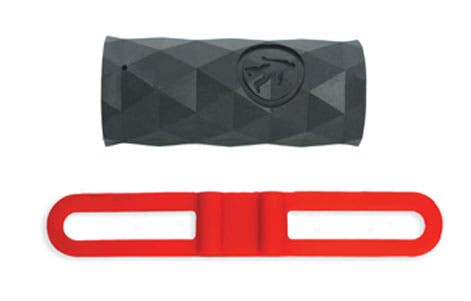 In terms of sound, it puts out a mighty roar relative to its diminutive size. It's no Turtle Shell in terms of thunderous sound, but for the complete and total portability and compact form, it's hard to be overly critical of this mini-boom tube. This isn't the speaker to get if you want to power a party, but for personal use while walking around the house or out doing your thing, the Buckshot is hard to beat and hard to break!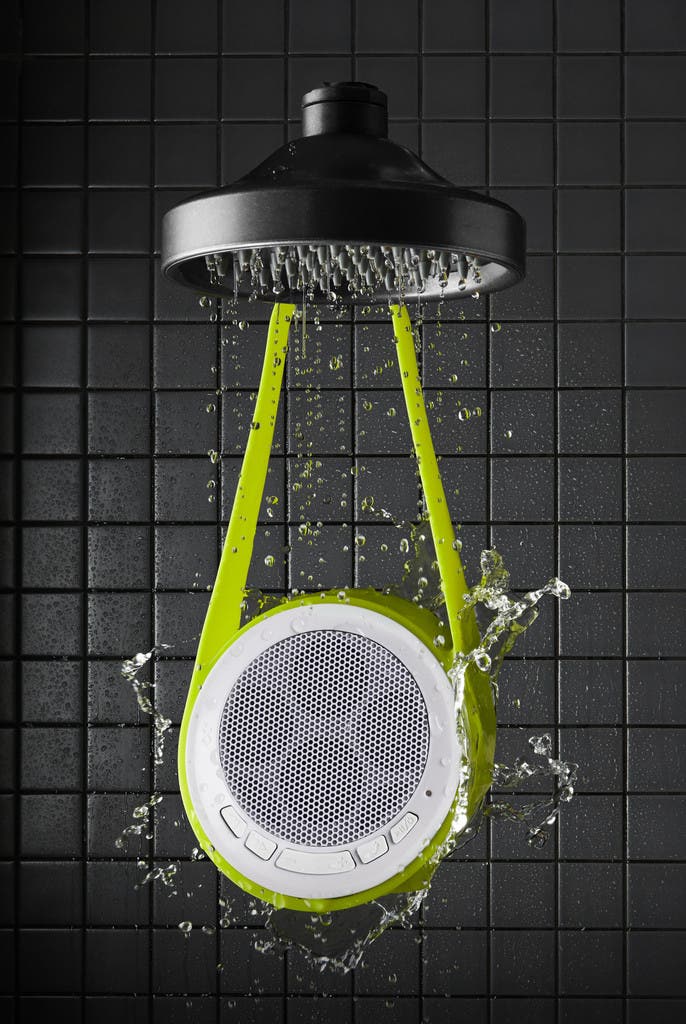 The Slingshot is a powerful, water-resistant speaker (IPX4) that can handle the most relaxing or the most adventurous of activities. You see, the Slingshot is specifically touted as both a shower and bath speaker as well as an adventure-ready, heavy-duty use Bluetooth speaker. The sound that this speaker pumps out is plenty sufficient to be heard loud and clear over the sound of a roaring shower, a raging river or a raucous day at the park.
The Slingshot sports a unique design; a round speaker that slips into either a sling-styled rubber shell, or a double handled alternative. It
comes in two styles, one that runs off of AA batteries, the other (for $20 more, at $119) has a built-in rechargeable battery. Personally, I'd recommend the rechargeable battery version, since you'll save on replacement batteries in the long run.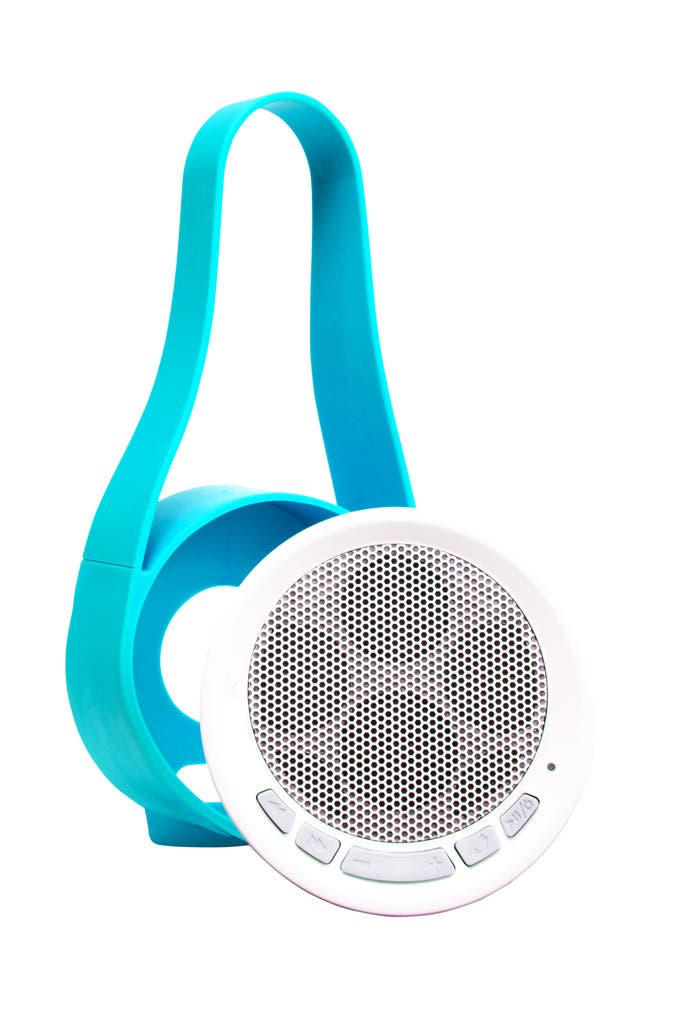 This new rugged Bluetooth speaker is the perfect fit for the home or on the go and it's a speaker that would fit perfectly into a purse or travel duffel. While rugged and durable, it doesn't look utilitarian or militaristic and would be perfect for a family outing to the park, a day at the pool or just exercising your vocal skills during your morning shower.
The boomBOTTLE from Scosche has won multiple awards at this year's CES and also the iPhone Life Magazine Best of CTIA 2013 award, and with good reason. This cylindrical heavy-duty (IPX4) Bluetooth speaker is a fusion of practical design, rugged style, and Scosche's penchant for technically advanced audio gear. Scosche has invested great time and attention into the precise acoustic construction of the boomBOTTLE, so that it can meet up to their demanding sound specifications.
Though the boomBOTTLE has been out for a little while now, the fun news is that Scosche has just released a playful line of all new summertime colors. Now its easier than ever to get the perfect color to match your bike or your hiking pack or just your mood.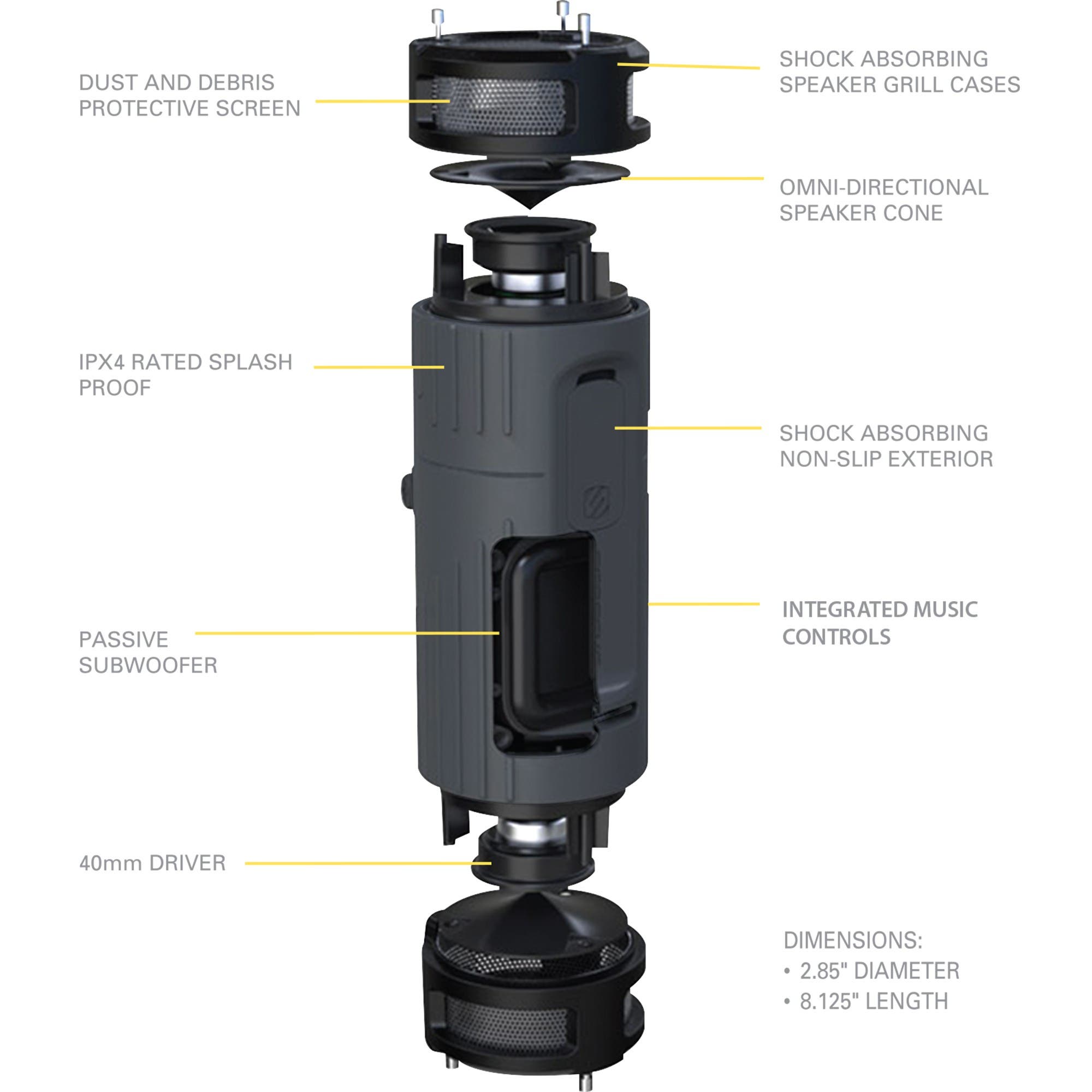 The boomBOTTLE fits conveniently in your water bottle holder on your bike or in the water bottle pocket on your pack or just conveniently in your hand or from a lanyard. Its very versatile and with its rugged, weatherproof construction, its good to go with you wherever your adventures may carry you!
*Please note: All of the new speakers featured here include a built-in mic so they also conveniently serve as a speakerphone!