By Dig Om on Thu, 05/09/2013
1. Pulse (Free)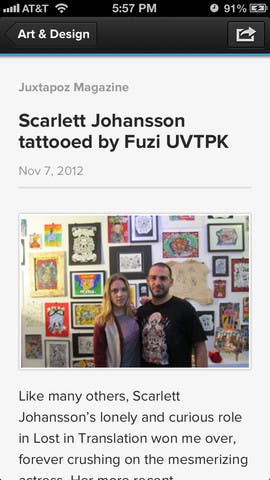 My favorite news aggregate app just received a welcomed update this week. The new version of Pulse makes sharing articles even easier and simpler.
Master your iPhone in one minute a day:
Sign up to iPhone Life's Tip of the Day Newsletter and we'll send you a tip each day to save time and get the most out of your iPhone or iPad.
In the previous versions of the Pulse app, you could share with Facebook and Twitter as well as via email, one at a time. Now, however, after LinkedIn's recent purchase of Pulse, you have the added ability to share articles via LinkedIn, or with all three social networks with just a couple of taps. In addition to adding the sharing feature, the new update also allows for sharing via SMS. Now sharing via Pulse couldn't be easier or more comprehensive.
The entire Pulse UI has been simplified and redesigned, making for a more visually appealing user experience, while also delivering a more intuitive layout. If you haven't checked out Pulse, I would strongly suggest you give this app a whirl. It's my all time favorite news app and one that I've been using intensively for years now. For the most organized, easy-to-use, and customizable news aggregate, Pulse is hard to beat.
2. Album Share (Free, for limited time)
Album Share makes sharing unlimited photos a snap. This app (iPhone only) solves the dilemma of how to share large batches of photos via text from your iPhone, and it does it with style, speed, and great efficiency.
If you've ever tried to share more than a few photos via text message or iMessage, you know how cumbersome of an experience it can be. Even with such stellar apps as Dropbox or Google Drive, uploading a batch of photos to share with others can be an arduous and drawn-out affair.
With Album Share, you can share hundreds of photos in mere minutes! Seriously, I timed it. With minimal clicks and very little time uploading, you can share as many photos as you wish with anyone via text.
If the recipient of the photo album has the Album Share app installed, they can view all shared albums easily within the app. They can even add photos to the album if they want. If they don't have the app, they receive a link to a web page where they can view the photos.
Want to know the icing on the cake? No account setup or registration is required! Seriously! That's rare these days and a welcome change from the norm. It's so great to be able to share so many photos so rapidly with anyone, without having to sign up for anything.
Suffice to say, if I'm sharing more than one or two photos via my iPhone, Album Share is definitely my new go-to app!
3. Blitz Brigade (Free)
I've been waiting for Gameloft to debut this first-person shooter since I got a sneak peak of it at an exclusive iPhone Life magazine meeting with Gameloft during the Consumer Electronics Show in January. Today, Gameloft finally launches its highly-anticipated new game, Blitz Brigade.
This original iOS shooter is exquisitely animated and allows for either massive team battles or challenging single-player ops. Set in World War II, this first-person shooter has more than 120 unique missions, over 100 weapons, and five classes of soldiers; including Soldier, Gunner, Medic, Sniper, and Stealth.
As many as 12 players can battle at the same time, and the game even has live voice chat to better facilitate strategy planning, or just taunt throwing and trash talking.
The graphics in this latest Gameloft title are amazing (as usual), and both the visuals and the gameplay are worthy of a console game! Don't hesitate to head over to the App Store and download this latest offering from one of the leading game development studios in the world of iOS gaming.