By Dig Om on Fri, 05/11/2012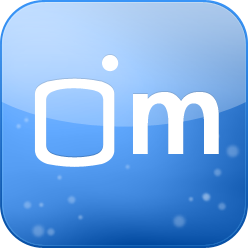 If you haven't heard of Mobli, or tried out the App (available for free in the Apple App store), now is a great time! Mobli, the new, up-and-coming social photo/video App is currently hosting a wild month of daily contests, with a brand new, New iPad as the prize, EVERY DAY! Yes indeed, you read that right! In an unprecedented move, Mobli is, for the month of May, giving away a New iPad every single day! The requirements for entering the different daily contests are quite simple, relatively speaking, considering the prize.
Master your iPhone in one minute a day:
Sign up to iPhone Life's Tip of the Day Newsletter and we'll send you a tip each day to save time and get the most out of your iPhone or iPad.
Mobli is more than just your run of the mill social photo App. Mobli is a real-time visual media platform made up of subject-based channels such as people, places and topics. Mobli's intent is to enable users to see the world through other people's eyes and it serves as a photo & video sharing community built to bring people together around common interests, and it does it's job well! Photos and videos can be uploaded from your device's library or captured with Mobli's pro-level camera, and tweaked to your liking in Mobli's all-purpose "Darkroom". These images can then be shared across multiple channels for maximum visibility. Mobli's unique multi-stream, channel approach provides unmatched content discovery potential, and ensures visual media is only delivered to the most interested of audiences.
Mobli's aim is to unlock the tremendous potential of social media by leveraging the power of smartphones, enabling people to quickly and easily share and experience events via high-quality videos and photos uploaded on-location and in real-time. Integrating channels and geo-location, Mobli has created a vehicle for people to share their special occasions, personal experiences and unique interests with the communities of individuals who will appreciate them most.
Mobli first arrived on the market in mid-2011, and they've already passed the 3 million-user mark. Mobli has garnered the support and backing of some big-name celebrities too, including major share holder, Leonardo DiCaprio, as well as Lance Armstrong, Tobey Maguire and Paris Hilton. Mobli also just celebrated their 2.0 re-release going live in March of 2012. On the heels of this new iteration of Mobli, the Mobli team (a close-knit staff of 30) has come up with a fresh and ingenious promotional campaign, their "Every-Day-In-May" iPad Giveaway.
Mobli's recent 2.0 launch party. A star-studded affair, with guests including actors Leonardo DiCaprio, Tobey Maguire and Lukas Haas.
I recently had the opportunity to interview Mobli's own Dino Decespedes about the tremendous wave of success Mobli is riding.
One of the first things we talked about was what qualities set Mobli apart from the rest of the field of social photo and video sharing Apps. As Dino explained, "It's our channel system. We affectionately call it 'Social 2.0'. Facebook initially blazed the social media trail, but nowadays, everything is geared towards helping you share more, share easier and share more effectively with those same Facebook friends! We are absolutely the premier social platform for making new friends around common interests. The channels I watch on my Mobli App (Street Art, Brooklyn Life, Live Music for instance) give me a stream of visual content 100 times more interesting than the photos I get from just my Facebook friends or the people on Twitter that I follow."
This line of conversation led me to ask Dino, which of Mobli's features he felt most excited about?
In response Dino said, "The main feature that illustrates to me that Mobli is, in fact, a game-changer, is again, our unique channel system.  Our channels allow people with no Facebook or Twitter following to deliver photos and videos to targeted audiences - people that have opted-in to watch a particular channel. A photo or video can be tagged on up to 3 different channels, and can also be found on the Mobli Global live-feed, as well as the Mobli Local feed, which publishes photos and videos captured in a user's same city. This multi-stream approach allows people to make new friends, based on common interests, while still seamlessly sharing photos with Facebook and Twitter."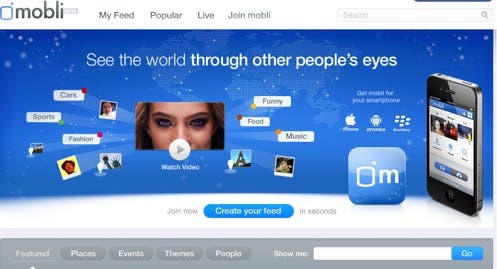 "Some of the classic channels," Dino continued, "have the biggest followings – such as comedy, fashion and sports. We also have great channels for live events like Coachella or WMC (Winter Music Conference) that show live events from literally, nearly every angle! Some interesting new ones that have sprung up are action-based channels like YOLO, On The Job and Introduce Yourself. Every day new channels are trending - it's truly amazing to see new ones spring up and grow almost out of the blue."
Dino couldn't talk about the Mobli environment without giving Apple props. "It's been great!" he said. "They've helped us quite a bit along the way - including featuring us in App Stores all around the world."
He went on to acknowledge how fantastic the enormous response and public reaction to Mobli has been: "Our network is growing and evolving everyday and our relationship with our users is at the core of that growth. Without users, Mobli is nothing more than some code & some artwork. It's been great to hear the feedback from our users; we've gotten some of our best features from user feedback."
As for myself, I've been using my Mobli App quite a lot lately and have really enjoyed it, especially this latest 2.0 version! Mobli has created an App and a website that lets people connect over everything from music and celebrities, to sports, fashion, news, or anything you love! Mobli even lets you add the specific event and event location to create communities that enable others to experience it with you! If you want to try out one of the best and most well-rounded, social photo and video Apps on the market right now, head on over to the iTunes App store and download the free Mobli App and take it for a test-drive. I don't think you will be disappointed! In fact I suspect you will be very glad you did, especially if you find yourself the winner of Mobli's Every-Day-In-May New iPad giveaway!

Good luck, and let us know in the comments below, what you think of the App if and when you use it!
As always, thank you for reading.