By Dig Om on Mon, 11/26/2012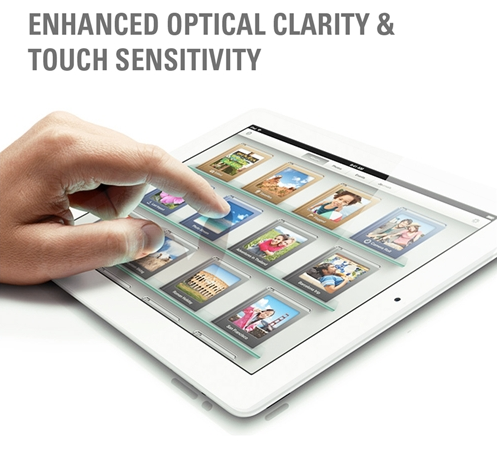 Master your iPhone in one minute a day:
Sign up to iPhone Life's Tip of the Day Newsletter and we'll send you a tip each day to save time and get the most out of your iPhone or iPad.
The Vitreo from Seidio is a breakthrough new iPad accessory that I have absolutely fallen in love with! If you want to utilize a screen protector with your iPad there is perhaps no better option when it comes to preserving the graphic integrity and touch-responsiveness than the Vitreo.
The Vitreo is a tempered glass alternative to the plastic sheets that are so common in the world of iPad screen protection. With a 9H hardness and optical clarity that rivals the iPad's own a Gorilla Glass screen, the Vitreo is the most accurate interactive experience you can hope to have with your iPad if you, like me, prefer to have a screen protector of some sort to protect the iPad's touchscreen at all times.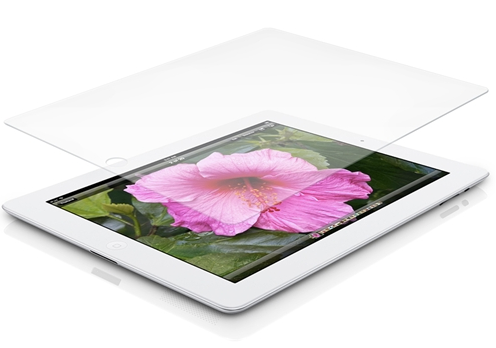 Especially if you are someone who interacts with the iPad a lot, the Vitreo is worth taking a closer look at. Casual iPad users who stick primarily to email and browsing might not appreciate the tremendous difference in quality of the Vitreo over the plethora of plastic screen protectors out there. However if you are at all interested in iPad activities that require responsive screen interactions, such as many kinds of iOS gaming, or if you enjoy the most clear screen and unhindered graphic interaction possible while using a screen protector, this is the accessory you've been waiting for!
I tested the Vitreo extensively with such touch-intensive games as Infinity Blade and N.O.V.A. 3 and can honestly say, there is no screen protector that I have come across that delivers such an accurate experience of interfacing with the iPad. Ceratainly there are no shortage of screen protection options, but the plastic sheets that adhere to the screen may be all well and good, but there is no comparison to the hard, clean, smooth feel of touching glass when interacting with the iPad. Not only does the Vitreo recreate the experience of the iPad's own native screen, it is also easy to clean and with its extreme hardness, it will definitely keep your iPad safe from external impacts caused by such things as keys, loose change, sunglasses or whatever else your iPad happens to bump up against.
The Vitreo is extremely thin, responsive and simple to install. When it's on your iPad, it leaves no bubbles, rainbows or watermark effects, like the kind that plague so many of its plastic counterparts. It also covers the entire screen, minus the home button, and comes with an adhesive mini-shim, which affixes to the home button, bringing it flush with the surface of the screen protector.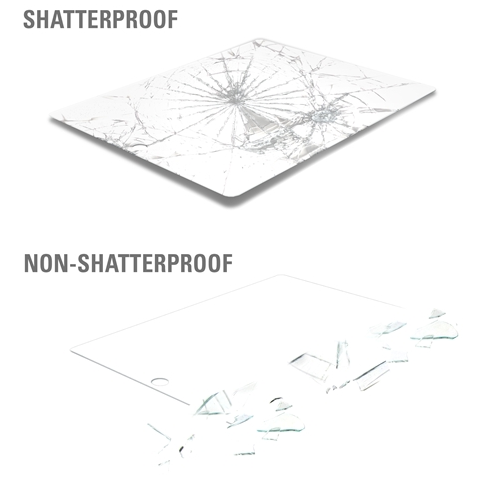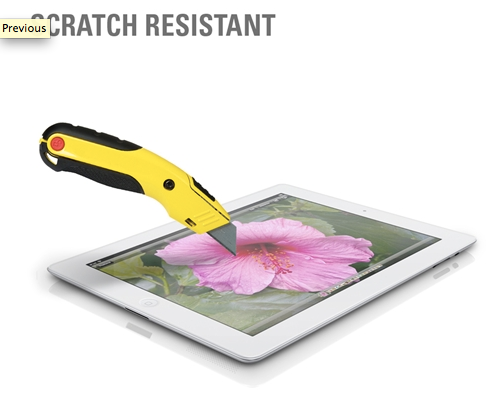 The Vitreo, with its shatterproof and anti-scratch glass is comparable in just about every way to the iPad's own glass screen, except that if anything unforeseen and calamitous should happen to your iPad, whether from an exceptionally hard fall or aggressive scrape, the Vitreo will take the brunt of the impact, not your iPad. Worst case scenario, its a lot easier and cheaper to replace a damaged Vitreo, if that should ever happen, than it is to replace a damaged iPad touchscreen. Trust me, even the super Gorilla Glass used for the iPad's touchscreen can scratch, sometimes surprisingly easily, depending on what hazzards arise. If you don't know, now you know.
I think we will see more of these kind of tempered glass screen protectors hitting the market as time goes by, but for now, Seidio is unique in this offering, and I will say this: there is no better screen protector, in terms of functionality, clarity or interactive precision and crispness than the Vitreo. It is a perfect accessory for any iPad, new, or old. Actually, even if all you use your iPad for is reading the news or online shopping, I think it is safe to say that anyone who gets their hands on one of these, won't be able to help but notice the difference and appreciate the accuracy and snappy touch interface it offers. But that's just my opinion...
The Vitreo is one of the best screen protection options you will find and it is available HERE  for $70.00.