By Dig Om on Wed, 08/28/2013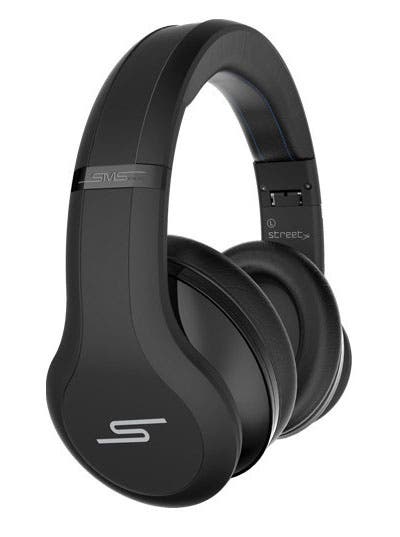 Wow! That's the word that first comes to mind when trying to describe just how amazing 50 Cent's new SMS Audio Street ANC headphones ($279.95) are. 
50 Cent is know for his hardcore gangsta rap and controversial lyrics, as well as some seriously heavy bass lines. Discovered and managed by none other than Eminem himself, 50 Cent has gone on to transcend his rap star status and become a successful actor and businessman as well.
I got a chance to chat with 50 Cent at this year's CES in Vegas. He was in town promoting his new line of headphones. We didn't get around to talking much about his headphones (it was Vegas after all), but I enjoyed our one on one a great deal, and he did offer to sign an autographed copy of iPhone Life magazine for me. It was only later that I came to realize what an amazing pair of headphones 50 had attached his name to. Look out, Beats by Dre ($299.95), there's a new contender on the block!
Master your iPhone in one minute a day:
Sign up to iPhone Life's Tip of the Day Newsletter and we'll send you a tip each day to save time and get the most out of your iPhone or iPad.
Studio Mastered Sound
SMS in this instance stands for "Studio Mastered Series." As you might imagine, the sound quality is of the highest caliber. The SMS headphones deliver an audio experience worthy of any studio professional. 
Drawing upon his first-hand knowledge of professional studio sound quality, and with the input of seasoned recording industry veterans, 50 Cent has let loose with what I consider to be one of the best headphones options on the market. Their frequency response is finely calibrated, and even though the bass end is rich and dedicated, with their patented THUMPP Enhanced Bass, the Street series still manages to maintain a silky smooth equalization of high-, mid-, and bass-end acoustics.
And get this! The Street headphones are also equipped with Active Noise Cancellation, and have a built in Li-ion rechargeable battery to back up the ANC system. With a flick of the switch, the Streets go from their already impressive passive noise cancellation to Active Noise Cancellation whereby the drivers emit a subtle low frequency sound wave to mask and mute a great deal of outside sounds. While it won't drown out a crying baby (that's a good thing!), it will effectively dampen the sound of things like fans, air conditioners, washing machines, airplanes, or nearby weed whackers.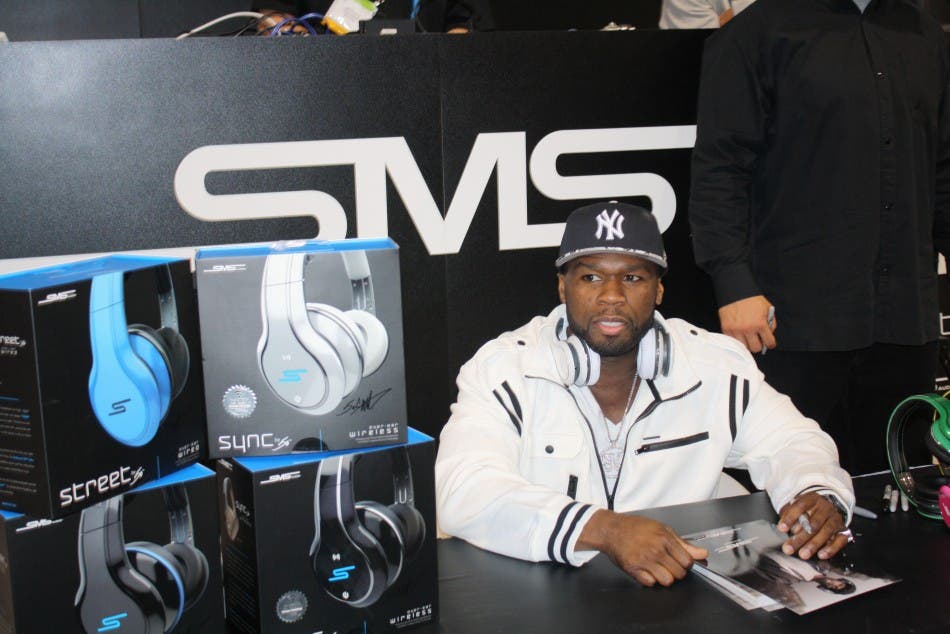 No Headclamp!
As a result of some truly conscientious planning, the Streets are very lightweight, weighing in at only 11 ounces, and the plush, leather covered, memory foam cushions surrounding the 40mm drivers are of enough depth and width that they are a truly comfortable set of over-ear headphone, one that doesn't pinch or compress your ears in a way that could become uncomfortable, what is known among headphone afficianados as "headclamp." The Street headphone also has a generously padded headband so there will not be any annoying pressure across the top of your head. 
Included with this conveniently collapsible headphone is a heavy duty, fully detachable headphone cable with a built-in, in-line mic/playback control, as well as a sturdy, and compact protective case.
The Street headphone series includes more than just the Street ANC. Also available are an amazing Bluetooth model with 16-bit lossless sound and a 50-foot wireless range, as well as an On-Ear model and a DJ specific model with patented Quiescent PNC Passive Noise Cancellation.
After putting the Street On-Ear ANC headphones through the paces I give them a resounding 5 out of 5 Star rating, for audio quality as well as for sheer comfort! I'd highly recommend these luxurious headphones, especially for any audiophile, studio musician, or person on the go who doesn't want outside noise interferring with their listening pleasure.