By Dig Om on Mon, 10/29/2012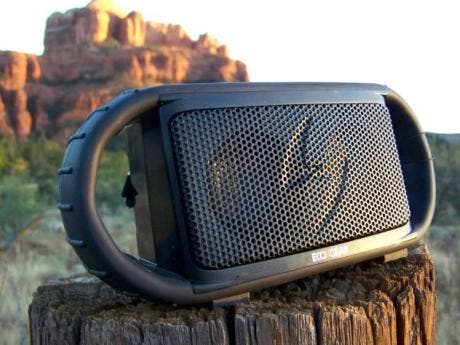 Welcome to a whole new world of rugged mobile gear! Meet the EcoXBT: The premier rugged mobile Bluetooth speaker you can take anywhere and do anything with. The XBT is a heavy-duty and gnarly-as-all-get-out, mini boom box for all of your EcoXtreme adventures!
Master your iPhone in one minute a day:
Sign up to iPhone Life's Tip of the Day Newsletter and we'll send you a tip each day to save time and get the most out of your iPhone or iPad.
I've covered EcoXGear's line of high-quality products for years now, and its safe to say, they have garnered quite the reputation for bringing out some of the best, extreme-rugged, mobile gear on the scene. The XBT is their latest addition to a quality product line, and an adventure's dream come true.
When I got my first look at the EcoXGear XBT, I was immediately and thoroughly impressed with the speaker's rugged, sturdy and thoughtful design. Every detail was carefully tended to and nothing has been overlooked. The XBT has to be the all around most versatile and rugged Bluetooth speaker I have ever come across.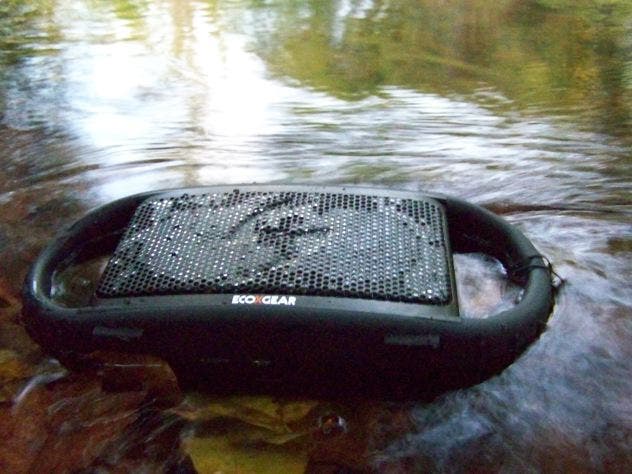 If you are looking for an external speaker that can be completely submerged with no damage done, a device that will even float gracefully on the water's surface, then you have to check out the XBT.
The XBT is the perfect accessory for all you water lovers out there! Truly, if you like to spend time around the water on a regular basis the XBT is an audio system worth checking out. It has awesome sound, it's ultra-portable, it has an integrated grippy silicone skin giving traction when wet, as well as big bold handles to help you grab it easily when it's bobbing away on the current. I suggest using a lanyard if you take it with you swimming anywhere there is a current, be it river, creek or sea.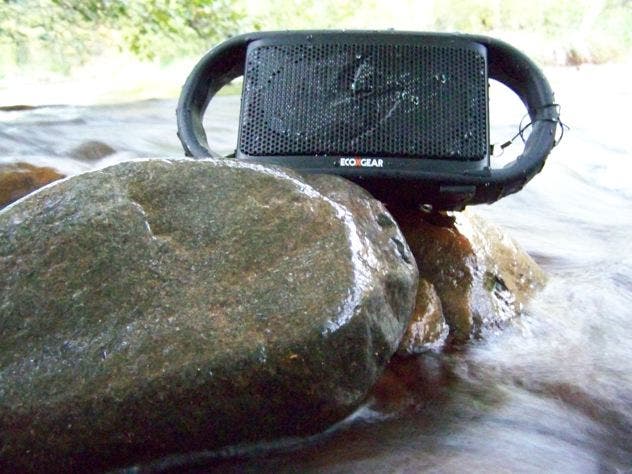 I'll tell you what, these speakers provide a hefty dose of sound, and considering the fact that they are 100% waterproof they deliver a rich crisp and clear sound. If I had a criticism it would be that out of the box, the XBT is little skewed towards the mid and upper range tones. It's not that the bass is entirely lost, but it is a bit murky and a bass refinement could definitely help. Then again, it is a waterproof, relatively compact, ruggedized Bluetooth speaker! I think Grace Digital did a great job designing the XBT and that the extra space it would take to generate a deeper bass response is better used reinforcing and waterproofing the structure of the unit. In fact, the XBT is bit big and heavy for my taste as it is, I would rather not see it get any bigger in the name of more boom.
I spent many years living on a sailboat, and I've also camped and romped outside regularly since I was a wee lad. I speak from my experience in the field when I say that these speakers aren't just good for waterside adventures, they are great! I suspect you'd be hard pressed to find a better alternative for waterproof Bluetooth portable audio. Tell me if you do! For now though, the XBT gets my highest praise as the best rugged and waterproof, portable Bluetooth speaker on the market.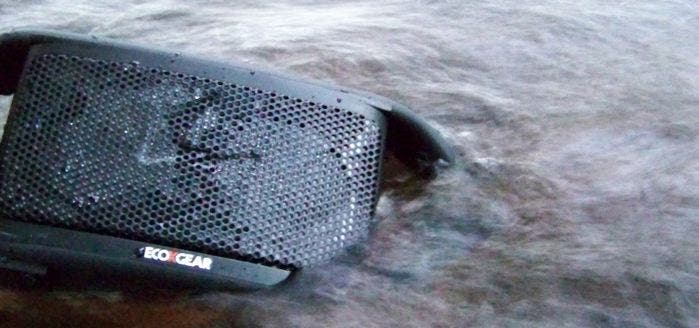 The EcoXBT is available in three colors, red/black, orange/black, and all black. You can purchase it for $130.00 HERE.