By Dig Om on Tue, 04/15/2014
I'm a big fan of using over-ear headphones for the personal enjoyment of my iDevice media. When it comes to authentic sound reproduction, whether it's games or music, it's hard to beat the noise-isolating comfort of a good pair of "circumaural" cans. Even more than over-ear headphones though, I am a fan of environmentally friendly products. So when a product manages to be a high quality hybrid of both over-ear hi-fi headphones and ecologically conscientious business practices you can guess that I would want to share the news with all of our readers. Without further adieu, I introduce you to the Troubadour from LSTN ($150.00).
Master your iPhone in one minute a day:
Sign up to iPhone Life's Tip of the Day Newsletter and we'll send you a tip each day to save time and get the most out of your iPhone or iPad.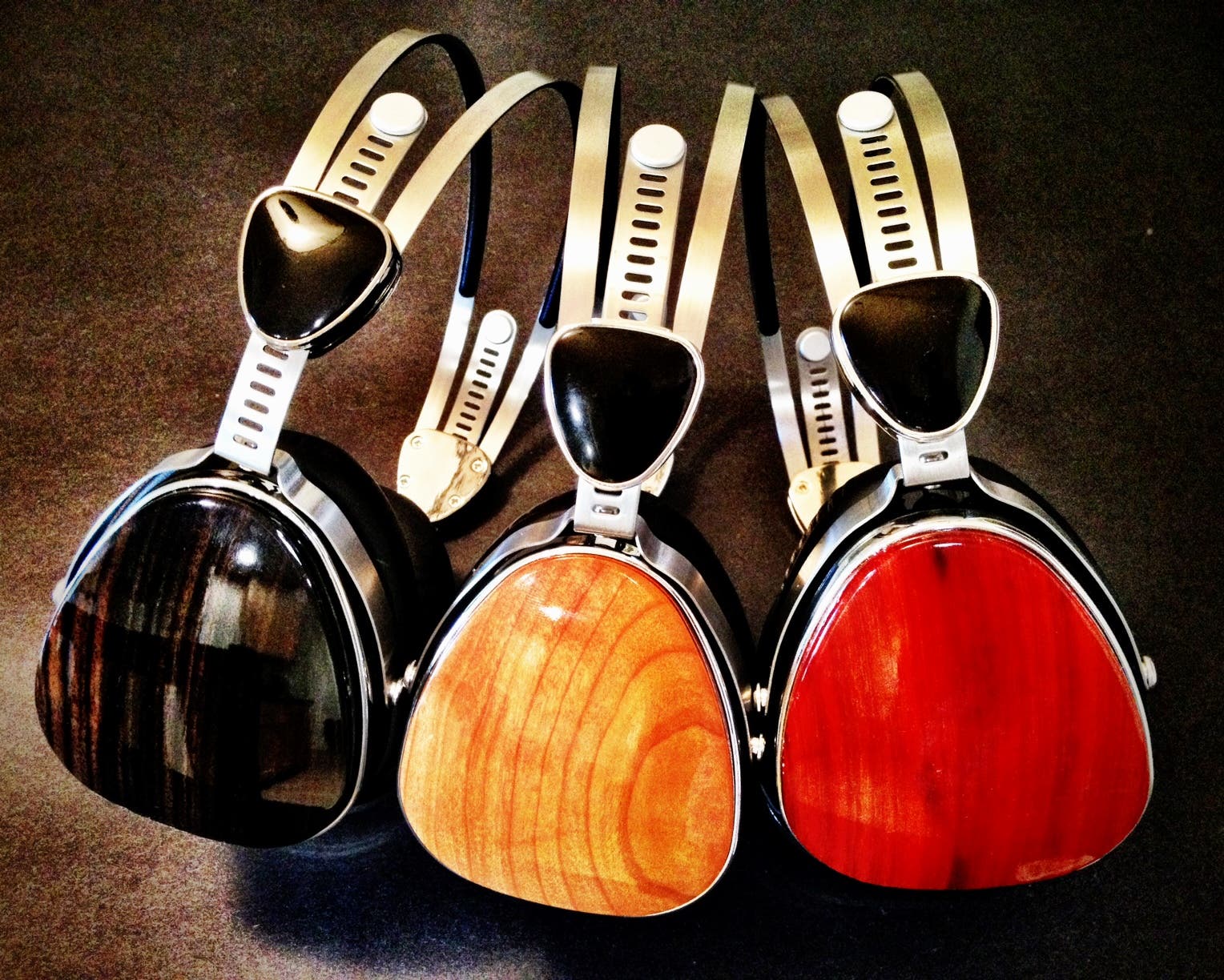 When it comes to acoustics, there's just something about wood. To my ear there is a silky smooth, buttery elegance to a pair of wood-crafted headphones that it's just hard for plastic or metal to top. As the folks at LSTN put it, "Why are guitars, violins, drums, pianos, etc. made out of wood, but headphones aren't? Our unique wooden chambers are a huge contributor to the warm and natural sound of LSTN headphones." And this is something I completely agree with. The resonant "warmth" of these headphones really has to be heard to be appreciated. Not only do these headphones deliver exceptional sound, LSTN also stands behind the quality and integrity of their product. If you aren't satisfied with their headphones, you can return them. Likewise, if they break within the first year, you can exchange them for a new pair. It's a win-win situation when you purchase the Troubadours.
Sound
The Troubadours don't sound good; they sound incredible. For the price, they are a bargain considering their sound quality. With such crystal clear and well-balanced acoustics I could easily see a pair of cans with such amazing performance retailing for $50 to $100 more. The bass is impressive and powerful without being overbearing.
If you are looking for a pair of headphones that really pack a punch at the bass end, without sacrificing the clarity of the mid and high frequencies, the Troubadours will be sure to impress. They offer an expansive acoustic spectrum with great depth of field. Credit the wood for such audio precision. The crisp response and distortion free presentation these headphones provide a listener with is worthy of a discerning audiophile, so no doubt the casual listener will have much to swoon over when it comes to the Troubadours.
Comfort
I found the Troubadours to be surprisingly comfortable. Even though the ear cups look small for a pair of over-ears, don't let their compact size fool you. They fit comfortably and snugly over the ear and they have a padded membrane that rests between your ear lobes and the speaker drivers for a plush and luxurious feel. The Troubadours are a pair of headphones I can wear for many hours on end, without them becoming uncomfortable or continually needing to readjust them, which is saying something, with my big ol' ears. They are extremely lightweight, which also lends to their comfort factor and they feature a Spartan design, making them excellent travel companions.
Giving Back. Amplified!
When it comes to sustainable, conscientious, and ethical business practices LSTN really stands out from the crowd. For starters, no tress were cut down to manufacture these headphones. LSTN incorporates 100% reclaimed wood which they source from furniture and flooring companies, utilizing the small, otherwise discarded scraps so that wood that might have been wasted gets put to a very good use.
You can choose from a beautiful selection of four woods: Ebony, Cherry, Beech, and Zebra, and as you might imagine, each of these woods have their own ever-so-slightly, different acoustic responses. The denser, harder woods like Ebony and Zebra give an edgier, sharper and more precise sound, while the softer and lighter woods like Cherry and Beech deliver a slightly warmer sound that really brings out the mid-range tones and blends the sound together into a smooth and creamy mix. All of the woods are highly polished and the overall look of the Troubadours is one of classic, old world elegance, reminiscent of the vintage aviator headphones, with their egg-shaped ear cups and naked steel head bands.
Listen To This!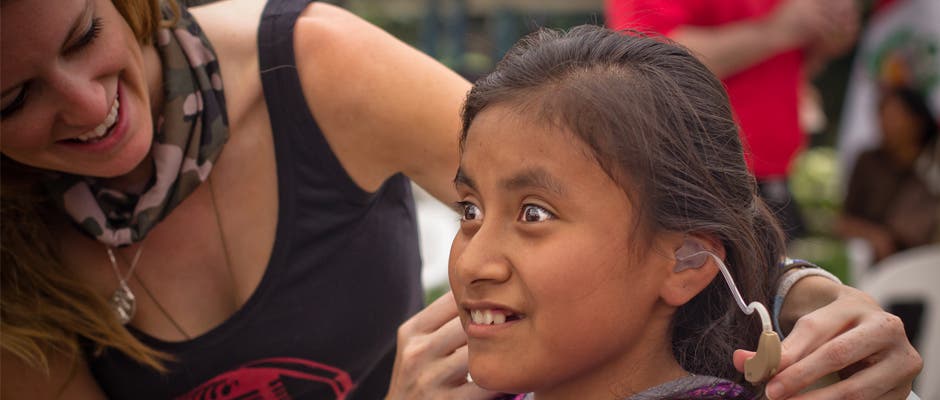 LSTN doesn't just make eco-friendly audiophile headphones though. This company is in the business of uplifting the world in their own unique way. You see, for every pair of headphones sold, LSTN makes a direct contribution to the Starkey Hearing Foundation and their mission to provide hearing aids to the hearing impaired. According to the Starkey Foundation, over 360 million people on this planet are hearing impaired. Of these millions, they say that 95 percent of children in deaf schools worldwide could benefit greatly from a hearing aid. To that end, Starkey donates 100,000 hearing aids a year to people in need, and they are committed to delivering over one million hearing aids to people in need this decade.
As LSTN has stated: "We believe that what's good for business should be good for the world. When we started LSTN, our mission was to create a company that could create global change by providing high quality products that help fund hearing restoration and spread awareness for the global problem of hearing loss and hearing impairment. Our Giving Back. Amplified. program wasn't an afterthought or marketing gimmick, it was the reason we started LSTN. We didn't just want to create another headphone company. We wanted to create something that could change the world."
Pros:
Lightweight, low-profile design.

Very comfortable ear cups and ear cushions, with a padded material over the speaker driver for maximum comfort.

Excellent business practices: eco-friendly and environmentally and socially conscious.

Fabric wrapped cables enhance durability and style.

Swiveling hinges attaching ear cups to the headband allow for the perfect fit every time.

The headphones have detachable audio cables, one for the left channel and one for the right, and they can connect to either ear cup, making these symmetrical headphones truly ambidextrous.

Cable has an in-line microphone.
Cons:
While comfortable, I would have liked the ear cups to be just a fraction of an inch bigger, to accommodate users with bigger ears.

It would've been nice if along with the in-line microphone for phone calls, there was also an in-built control mechanism for song selection and volume control.
Verdict:
These headphones rock! From their simple yet elegant design, to their amazing quality of sound and luxurious comfort, I can definitely highly recommend the LSTN Troubadours. I give them 4.5 out of 5 Stars.