By Dig Om on Tue, 07/08/2014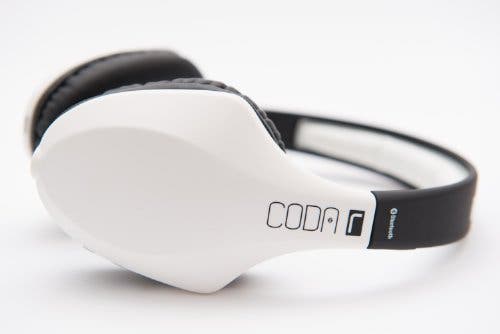 The iFrogz Coda Forte ($99.99) are a pair of headphones I really wanted to like. Their parent company, Zagg, tends to make some great products and at first glance they seemed like a pair of headphones with great potential. The reality wasn't so impressive. Having spent some time with these headphones I'd like to share with you my impressions of where these Bluetooth headphones shine, and where they could use some fine tuning.
Pros:
Available in several fun, vibrant color tones, the Coda Forte come with a convenient carrying bag, and a 1.2 meter cord with 3.5mm audio connections for wired listening. They also include fairly standard features like hands-free playback control and phone calling. The headphones have a decent enough pair of speaker drivers in the earcups, which deliver clear and crisp audio with balanced bass for an overall sound that's pretty good. In fact, with a different enclosure and design they might even rate as great sounding headphones, but the Coda Forte have a lot holding them back, even with good quality speakers.
Master your iPhone in one minute a day:
Sign up to iPhone Life's Tip of the Day Newsletter and we'll send you a tip each day to save time and get the most out of your iPhone or iPad.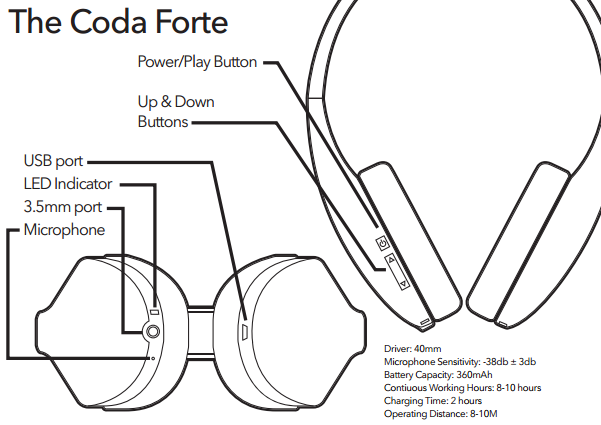 Cons:
The list of cons for the Forte is a longer one. From a minor quip like its cheap plastic feel, to more more significant ones like its poor design. In this day and age headphones are the latest rage, and companies like Beats, SteelSeries, SMS Audio, and Skullcandy are all intent on setting themselves apart from the crowd. Unfortunately, the Coda Forte doesn't manage to achieve this feat.
The design of these headphones is lacking in several areas. First of all, unlike many other pairs of headphones on the market these days, the Coda Forte have very little comfort flexibility. Most headphones are hinged or gimbaled so that the earcups fit ergonomically against your head, but the Forte has zero adjustability other than the compulsory extendable arms of the  headband.
The earcups don't swivel at all, so depending on the unique shape of your head, these headphones may or may not fit. Additionally, the speaker drivers are placed inside of the earcups in a really strange fashion. They protrude outward from within the earcup toward your ear lobe, and when combined with the fact that the ear cushions add little clearance within the cup, your ear lobe will likely be pressed up against the hard speaker driver, and unlike some other headphones, there's no internal padding over the hard speaker driver either.
Verdict:
These headphones have a somewhat flimsy and claustrophobic feel to them, and compared to what I've come to expect from over-ear headphones, they aren't very comfortable. Even though they are billed as being over-ear headphones, they don't deliver the comfort and passive noise isolation of many other comparably priced, over-ear headphones. Perhaps if you are shopping for a relatively durable pair of headphones without a lot of breakable moving parts for a young child to use, then these iFrogz headphones might fit the bill, though I'd definitely consider them on the pricey side for a youngster's pair of headphones. Otherwise, if you are looking for a great pair of over-ear headphones in the $100 price range, I'd have to encourage you to search elsewhere.
iPhone Life rating:
2 out of 5 stars