By Dig Om on Tue, 04/01/2014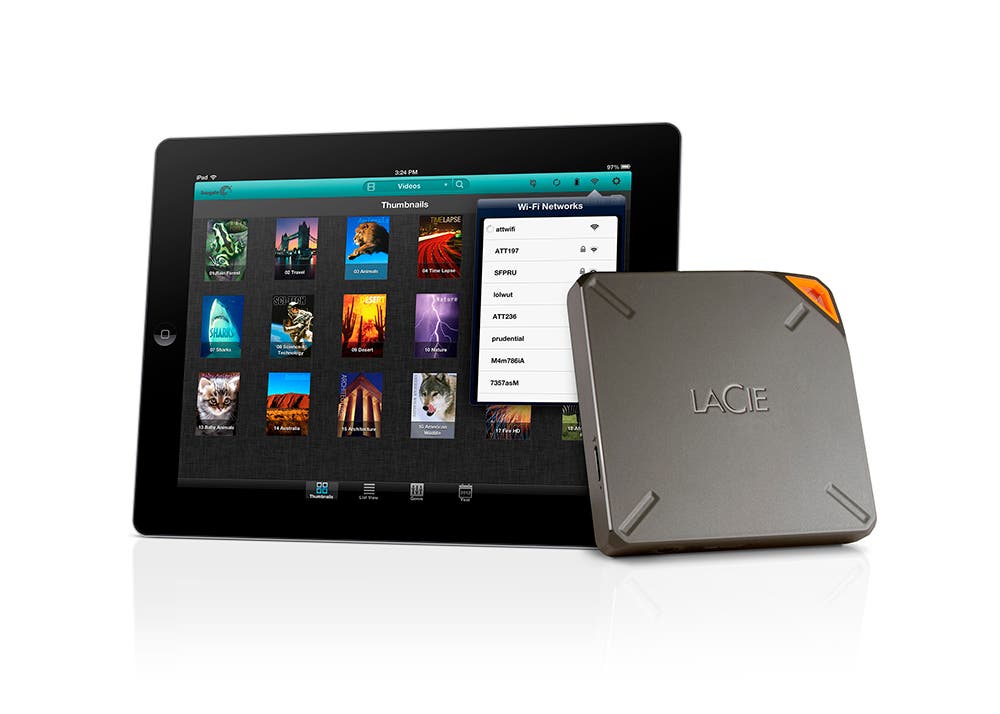 It's springtime and folks are gearing up for travel and vacations. With that in mind, I'll be taking a look over these next months at some of the gadgets and gear that can make your adventurers more convenient, more fun, and more tech friendly.
If you're traveling in the near future, and especially if you're traveling with family, this new hard drive/Wi-Fi hotspot from LaCie might just be the indispensable travel companion you've been waiting for.
Master your iPhone in one minute a day:
Sign up to iPhone Life's Tip of the Day Newsletter and we'll send you a tip each day to save time and get the most out of your iPhone or iPad.
Features:
I first got turned on to the LaCie Fuel ($199.99) at this year's CES. I was instantly blown away. In a nutshell, the Fuel allows you to store a full terrabyte (that's 1,000 gigabytes!) of data on it, and stream its data over its own ad hoc wireless network to up to five different devices. In other words, whether you are on a car trip driving down the highway, camping in the forests far off grid, hiking the Appalachian Trail (with a good solar panel for charging purposes), or chartering a yacht with the family in the Caribbean, you will have access to a vast library of songs, videos, and photos.
Functionality:
LaCie has a convenient iOS app that makes accessing your data as easy as pie. All I had to do was plug both the Fuel and my dedicated Time Machine back up drive (also by LaCie) into my MacBook via USB, and then it was a simple matter of drag and drop from my backup to the Fuel. It really couldn't have been easier.
From there I only had to download the free LaCie app (well, Seagate's app, technically speaking) to be able to gain access to all of the thousands of albums and movies on the Fuel. Navigating the Fuel's library is a very iOS-friendly affair. You can browse your files, and as an extra bonus LaCie includes a great selection of short HD videos on the Fuel to give you a little sample and extra variety, featuring videos of everything from extreme sports, to amazing scenes of international culture and beautiful nature videos.
My Experience:
We take the RV out camping as much as we can, and we always make sure we have the Fuel; it makes for an awesome experience in the woods, lakes, canyons and plains of the high desert of Northern Arizona. Surrounded by the wonders of nature, we set up our temporary home, and use the Fuel to enjoy as much media as we want to, or can handle. My daughter and her boyfriend stay out under the stars in a tent (but within range of the Fuel's 30-foot transmission zone), my wife, the baby, and I stay in the RV. Between us we have three iPads and four iPhones. At any point, when one (or all) of us want to jump onto the LaCie hard drive's Wi-Fi, the process is as smooth as silk, with none of the buffering issues that so often plague the likes of Netflix, HBO GO, or Amazon Prime when attempting to use those services in remote locations away from any strong signals. This is camping in style; off-grid, with the luxury of HD streaming media wirelessly from the Fuel. Pretty neat!
Pros:
Easy to use. Putting media onto the Fuel is a snap, and with LaCie's app (or the Fuel's URL on a laptop when around a Wi-Fi signal), enjoying that media is a breeze and extremely user friendly.
Compact, lightweight, and portable. Barely takes up any space, making it easy and convenient for traveling.
Perfect for off-grid entertainment for the whole family.
Great price for tons of storage. At one terabyte you'll be able to store an abundance of movies and music.
Plenty of battery power, one charge will last you up to 10 hours.
Cons:
Despite its great features and smooth functioning, the Fuel doesn't really have any outstanding qualities which set it apart from it's competition, including the nearly identical Wireless Plus from LaCie's own parent company, Seagate. While variety and options are a good thing, it would be nice to see LaCie do more to distinguish their product. A rugged shell (perhaps like this one's) would be a great first step, especially considering the fact that the Fuel is so portable and designed for adventure.
Verdict:
The LaCie Fuel is an awesome luxury to have when on your travel adventures. Having access to such a vast amount of wirelessly streaming media while on the road is a great modern convenience, and can make getting away a much more comfortable experience, especially for families with kids. I give the LaCie Fuel 4.5 out of 5 Stars.